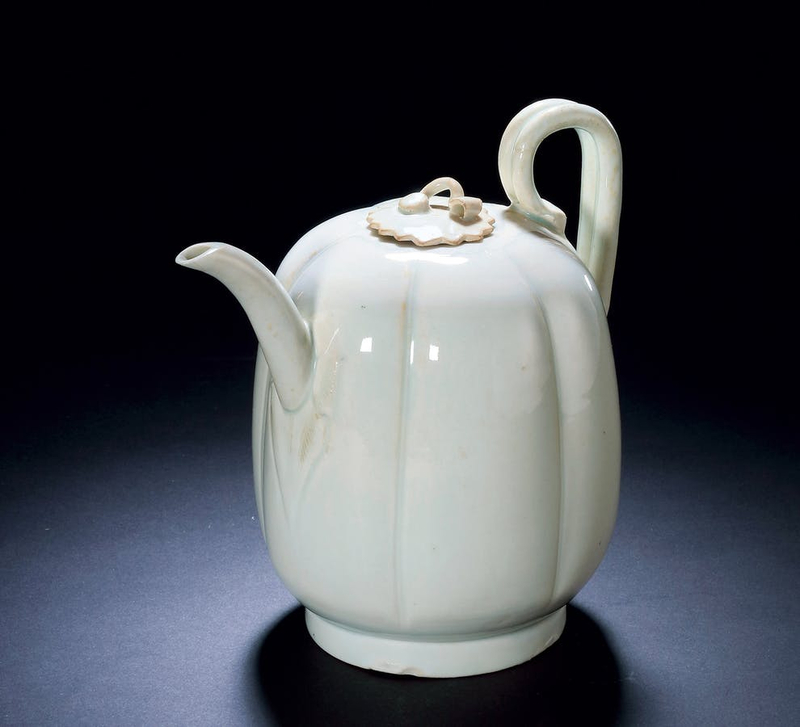 Lot 3309. A Hutian Yingqing-Glazed Melon-Shaped Ewer, Northern Song Dynasty, 10th-12th Century.H 15.7cm. Estimate HKD 350,000 - 450,000 (USD 44,609 - 57,354). Sold Price: HKD 566,400(USD 72,189). © Poly Auction Hong Kong.
The vase is of finely potted lobed oval form, applied to one side with a high strap handle and to the other with a short and slightly curved spout, a cover in the form of a stalk with curled leaf applied as a knob, covered overall with a soft pale bluish-white glaze stopping at the base of high foot to reveal the white body.
Provenance: Sotheby's London, 18 November 1998, lot. 860
2. The Ten-views Lingbi Rock Retreat Collection, no. EK37.
Note: Qingbai is a term used for hard-white-bodied porcelain wares with a bluish-white glaze. The iron oxide in the glaze mixture, fired in a reducing atmosphere, creates the characteristic attractive faint light blue tone seen on Qingbai ceramics.

Most Qingbai ewers, such as the present lot, derive their shape from metal wares. See a melon-shaped ewer excavated in 1959 in Xiaoquan Town, Deyang county, Sichuan province, now under the collection of Nezu Museum, included in the exhibition The Colors and Forms of Song and Yuan China: Featuring Lacquerwares, Ceramics, and Metalwares, Tokyo, 2004, p.177, cat. no 29n (fig.2). The loops on the lid and handle were made to secure the two together with a tie, which would have consisted of a chain attachment in the original silver vessels.

See a very close example, illustrated in Regina Krahl, Chinese Ceramics from the Meiyintang Collection, vol.1, London, 1994, pl. 599 (fig.3). See, another similar example, excavated from a Liao tomb dated to A.D. 1099, near the site of the central Liao capital in Ningcheng county, Liaoning province, illustrated in Neimengu wenwu ziliao xuanji, Huhhot, 1964, pl. 206., and p. 167, fig. 112(2). Compare also another related melon-shaped ewer included in Liu LIang-yu, Sung Wares. A Survey of Chinese Ceramics, vol.2, Taipei, 1991, p. 287 top.
Poly Auction Hong Kong. Immaculately Exquisite - Selected Chinese Ceramics from The Ten-Views Lingbi Rock Retreat Collection, Hong Kong, 7 October 2019