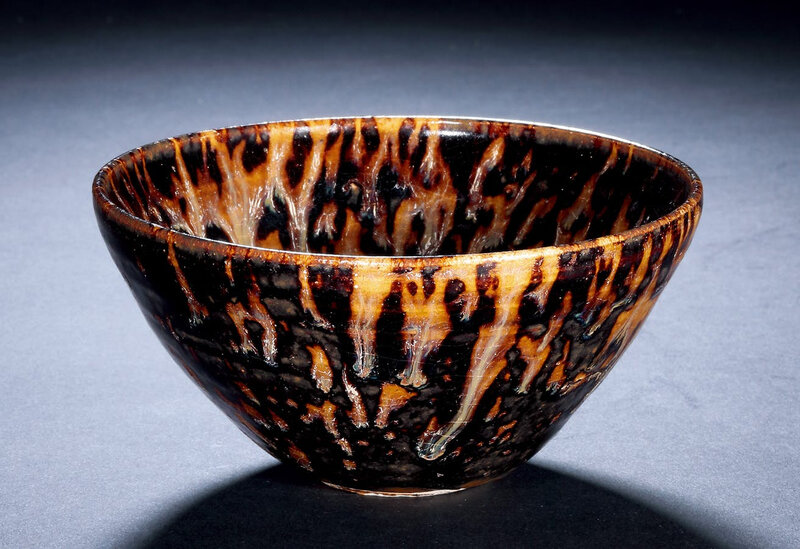 Lot 3303. A Jizhou 'Tortoiseshell-Glazed' Tea Bowl, Southern Song Dynasty, 12th-13th Century. H 5.6cm D 11.6cm. Estimate HKD 150,000 - 200,000 (USD 19,118 - 25,491). Sold Price: HKD 247,800 (USD 31,583). © Poly Auction Hong Kong.
The bowl with deep rounded sides flaring out from a narrow recessed foot, covered overall with a glossy dark brown glaze accented with russet-brown splashes, simulating tortoiseshell, the glaze stopping just above the knife-pared foot, the base left unglazed revealing the buff body.
Provenance: 1. Collection of Ben Janssens, 2009
2. The Ten-views Lingbi Rock Retreat Collection, purchased from Ben Janssens Oriental Art, no. BE13.
Exhibited & Literature: Ben Janssens Oriental Art at The European Fine Art Fair: Masstricht, Netherlands, London, 13 -22 March, 2009, pp. 76 – 77.
Note: The tortoiseshell appearance seems to have been created by first dipping the vessel in a dark-brown slip glaze, then splashing it with lighter brown glaze, following the drying and finally firing it right side up in the saggar.

See a related bowl in the collection of Simon Kwan and included in the exhibition Song Ceramics from the Kwan Collection, Hong Kong Museum of Art, Hong Kong, 1994, cat. no. 170. Another Jizhou bowl similarly decorated included in the Exhibition Catalogue Hare's Fur, Tortoiseshell, and Partridge Feathers. Chinese Brown-and Black-Glazed Ceramics, 400-1400, Robert D. Mowry, Harvard University Press, Cambridge, 1995, p. 226, pl.87.
Poly Auction Hong Kong. Immaculately Exquisite - Selected Chinese Ceramics from The Ten-Views Lingbi Rock Retreat Collection, Hong Kong, 7 October 2019