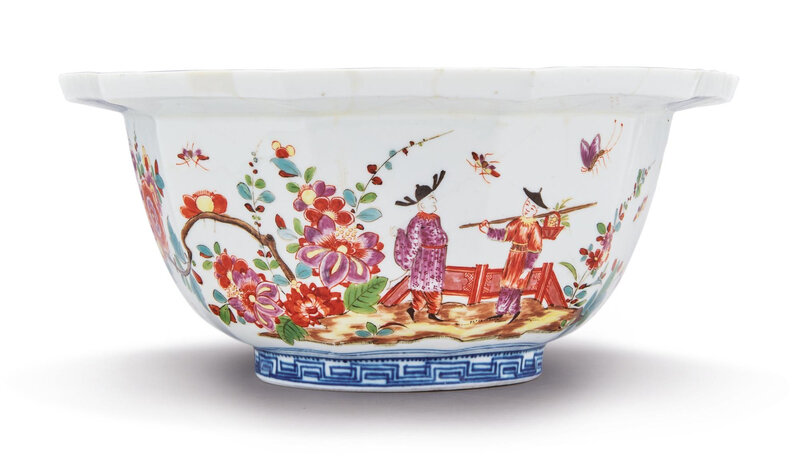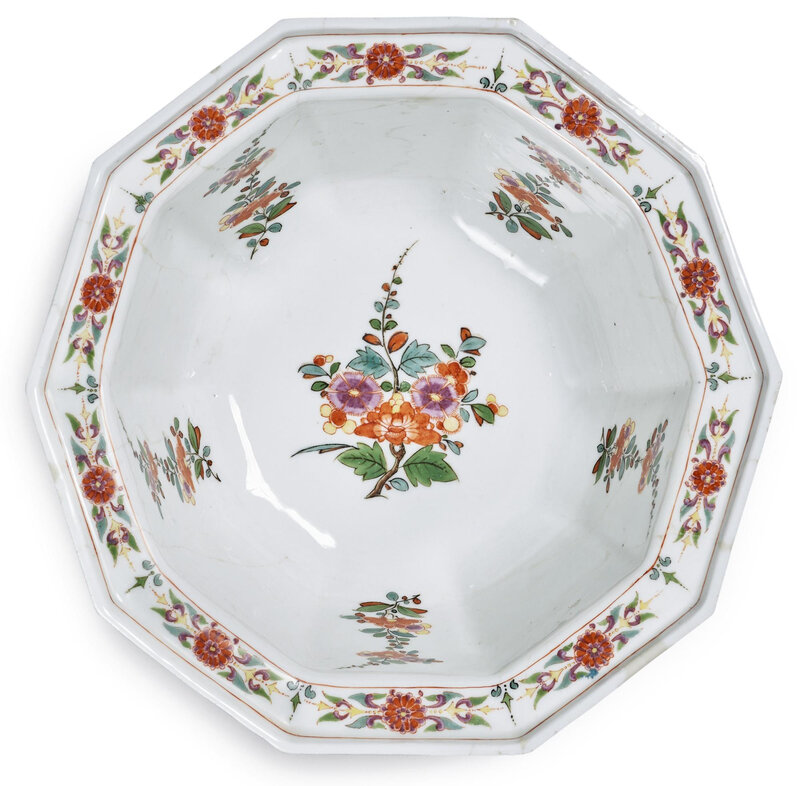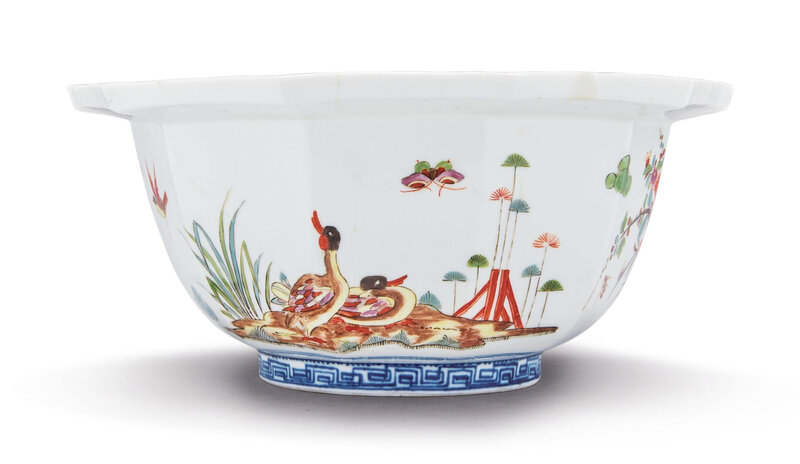 Lot 363. A rare Meissen decagonal bowl presented to the King of Sardinia, circa 1724. Diameter: 9 1/2 in. Estimate: 10,000 - 15,000 USD. Courtesy Sotheby's.
the painting attributed to Johann Ehrenfried Stadler, the front of the exterior with a vignette of two Chinoiserie figures in a fenced garden, flanked by large sprays of flowers and embellished in Böttger lustre, the reverse with a vignette of two ducks among foliage, the interior with trailing flowering branches, and a foliate band at the rim, the foot painted in underglaze-blue with a stylized Chinoiserie band and concentric circles, incised Japanese Palace inventory number N=94-/w.
Provenance: The Royal Collections of Saxony, Japanese Palace, Dresden
Gift from Augustus the Strong to Victor Amadeus II, King of Sardinia, 1725
Eugen Gutmann Collection, Berlin
F.B.E. Gutmann, Heemstede, Rijksmuseum, Amsterdam
Dienststelle Mühlmann, The Hague
J.W. Böhler, Munich, 1942
K. Haberstock, Berlin, 1942
The Instituut Collectie Nederland (earlier the Stichting Nederlands Kunstbezit, no. NK3138, on loan to the Rijksmuseum, Amsterdam, 1964)
Rijksmuseum, Amsterdam, 1972 until restituted to Gutmann's heirs in 2002
Christie's Amsterdam, May 13, 2003, lot 16.
Literature: Verslagen der Rijk Verzamelingen van geschiedenis en kunst, 1964, pp. 35, 38
den Blaauwen, 2000, pp. 64-5, cat. no. 33
Cassidy-Geiger, 2007, p. 210, fig. 10-2
Cassidy-Geiger, 2008, no. 152, p. 391, illus.
Note: The gift in 1725 to Victor Amadeus II (1666-1732), King of Sardinia was one of the earliest and most significant gifts presented by Augustus the Strong. Augustus bestowed a special distinction on an already precious gift by including Meissen porcelain from his own personal collection. This was the first time that Meissen porcelain with Royal provenance had been sent as a gift. The gift was substantial in size and consisted of around 300 individual items, including nine coffee, tea and chocolate services in custom-made boxes, two "table services" (one in blue and white, the other with Asian-style decoration in polychrome enamels), five seven-piece garnitures of vases, and two chamber pots, all packed in twelve containers (Maureen Cassidy-Geiger, (ed.), Fragile Diplomacy, Meissen Porcelain for European Courts, ca. 1710-63, New Haven, 2007, p. 209-10).
The 1721 inventory of the Dresden Collection records: '5. Stk. große Zehnpaßigte Spühl Näpffe mit bunten Coul. u. Golde emaillirt', [5 pieces large decagonal waste bowls painted with colors and gold) as well as 57 other porcelain bowls, plates and bottles with this inventory number, Maureen Cassidy-Geiger, The Arnhold Collection of Meissen Porcelain, 1710-50, New York, 2008, p. 391. When the 1770 inventory was completed only four bowls were recorded: 'Vier Stück detto 10.eckichte SpühlCompen, mit abgesetzten Rändern, 4 1/2. Zoll tief, 9 1/2 Zoll in Diam: No. 94.', Claus Boltz, 'Japanisches Palais-inventar 1770 und Turmzimmer-Inventar 1769', Keramos 153, 1996, p. 50.
A Meissen decagonal bowl which was part of the Royal gift, together with its Japanese prototype, N=94-/ ⬜ , are illustrated in Julia Weber, Meißener Porzellane mit Dekoren nach ostasiatischen Vorbildern, 2013, Band I, p. 25, abbs. 5, 6a, b. A Meissen decagonal bowl bearing this number was in the Erich von Goldschmidt-Rothschild Collection, Berlin, sold, Ball & Graupe, Berlin, March 24, 1931, lot 464. The figure with a holding a basket on a stick over his shoulder appears on an Augustus Rex vase recently returned to the Porzellansammlung, Dresden. Johann Ehrenfried Stadler (1701-41) first worked as a painter in Eggebrecht's faience factory in Dresden before moving to Meissen. He started working for Höroldt there in 1723, at the age of 22, and was listed as a 'painter of flower work' ('Blumen-Werck') in the staff index of 1731. A surviving letter written by Eggebrecht highlights the allure of Meissen and his complaints about Höroldt enticing away almost all of the skilled workers from his factory by offering higher salaries.
Sotheby's. Selected Meissen and Other Ceramics from the Collection of Henry H. Arnhold, 24 Oct 2019