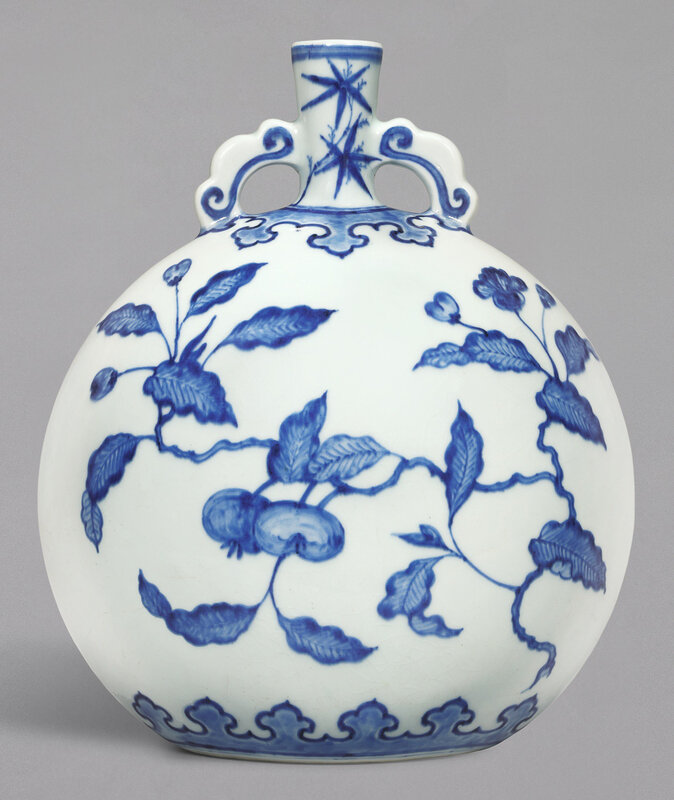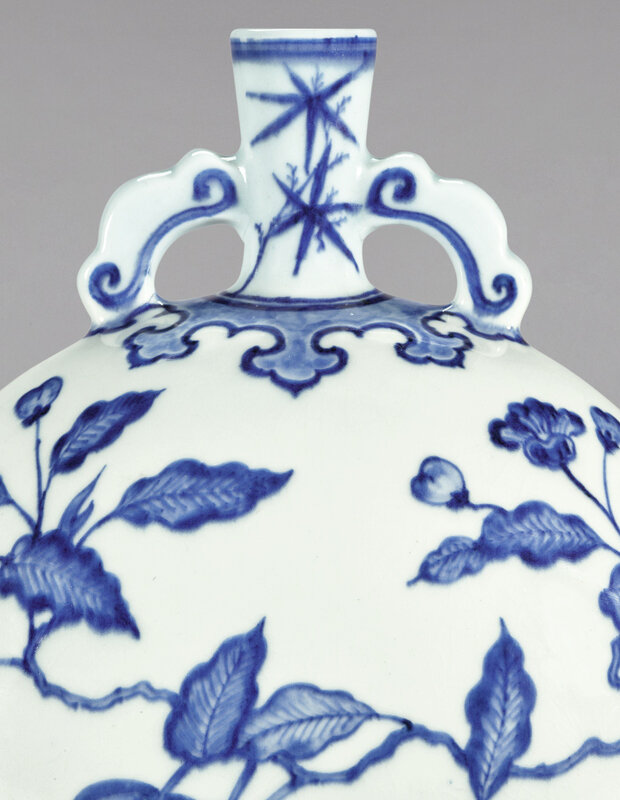 Lot 11. A fine blue and white Ming-style 'persimmon' moonflask, Qing dynasty, Yongzheng period (1723-1735). Height 29.7 cm, 11⅝ in. Estimate: 120,000 - 160,000 GBP. Lot sold 495,000 GBP. Photo: Sotheby's.
elegantly potted with a gently flattened spherical body surmounted by a slender cylindrical neck flanked by two scroll-shaped handles, the rounded sides decorated in vibrant tones of cobalt blue with simulated heaped and piled effect with gnarled leafy branches bearing fruiting clusters of persimmons between pointed leaves and small flower heads and buds, all between bands of trefoil motifs encircling the shoulders and foot, the neck embellished with bamboo sprays, the arched handles festooned with ruyi scrolls, the flat base unglazed.
Provenance: Collection of T.Y. Chao (1912-1999).
Sotheby's Hong Kong, 19th May 1987, lot 276.
Exhibited: Zhongguo mingtao riben xunhui zhan.gangtai mingjia shoucang taoci jingpin [Exhibition of Famous Chinese Ceramics Touring Japan. Fine Ceramics from Private Hong Kong and Taiwanese Collections], Nihonbashi Takashimaya, Tokyo, 1992, p. 204-205.
Note: This elegant moonflask assumes an immediate sense of familiarity through the elegantly rendered design and shape, both of which were made to emulate historical masterpieces of the early Ming dynasty. A popular form in the early fifteenth century derived from Middle Eastern metal vessels, moonflasks experienced renewed favour during the early Qing period, when Manchu emperors eagerly attempted to strengthen their rule by utilising classic elements from the past to demonstrate their knowledge and their utmost respect for the nation's glorious past. Official stonewares of the Song dynasty and blue and white porcelain of the Ming period from the Imperial collection became models that provided the standard for the Jingdezhen potters to aspire to.
The sophisticated, circular shape of this flask demand considerable expertise, and under the tutelage of the great Superintendent Tang Ying (1682-1756), the refinement of the material and advances in craftsmanship helped recreating an enticingly shaped and alluringly painted classic. The sensitivity of the Qing craftsmen is also evidenced in the way the current moonflask was formed, which two halves were aligned vertically as opposed to horizontally predominantly seen in surviving Yongle prototypes, endowing the vessel a more oblate and asymmetrical silhouette.
Compared a closely related example in the National Palace Museum, Taipei, Museum number Gu-Ci--016953-N000000000; and another, from the Oei Yok-Kee collection, included in the exhibition A Loan Exhibition of Chinese Art. Ming & Ch'ing Periods, British Council Centre, Singapore, 1953, cat. no. 107.
The flowers and fruits depicted on the front and reverse of this flask in brilliant tones of cobalt blue have been intentionally rendered in the Ming-style to evoke the past. The generous spacing left white between the decoration elements was a repertoire first seen on Yongle blue and white pieces, which allowed craftsmen to be more lively and free with his brushwork and to create a composition that is more painterly and less stylised. The design is also steep in auspicious symbolism; the word 'persimmon (shi)' in Chinese is homophonous with the character for 'affairs (shi)', hence the depiction of clusters of persimmons often associated with the auspicious message shishi ruyi ('may your affairs go as you wish').
Sotheby's. Imperial Porcelain - A Private Collection, 06 Nov 2019