SAN FRANCISCO, CA.- James Tissot (1836–1902) was one of the most celebrated French artists during the 19th century, yet he is less known than many of his contemporaries today. Presenting new scholarship on the artist's oeuvre, technique, and remarkable life, James Tissot: Fashion & Faith provides a critical reassessment of Tissot through a 21st-century lens. The exhibition, co-organized by the Fine Arts Museums of San Francisco and the Musées d'Orsay et de l'Orangerie, Paris, includes approximately 60 paintings in addition to drawings, prints, photographs, and cloisonné enamels, demonstrating the breadth of the artist's skills. The presentation at the Legion of Honor is the first major international exhibition on Tissot in two decades and the first ever on the West Coast of the United States.

"The work of James Tissot provides a fascinating lens onto society at the dawn of the modern era. Long recognized as a keen observer of contemporary life and fashion, this exhibition brings new light to his narrative strengths and his skill in portraying the emotional and spiritual undercurrents that exist below surface appearances," states Thomas P. Campbell, Director and CEO of the Fine Arts Museums of San Francisco. "Continuing the Fine Arts Museums' tradition of contributing original scholarship around key works in our collection, we are thrilled to introduce the perspective of this enigmatic, prolific artist in the first exhibition of his work to take place on the West Coast."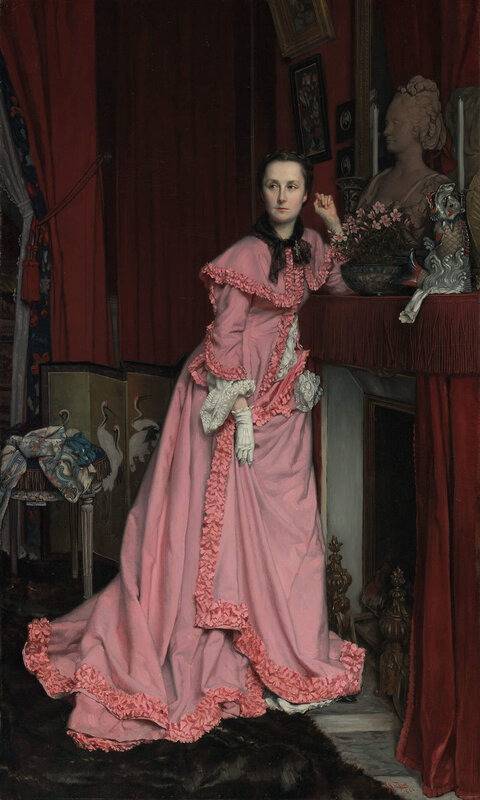 James Tissot, "Portrait of the Marquise de Miramon, née, Thérèse Feuillant," 1866. Oil on canvas, 50 1/2 x 30 3/8 in. (128.3 x 77.2 cm). The J. Paul Getty Museum, Los Angeles, 2007.7
Tissot's works have been highly sought after for US collections, and, as such, James Tissot: Fashion & Faith draws from the rich holdings of the Fine Arts Museums of San Francisco; the J. Paul Getty Museum, Los Angeles; the National Gallery of Art, Washington, DC; and numerous private collections, in addition to private and public collections throughout Europe and Canada, including those of Tate, London; the Musées d'Orsay et de l'Orangerie; the Petit Palais, Musée des Beaux-Arts de la Ville de Paris; the Musée d'Arts de Nantes; the National Gallery of Canada, Ottawa; and the Musée des Beaux-Arts de Montréal. In addition, new findings on Tissot's materials and painting technique—resulting from an extensive, unprecedented study of Tissot paintings and led by the paintings conservation department at the Fine Arts Museums—are revealed in the exhibition. The study was undertaken in collaboration with the Northwestern University/ Art Institute of Chicago Center for Scientific Studies in the Arts (NU-ACCESS) and the Centre for Research and Restoration of the Museums of France.

Arranged chrono-thematically, James Tissot: Fashion & Faithwill trace the extraordinary turns of the artist's life, as he consistently defied traditional conventions, both professionally and personally. A Frenchman who started out painting medievalized scenes from history and literature, Tissot maintained a complicated friendship with mentee Edgar Degas, went on to adopt an Anglicized version of his name; Jacques, and spent a decade as an expatriate in London, immersing himself in and chronicling modern society. For a time, he ventured into a love affair with the young divorcée Kathleen Newton, who became his model and muse, but, after her tragic premature death, he returned to Paris and spent long periods of productive retreat at his family estate in the French countryside, nurturing a growing, deep commitment to religion.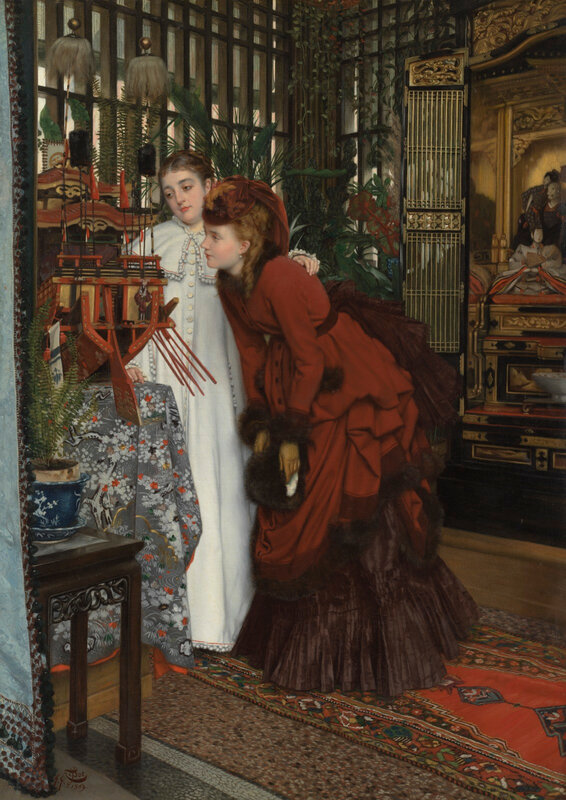 James Tissot, "Young Women Looking at Japanese Objects," 1869. Oil on canvas, 27 3/4 × 19 3/4 in. (70.5 × 50.2 cm). Cincinnati Art Museum, Gift of Henry M. Goodyear, M.D., 1984.217
Tissot's career spanned the English Channel, garnering commercial and critical success both in London and Paris. Though invited by Degas to exhibit with the Impressionists, Tissot declined. He turned to social events and balls, painting metropolitan life with great attention to detail, humor, and pathos. Upon close study, even his most ebullient society pictures reveal rich and complex commentary on Belle Époque culture, religion, fashion, and politics. The exhibition will include many key modern-life works from his time in London and Paris, such as The Ball on Shipboard (1874), London Visitors (ca. 1874), Holyday (also known as The Picnic; 1876), The Prodigal Son in Modern Life suite (1882), and examples from the La Femme à Paris series (1883–1885).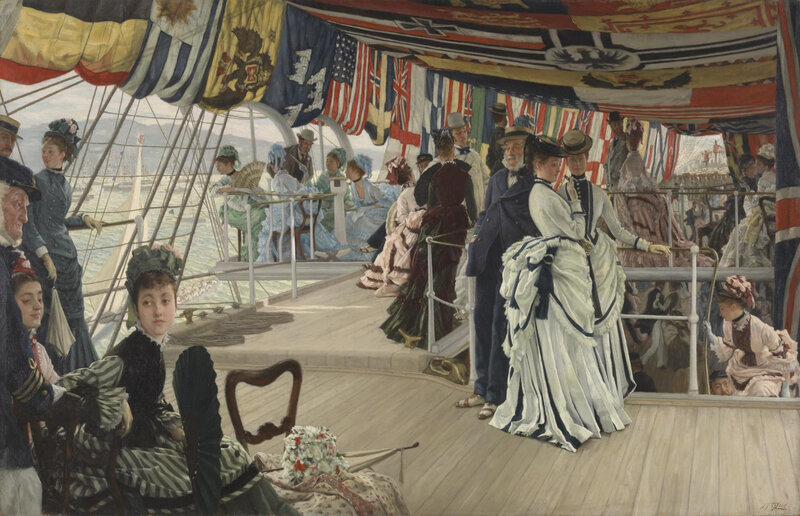 James Tissot, "The Ball on Shipboard," ca. 1874. Oil on canvas, 33 x 51 in. (83.8 x 129.5 cm). Tate Britain, London. © Tate, London 2019
James Tissot, "London Visitors", 1873–1874. Oil on canvas, 63 × 45 in. (160 × 114.2 cm). Toledo Museum of Art, Ohio, Purchased with funds from the Libbey Endowment, Gift of Edward Drummond Libbey, 1951.409
James Tissot, "Holyday (The Picnic)," ca. 1876. Oil on canvas, 30 x 39 in. (76.2 x 99.4 cm). Tate, N04413. © Tate, London 2019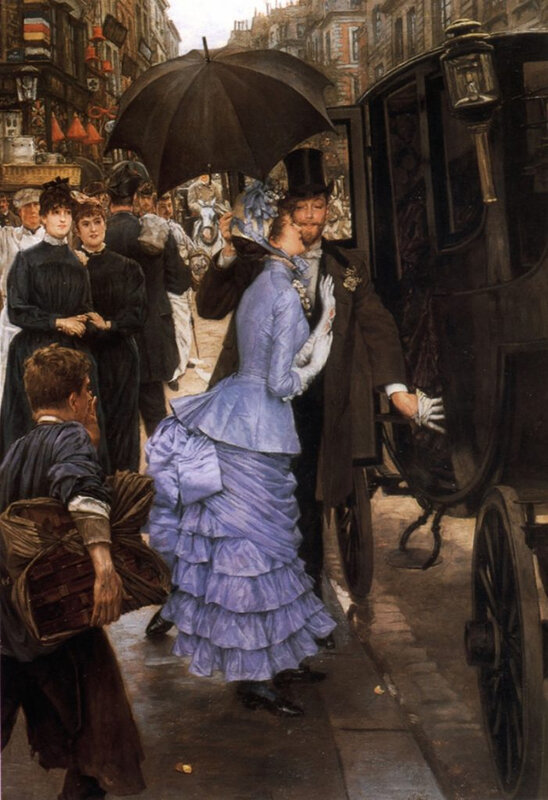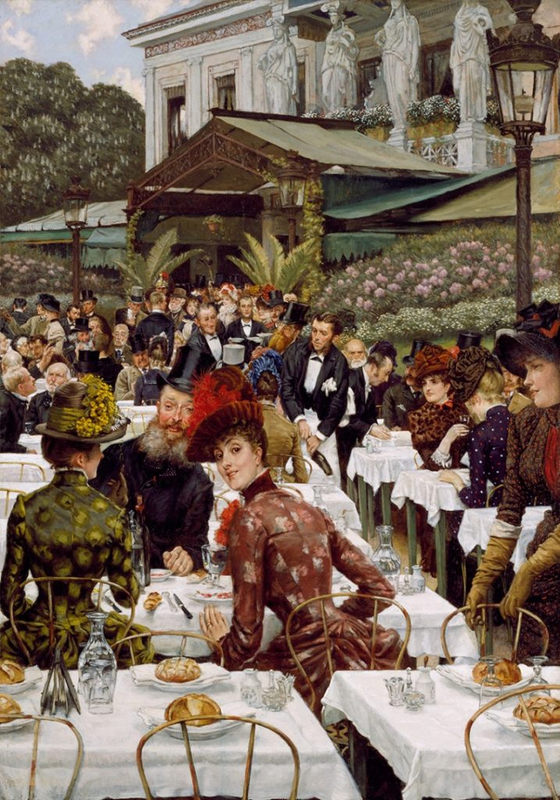 "James Tissot was technically gifted across a variety of media and he experimented with major trends in art, including Aestheticism and Japonisme, yet his work defies classification and traditional labels," notes Melissa Buron, exhibition curator and Director of the Art Division at the Fine Arts Museums of San Francisco. "For the past few years, my colleagues and I have been on the trail of Tissot, re-examining works and uncovering previously unpublished information that provides insight into his career, including his sales notebook (carnet de ventes) and hundreds of photographs. Drawing from our findings, James Tissot: Fashion & Faith provides new perspectives on where and how Tissot should be considered in the 19th-century canon."
As was popular during the late 19th century, Tissot dabbled in mysticism and attended Spiritualist séances. His famous mezzotint from the Fine Arts Museums' collection, The Apparition (1885), depicts the ghost of Kathleen Newton with a spirit guide as they reportedly appeared to Tissot during a séance. This work and the painting on which it is based—long thought to be lost or destroyed until it was rediscovered in the course of researching this project—are both on view in the exhibition.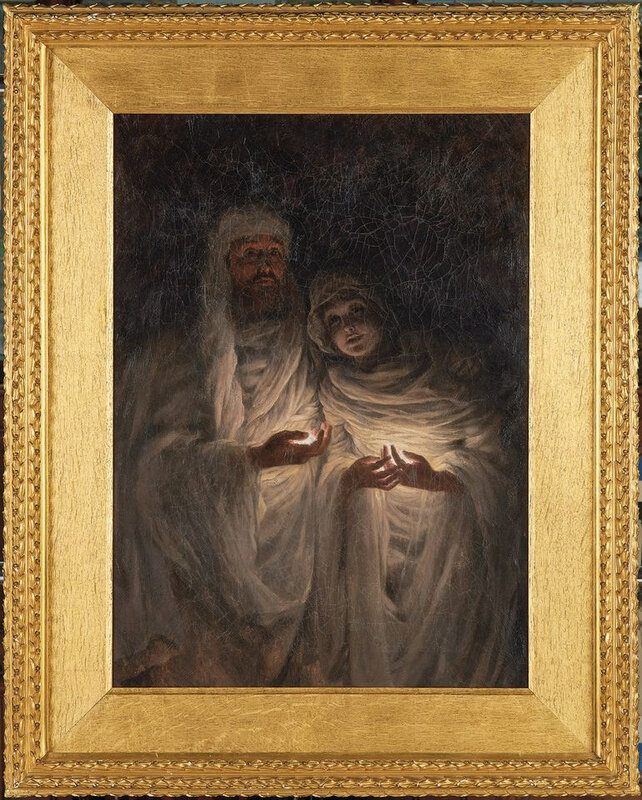 Though less is known about the last two decades of Tissot's life, new scholarship has recently shed light on the final 20 years of his career. During that time, he made three trips to the Holy Land and produced hundreds of watercolors to illustrate the Bible. Wildly popular during Tissot's lifetime, these religious images became known as the "Tissot Bible" and have since influenced filmmakers from D. W. Griffith (Intolerance, 1916) to William Wyler (Ben-Hur, 1959), as well as Steven Spielberg and George Lucas (Raiders of the Lost Ark, 1981). A selection of biblical watercolors have been lent to the exhibition from the Brooklyn Museum and the Jewish Museum, New York.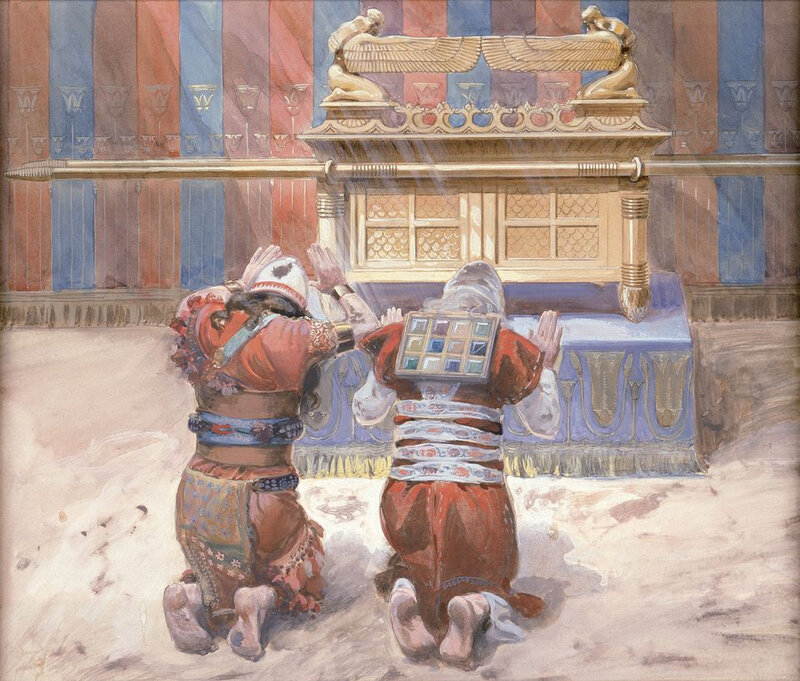 James Tissot, "Moses and Joshua in the Tabernacle," around 1896-1902 © Image courtesy of the Jewish Museum
Tissot also utilized the relatively new medium of photography by painting from photographs and recording many of his works as well as his home, family, and friends in carefully arranged albums. Photographs from the Fine Arts Museums' collection in the exhibition, along with recently discovered, never-before-published photographs and a sales notebook published for the first time in the exhibition catalogue, provide a window into Tissot's life and career, rendering him an artist worthy of reexamination in the 21st century.
James Tissot (standing far right) with the publisher of his old testament series of watercolours, Maurice de Brunhoff (second from left), and two unidentified men in front of the château, circa 1898. Photo: Collection Frédéric Mantion
James Tissot: Fashion & Faith is on view at the Legion of Honor from October 12, 2019, through February 9, 2020. The exhibition is organized by Melissa Buron, Director of the Art Division at the Fine Arts Museums of San Francisco, and Paul Perrin and Marine Kisiel, Curators of Paintings at the Musées d'Orsay et de l'Orangerie, Paris, where the exhibition will be on view from March 23 through July 19, 2020, and Cyrille Sciama, Director of Musée des Impressionnismes Giverny.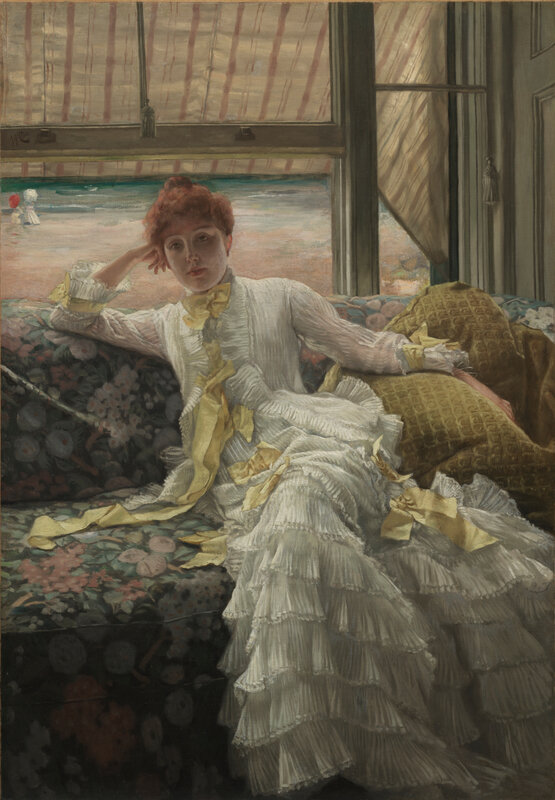 James Tissot, "Seaside (July: Specimen of a Portrait)". Oil on fabric, 87.5 x 61 cm (34 7/16 x 24 in.). Cleveland Museum of Art, Bequest of Noah L. Butkin 1980.288
James Tissot, "Spring (Specimen of a Portrait)," 1877. Oil on canvas, 55 3/4 × 21 in. (141.5 × 53.3 cm); Collection of Diane B. Wilsey, San Francisco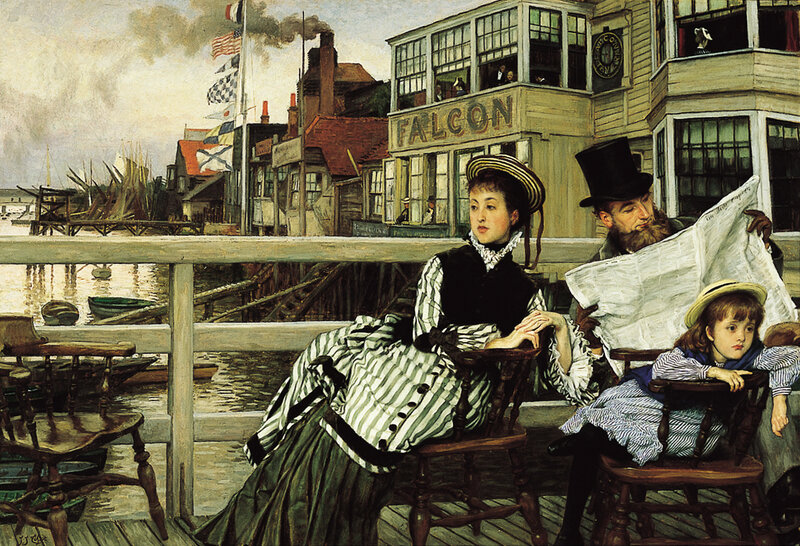 James Tissot, "Gravesend", 1873, also known as "Waiting for the Ferry at the Falcon Tavern." Oil on canvas, 26 1/4 × 38 1/4 in. (66.7 × 97 cm). The Speed Art Museum, Louisville, Gift of Mrs. Blakemore Wheeler, 1963.41