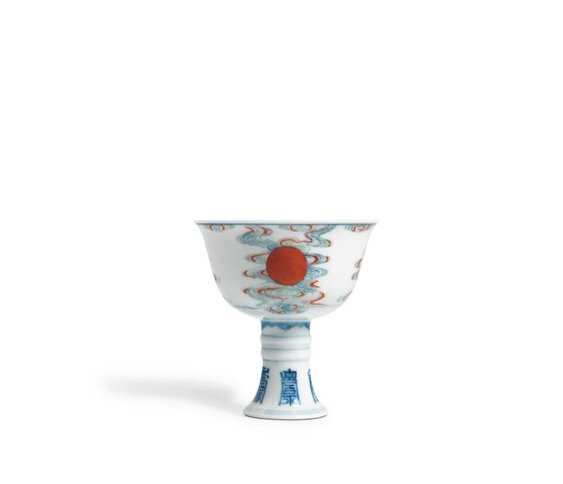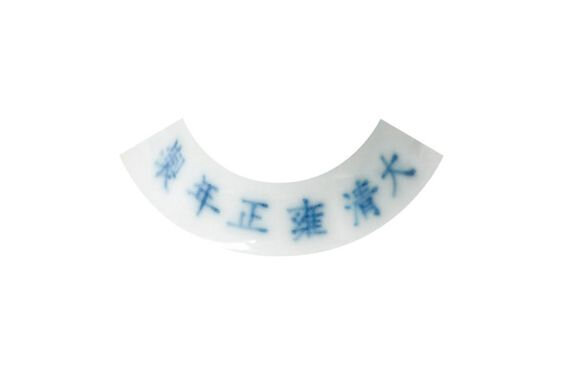 Lot 40. A fine and rare doucai 'sun' stem cup, mark and period of Yongzheng (1723-1735); 8.6 cm., 3 3/8 in. Estimate 4,000,000 — 6,000,000 HKD. Lot Sold 15,220,000 HKD (1,955,466 USD). Photo Sotheby's
delicately potted with steep rounded sides flaring gently at the rim, exquisitely painted to the exterior with a fiery iron-red sun rising from vaporous swirling clouds, the clouds picked out in shaded tones of pale green, yellow, aubergine, and iron red, all below a single-line border at the rim repeated on the interior, the tall hollow double-ribbed foot encircled by a band of ruyi heads, above five shou characters written in different styles and a double-line border, inscribed with a six-character horizontal mark in underglaze blue to the interior of the foot.
Provenance: Sotheby's London, 9th July 1974, lot 433 (one of a pair).
Sotheby's Hong Kong, 24th November 1981, lot 161.
Collection of T.Y. Chao.
Sotheby's Hong Kong, 18th November 1986, lot 136.
Collection of Nancy and Ira Koger.
Sotheby's New York, 27th November 1990, lot 43.
Christie's Hong Kong, 26th April, 1999, lot 536.
Sotheby's Hong Kong, 8th April 2007, lot 768.
Literature: Sotheby's Hong Kong – Twenty Years, Hong Kong, 1993, pl. 253.
Sotheby's. Thirty Years in Hong Kong, Hong Kong, 2003, pl. 185.
Regina Krahl, Chinese Ceramics from the Meiyintang Collection, London, 1994-2010, vol. 4, no. 1744.
Note: The porcelain production of the Jingdezhen imperial kilns for the Yongzheng Emperor is characterized by a search for inspiration from the past and at the same time a remodelling of ancient styles into contemporary designs. A comparison of the present piece with the Chenghua doucai stem cup in this collection, lot 28, clearly shows the changes from the Ming to the Qing dynasty, with the piece becoming slightly larger, the cup more flared and the stem being accentuated by two ribs rather than one, albeit less prominent.
The formal doucai designs of the Chenghua period may well have been too severe for the Yongzheng Emperor, who seems to have favoured auspicious nature scenes. His notorious anxiety, caused probably by irregularities connected with his ascension to the throne, brought about a particular attachment to propitious signs and images of any kind. In the case of the present piece the porcelain painters answered the Emperor's penchant by adding shou ('long life') characters on the stem of the cup, which the Ming dynasty was generally left plain, to an already auspicious motif. The meaning of this striking design of a bright red morning sun rising from among rainbow-coloured clouds is captured in auspicious mottos such as xuri gaosheng ('may you rise as high as the morning sun').
This design may have been inspired by a Kangxi motif of a red sun encompassed by waves under red clouds, that appears painted in cobalt blue under a celadon glaze and enhanced with iron-red enamel, for example, on a bowl in the Palace Museum, Beijing, illustrated in Geng Baochang, ed., Gugong Bowuyuan cang Qingdai yuyao ciqi [Porcelains from the Qing dynasty imperial kilns in the Palace Museum collection], Beijing, 2005, vol. 1, part 1, pl. 22 (fig. 0). Billowing multicoloured clouds were in the Yongzheng period also used on their own to decorate vases and water pots; see the vase sold in these rooms, 8th April 2010, lot 1862; and water pots in The Tsui Museum of Art, Hong Kong, 1991, pl. 112.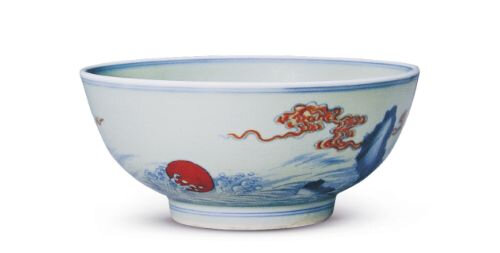 Celadon bowl with a sun emerging from wavers in cobalt blue and iron red, Kangxi Mark and Period, Palace Museum, Beijing.
The companion stem cup, sold together with the present piece at Sotheby's London in 1974, later in the collection of Roger Lam, and in the Art Gallery, The Chinese University of Hong Kong, was sold again in these rooms 23rd October 2005, lot 461, and 9th October 2007, lot 1613. Another pair of stem cups of this rare pattern is in the collection of the Art Institute of Chicago (accession nos. 1941.687 A and B, unpublished).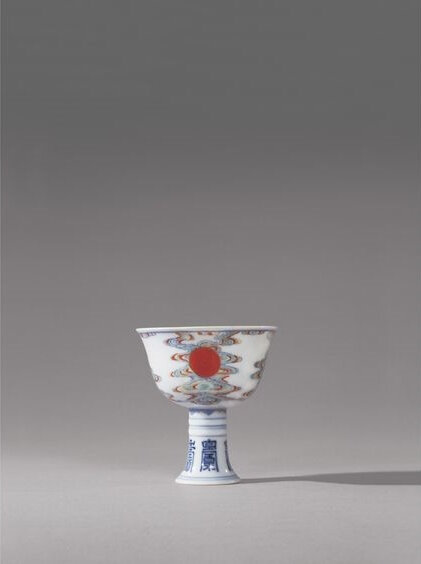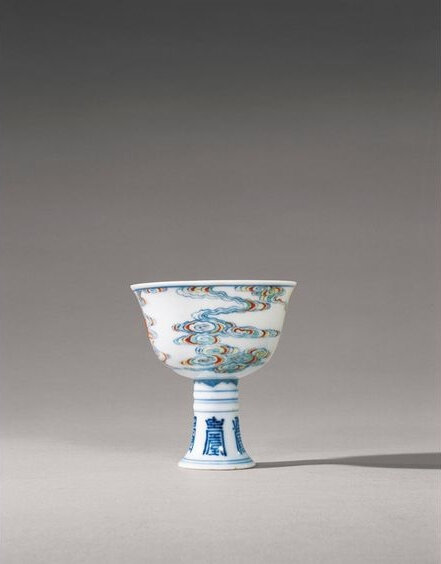 From the collection of Roger Lam. A very rare doucai stemcup, mark and period of Yongzheng (1723-1735); diameter 7.8cm., 3 1/8 in. Sold for 4,807,500 HKD at Sotheby's Hong Kong, 9th October 2007, lot 1613. Photo: Sotheby's.
Pair of Stem Cups with Sun amid Clouds and Stylized Characters for "Long Life" (Shou), Qing dynasty (1644–1911), Yongzheng reign mark and period (1723–1735). Porcelain painted in underglaze blue and overglaze enamels (doucai). H. 8.7 cm (3 7/16 in.); diam. 8.0 cm (3 1/8 in.). The Art Institute of Chicago. Bequest of Henry C. Schwab, 1941.687a-b.
Sotheby's. The Meiyintang Collection, Part II - An Important Selection of Chinese Porcelains. Hong Kong 5 october 2011