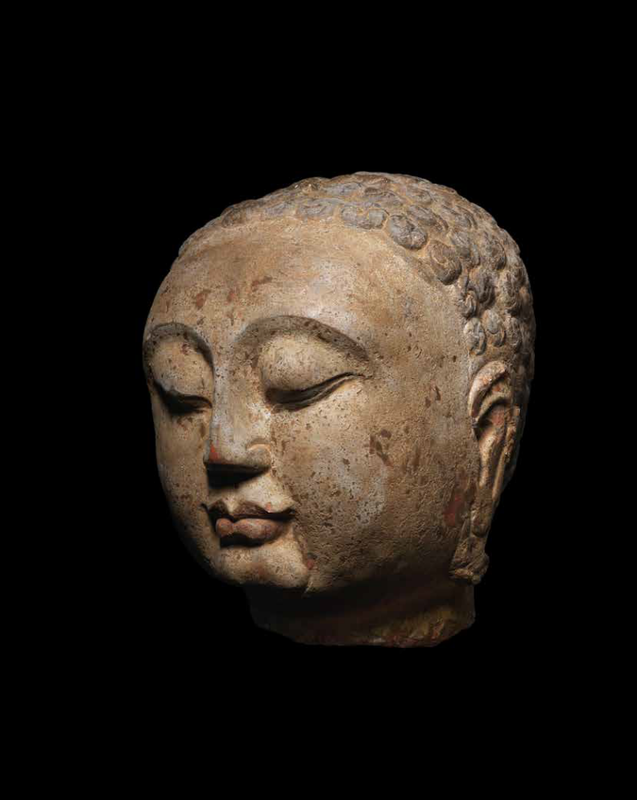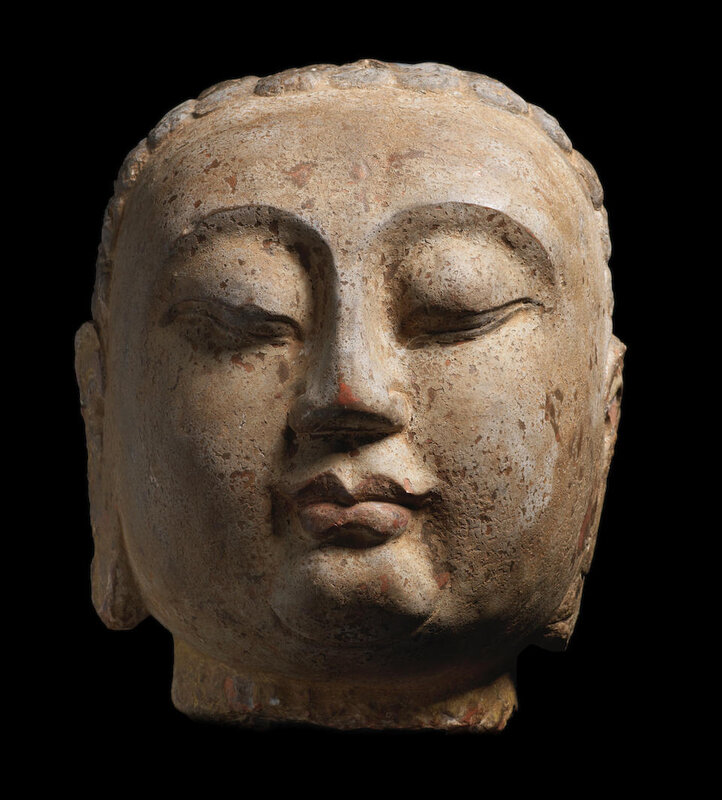 Lot 39. A superb carved polychrome limestone head of Buddha, Sui Dynasty (581-618); 36cm (14 1/4in) high. Estimate: £40,000 - 60,000 (€ 46,000 - 70,000). Unsold. Photo: Bonhams.
The smoothly carved face with meditative expression, the heavilly lidded eyes down-cast beneath arched brows, the thin nose above gently curving lips, the hair carved as tight curls, all between long pendulous ears, the stone of dark-grey and yellow-ochre tone, stand.
Property from the Collection of John J. Studzinski, CBE.
Provenance: Jacques Barrere, Paris, 19 January 1999
John J. Studzinski, CBE
Note: The serene meditative expression of this sculpture, rendered through the sensitive carving style and harmonious curves, epitomizes the high quality achieved by stone carvers in the Sui dynasty. The fleshy face, narrow eyes, and sharply carved arched brows which form a harmonious curve with the ridge of the nose, encapsulate the classic style of the Buddha image in the Sui dynasty.

The political and social turmoil that accompanied dynastic changes leading to China's unification under the Sui dynasty in the late 6th century significantly impacted Chinese Buddhist practice in several ways which are reflected in religious art of the period. In their search for refuge beyond the chaos of the material world, a variant form of Pure Land Buddhism which allowed adherents to be reborn in Sukhavati (the Western Paradise of the Buddha Amitabha), grew in popularity. Consequently, images of Buddha proliferated in the third quarter of the 6th century, as evidenced by the present and numerous contemporaneous examples.

The Sui dynasty emperors used this invigoration of Buddhist faith as an opportunity to embark on major building projects, including the construction of pagodas, temples and religious statuary, as a means of unifying the fragmented empire. Indeed, Emperor Wen and his empress had converted to Buddhism to legitimise imperial authority over China. The emperor presented himself as a Cakravartin king, a Buddhist monarch who would use military force to defend the Buddhist faith. This religio-political agenda also led to increased communication across eastern Eurasia, which contributed to the transmission of Buddhist concepts and artistic styles from South and Central Asia into China, and from China to Korea and Japan.

Compare with a related stone head of Buddha, Tang dynasty, with similarly low forehead, in the Metropolitan Museum of Art, New York (ac.no.13.151.1). See also a monumental marble Amitabha Buddha, Sui dynasty, in the British Museum, London, illustrated in Chinese Sculpture, New Haven, 2006, fig.3.95. Compare also with a related limestone head of Buddha, Northern Qi/Sui dynasty, which was sold at Bonhams New York, 19 March 2018, lot 8160.
Bonhams. Fine Chinese Art, London, 7 Nov 2019