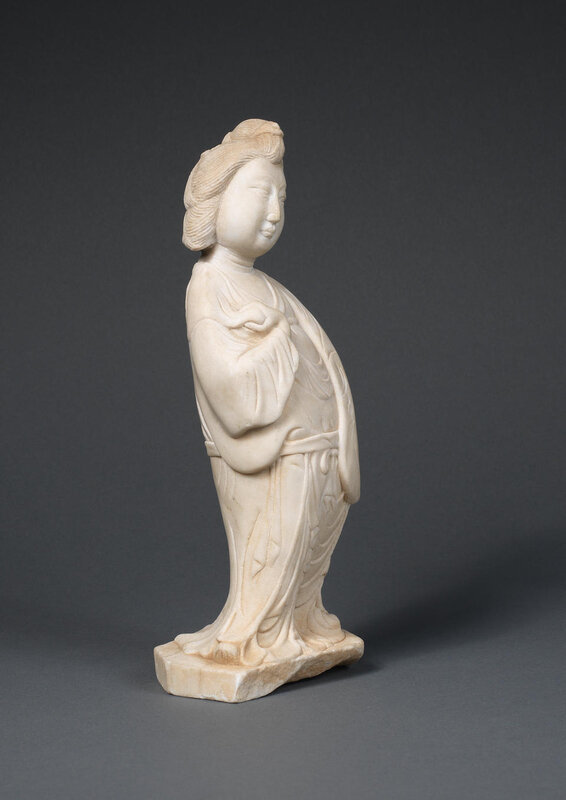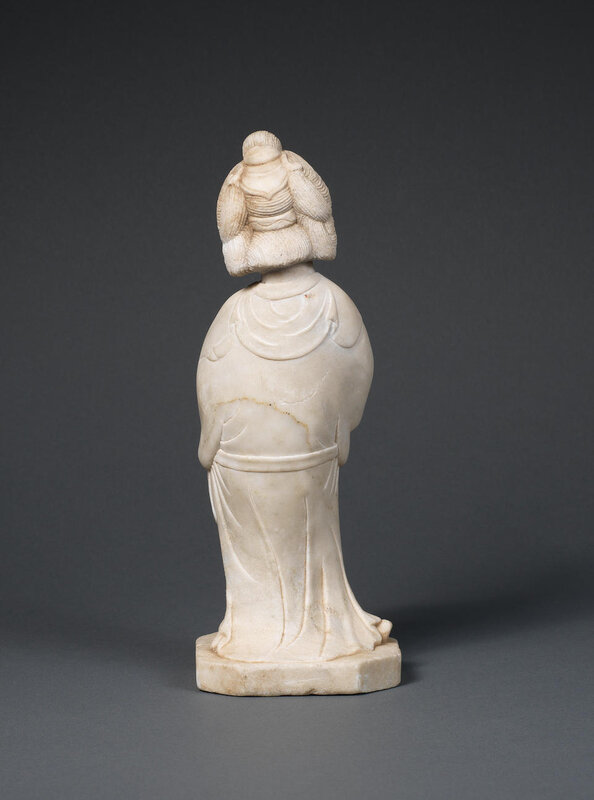 Lot 40. A fine and rare white marble figure of a court lady, Late Tang Dynasty-Five Dynasties; 24cm (9 1/2in) high. Estimate: £60,000 - 100,000 (€ 70,000 - 120,000). Unsold. Photo: Bonhams.
Deftly carved standing in a languid pose, with full rounded face and delicate features, her head tilted to one side and hair coiffed into a bun, her right hand raised to her chest grasping a shawl draped loosely over her shoulders, her left hand concealed by voluminous robes tied with a sash around her waist, falling in neat pleats to reveal the right toe of her slipper, the stone of sugary-white tone, stand.
Property from the Collection of John J. Studzinski, CBE.
Provenance: J.J.Lally & Co., New York, 14 May 2004
John J. Studzinski, CBE
Note: Figures of plump ladies in long flowing robes are a classic Tang dynasty image which continued well into the Five Dynasties period. Compare the images of plump court ladies with similar hairstyles and long flowing robes in painted marble reliefs in the tomb of Wang Chuzi (died 923.AD) in Xiyanchuan, Quyang, Hebei Province, published in 'Wu Dai Wang Chuzhi Mu', in Wenwu, Beijing, 1998, pp.33-57. Compare also with a smaller seated white marble female figure, Tang dynasty, excavated from Nianliwang village, Changan county, Shaanxi Province, illustrated in Wu Hua Tian Bo: Tangdai Guizu de Wuzhi Shenghuo, Hong Kong, 1993, p.49, no.8.
Bonhams. Fine Chinese Art, London, 7 Nov 2019