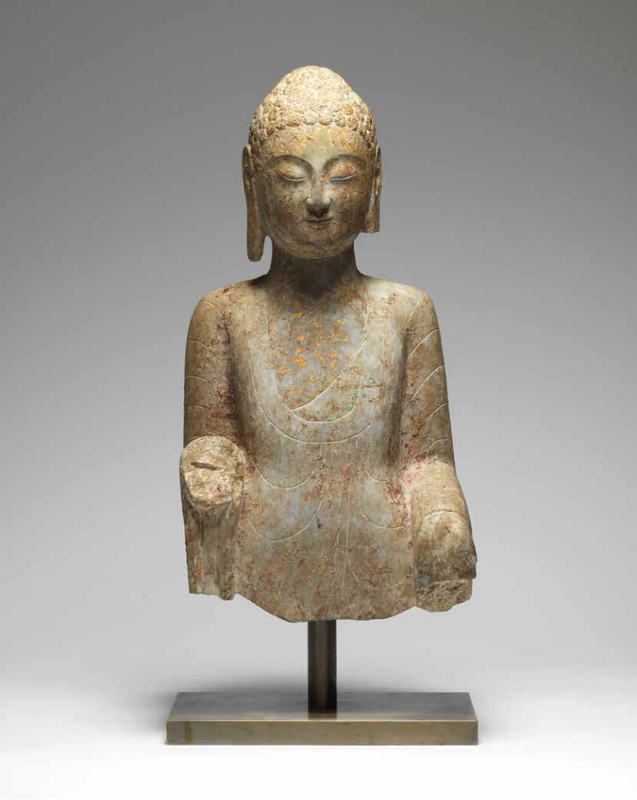 Lot 36. A very rare limestone bust of the Buddha, Northern Qi Dynasty (550-577); 56cm (22in) high. Estimate: £50,000 - 80,000 (€ 58,000 - 93,000). Unsold. Photo: Bonhams.
Expertly carved with serene face, the eyes down-cast in meditation, the body slightly elongated and wearing a close-fitting robe defined by shallowly-incised incision lines, the stone with traces of red pigment, malachite and gold remainings, the curls of the hair with traces of lapis lazuli, stand.
Property from the Collection of John J. Studzinski, CBE.
Provenance: Jonathan Tucker Antonia Tozer Asian Art, London, 20 January 2003
John J. Studzinski, CBE.
Note: Elegantly rendered in deep meditation, its features defined by long and arched eyebrows merging into a straight nose, between elongated downcast eyes and full bud lips set in a serious, slightly smiling expression, the present figure is one of the finest examples of the highest standards achieved in the sculpting tradition of the Northern Qi dynasty.

The sculpture is remarkably close in style to a small group of 6th century Buddhist figures discovered at the Longxing Temple in Qingzhou, Shandong Province, and probably originated from the same area. The thin robes emphasising the slender body of the figure are very similar to those noted on the Qingzhou examples, as is the use of coloured pigments particularly the gold to cover the skin and sapphire blue to depict the curly hair, in accordance with the established canon of Buddha images.

The figures discovered at Qingzhou were usually depicted wearing patchwork robes painted in red and green pigments, and have been identified as personifying either Vairocana, (the main Buddha of the Flower Garland Sutra, Huayan Jing 華厳経, or Shakyamuni, the Historical Buddha, Lord of the Universe.) For a detailed discussion see Zhang Zong, 'The Qingzhou Region: A Centre of Buddhist Art in the 6th Century' in L.Nickel, Return of the Buddha: The Qingzhou Discoveries, London, 2002, pp.49-53. See also Wang Huaqing, ed., The Art of Buddhist Statuary at Longxing, Jinan, 1999, pp.110-122.

Buddhism flourished during the Northern Qi dynasty and the Qi aristocracts, headed by a military class of nomadic origin, were receptive to foreign influences, especially in art. Hence, a style influenced by the Gupta art of India, noted in the long and arched eyebrows and the clinging robes worn by the present figure, acquired pre-eminence soon after the Northern Qi dynasty came to power.

Compare with a related limestone figure of a standing Buddha, Northern Qi dynasty, illustrated in Return of the Buddha: The Qingzhou Discoveries, London, 2002, pp.104-105, no.14. Compare also with a related bust of a limestone standing figure of the Buddha, Northern Qi, illustrated in Masterpieces of Buddhist Statuary from Qingzhoy City, Beijing, 1999, p.102.
Bonhams. Fine Chinese Art, London, 7 Nov 2019