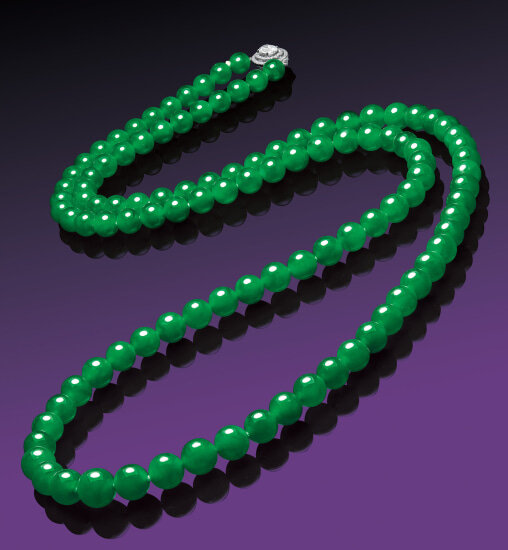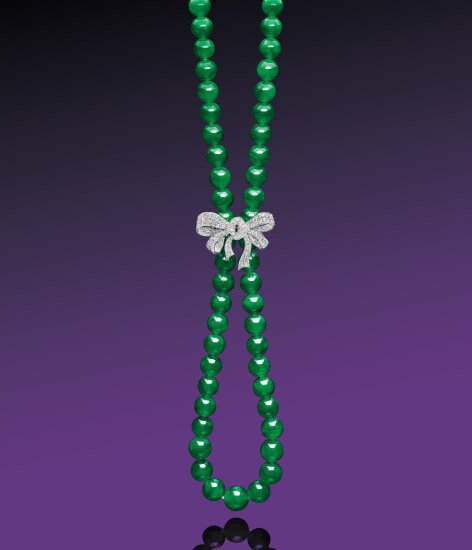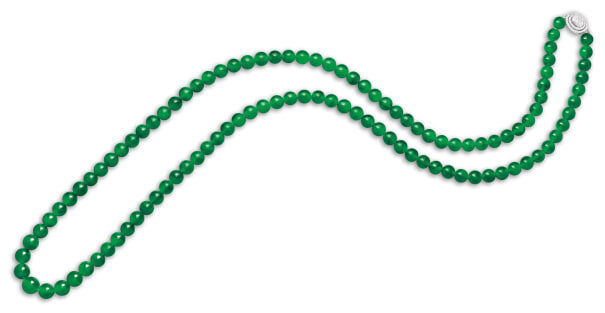 Lot 629. A Very Fine Jadeite Bead and Diamond Necklace. Estimate HK$8,500,000 - 11,000,000 ($1,150,000-1,400,000). © Phillips
One hundred and eight jadeite beads, measuring approximately 11.87 to 8.70mm. An oval diamond set on clasp, weighing 1.51 carats; 18 karat white gold. With a detachable diamond-set 'bow-knot' catch. Length approximately 1050mm
(Jadeite Beads)
Hong Kong Jade & Stone Laboratory report, numbered KJ100783(1-5), dated 10 September 2019, Type A Jadeites, natural colour without any resin.
(1.51-carat Diamond)
GIA report, numbered 6127218305, dated 9 June 2010, D colour, VS2 clarity.
Note: A fine jadeite bead necklace has always been considered one of the most classic and rarest connoisseur jewellery items. To assemble a considerable number of jadeite beads, a huge jadeite boulder is required to provide enough quality beads for selection. On average, two-third of theses beads are rejected in the process, so only beads of the best matching colour and translucency are chosen. This very necklace is a fine example resulting from such a highly selective procedure. It is composed of 108 jadeite beads of superb quality, carefully selected from a pool of 500 beads originating from a boulder that weighed almost 5 kilograms. Each jadeite bead is scrupulously hand-picked to ensure well-matched colour, texture and translucency.
Phillips. Jewels & Jadeite, Hong Kong Auction 25 November 2019