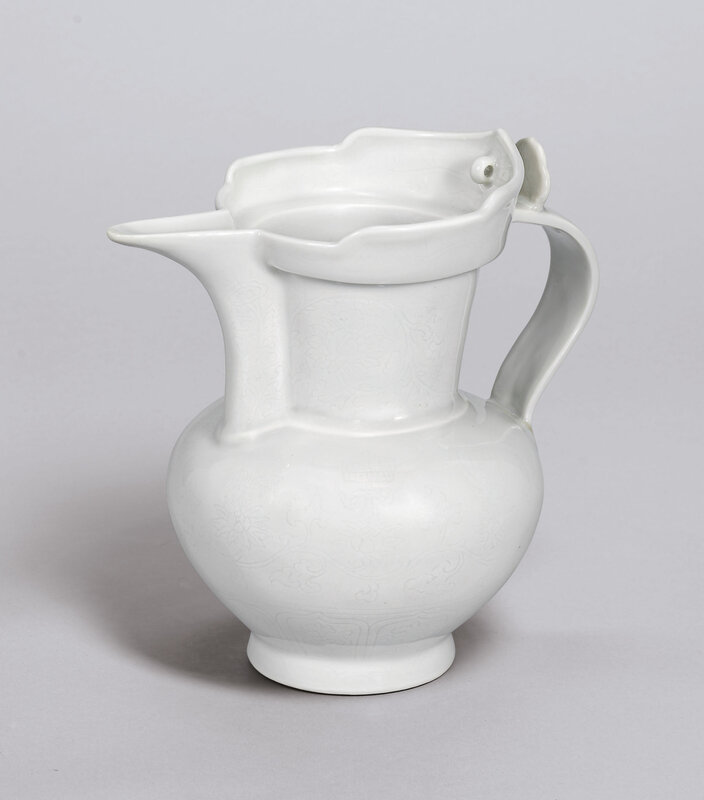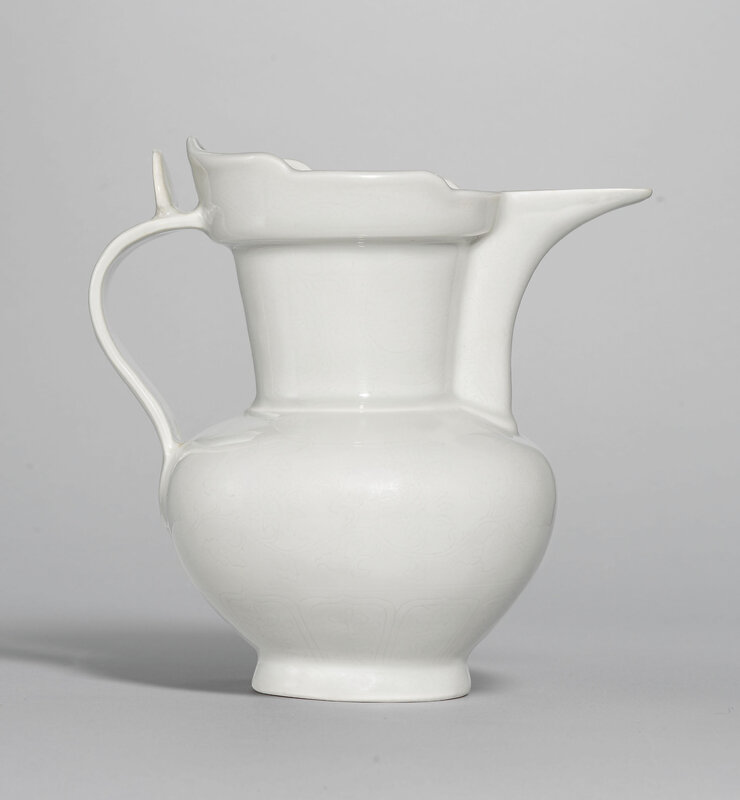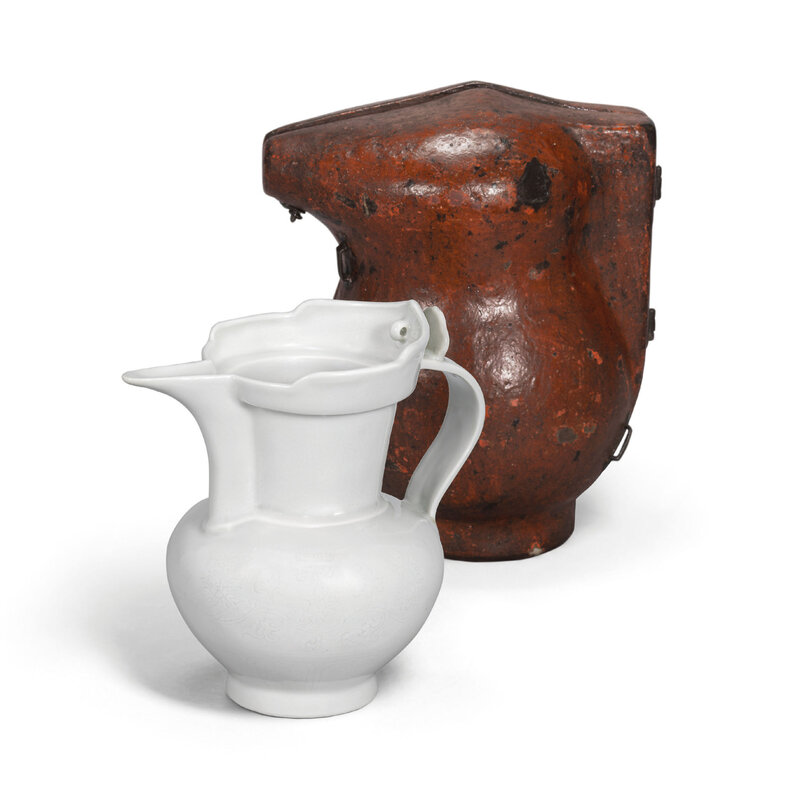 Lot 2921. A rare tianbai-glazed incised 'bajixiang' monk's cap ewer, sengmaohu, Yongle period (1403-1424); 7 ¾ in. (19.5 cm.) high. Estimate HKD 1,500,000 - HKD 2,500,000 (USD 192,597 - USD 320,995). Price realised HKD 1,875,000. © Christie's Images Ltd 2019.
The moon flask is sturdily potted with a flattened octagonal body raised on a tapered foot and rising to a cylindrical neck flanked by a pair of openwork archaistic handles. The vase is covered under an even crackled glaze of bluish-grey tone. The foot is dressed browThe ewer is potted with a globular body with anhua decoration around the mid-section comprising the Eight Buddhist Emblems, bajixiang, each above a lotus flower on a leafy scroll, all above a band of lappets containing flower-heads around the base, the waisted neck with a scroll comprising four flower-heads, the spout and galleried rim both incised with a flower spray, the strap handle with a lingzhi scroll. The entire vessel is applied with a pale milky white glaze with the exception of the foot revealing the fine white body, Tibetan box.
Provenance: Sold at Sotheby's New York, 21 September 2006, lot 301.
Note: This particular ewer form is a Lamaist Buddhist ritual vessel, which derived its name, sengmaohu, monk's cap ewer, from the shape of its upper section, resembling a Tibetan monk's hat. The Tibetan shape has its origins in the Yuan dynasty. Ewers of this form were made for the visit of the fifth Tibetan hierarch, Halima, to Nanjing in 1407, where he was invited by the Yongle Emperor to officiate at religious services.

Among these and the gifts presented to high Tibetan Lamas would have been 'sweet white' monk's cap ewers similar to the current example. A number are still preserved in Tibet, and an example from the Tibet Museum was exhibited at the Shanghai Museum in 2001. See Treasures from Snow Mountains - Gems of Tibetan Cultural Relics, Shanghai Museum, 2001, p. 177, no. 88. A similar ewer from the collection of Palace Museum, Beijing is illustrated in Monochrome Porcelain, The Complete Collection of Treasures of the Palace Museum, Hong Kong, 1999, p.109, pl. 100.

Yongle tianbai or 'sweet white' glazed monk's cap ewers are either undecorated or incised with foliate scroll, text from a sutra, or the bajixiang, as in the present example, on the widest body.

Similar ewers, with and without incised decoration have been excavated at the Ming imperial kiln sites, such as the example included in the exhibition, Imperial Porcelain of the Yongle and Xuande Periods, excavated from the site of the Ming Imperial factory at Jingdezhen, Hong Kong Museum of Art, 1989, illustrated in the Catalogue, no. 8.

Compare to other published examples incised with the bajixiang decoration, including one illustrated by Jenyns, Ming Pottery and Porcelain, London, 1988, pl. 26a; one exhibited in Selected Treasures of Chinese Art, Min Chiu Society, 30th Anniversary Exhibition, Hong Kong, 1990, Catalogue, no. 150; and one sold at Christie's Hong Kong, 25 October 1993, lot 731.
Christie's. An Important Collection Of Chinese Ceramics From A Private Collector, Hong Kong, 27 November 2019