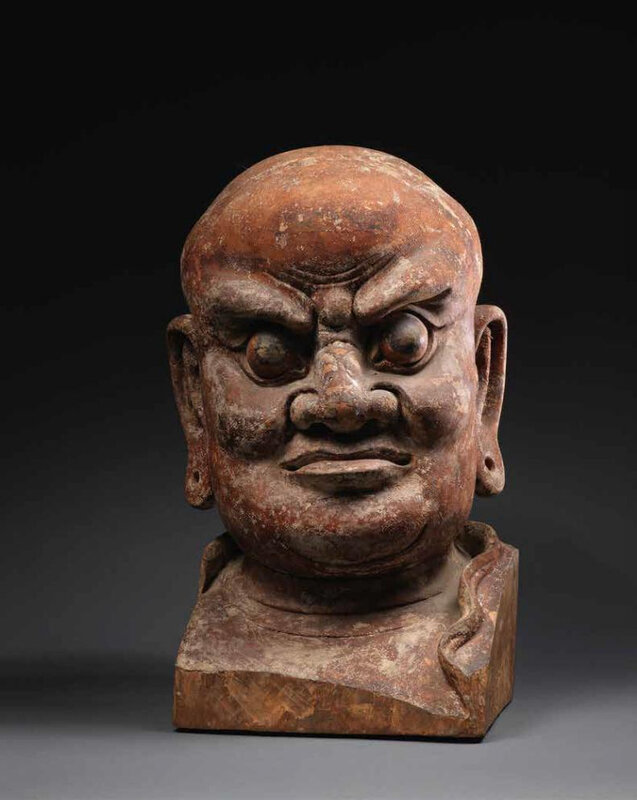 Lot 51. A rare carved wood head of a Lokapala, Song Dynasty (960-1279); 39cm (15 1/4in) high. Estimate £25,000 - 35,000. Sold for £ 68,812 (€ 80,348). Photo: Bonhams.
With wide bulging eyes, the pupils painted, the nose flat with flaring nostrils, the forehead and eyebrows protruding and mouth close with lower lip jutting out, covered in coarse cloth with traces of pigment and lacquer, a strip of cloth with Sanskrit inscription applied across the dome of the head, stand.
Provenance: A & J Speelman Ltd., London, 20 November 1990
John J. Studzinski, CBE.
Published and illustrated: A & J Speelman Ltd., Catalogue, London, 1990, no.10
Note: The present lot is a fine example of realism with exceptionally fine carving. The facial features are emphasized by the definition of the muscles, especially the frown lines between the eye brows and the nose bridge.

The inscription applied on a strip of cloth over the dome of the present lokapala's head reads:
'ན་མོ་ས་རྭ་ཏ་ཐ་ག་ཏེ་བྷྱོ་ཨ་ར་ཧ་ཏེ་བྷྱོ་ས་མྱག་སཾ་བུད་དེ་བྷྱོ་ཧེ་ཧེ་བྷན་དྷ་བྷན་དྷ་༅་༅་༅་དྷ་ར་....་ཨུར་ཨ་ན་ནི་སཝ་ཧ།་ནམ་སརབ༹ཏཐགཏེབྷྱོའརཧདབྷྱ་སམྱཀསམབུདདྷེབྷྱ་༑་ཧེ་ཧེ་བནདྷ་བནདྷ་ཏིཧ་ཏིཧ་དྷརཡ་དྷརཡ་ནིརུནདྷ་ནིརུནདྷ་རམཨི་སབ༹ཧའ'
which may be translated as:
'Worship to all tathāgata, arhats and fully awakens Buddhas; he, he! Remain, remain! Bind, bind! Hold, hold! Restrain, restrain! O Ūrṇāmaṇi, svāhā!'
Compare with a related example of a stucco luohan with a similar facial expression, Yuan dynasty, in the Asian Art Museum, San Francisco (ac.no.B60S319). See also a similar wood head from the Avery Brundage Collection, illustrated in Chinese, Korean and Japanese Sculptures, Tokyo, 1974, pl.142. The expressive power of this style of sculpture produced in the Song dynasty strongly influenced Japanese sculpture of the Kamakura period (1185-1332).

See a related but later carved wood figure of a luohan, Ming dynasty, which was sold at Sotheby's New York, 23 March 2019, lot 1666.
Bonhams. Fine Chinese Art, London, 7 Nov 2019