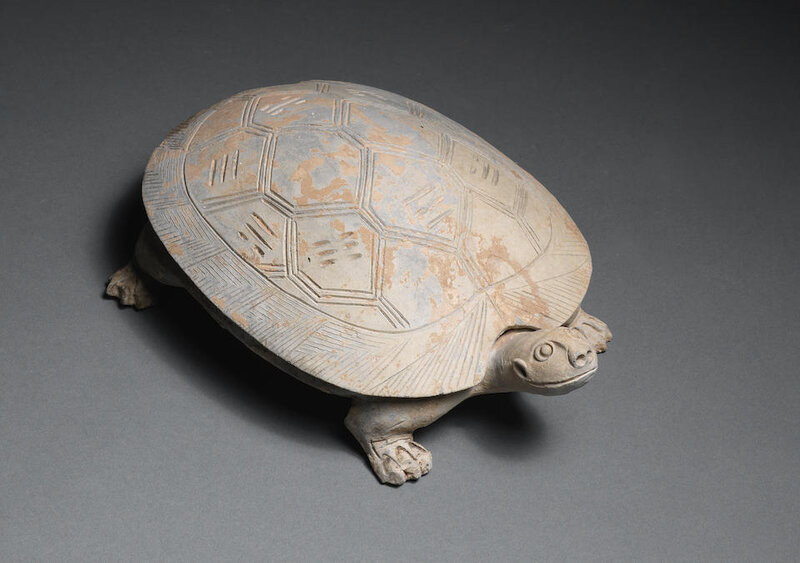 Lot 29. A tortoise-shaped pottery ink-stone and cover, Han Dynasty (206 BC-220 AD); 23.5cm (9 1/4 in) long. Estimate £15,000 - 20,000. Sold for £ 27,562 (€ 32,183). Photo Bonhams.
Naturalistically modelled as a tortoise standing four-square on short legs, the head gazing upward, the back hollowed to form the inkwell, the cover incised with hexagrams and trigrams.
Property from the Collection of John J. Studzinski, CBE
Provenance: Gisèle Croës Arts d'Extrême-Orient, Brussels, 18 May 2001
John J. Studzinski, C.
The result of ASA Authentication et Datation d'Objects d'Art et d'Archaeologie par Methodes Scientifiques, Paris, thermoluminescence test no.14.24.27- TL 102.062, dated 19 February 2001, is consistent with the dating of this lot.
Note: Tortoise-shaped ink-stones appear to have been in use in China for many centuries, from the Han dynasty (206 BC –AD 220) onwards, and are known both with and without cover, in stone and in pottery. Since the very early literary references, the shell of the tortoise was considered evocative of the cosmos, with the upper surface reminiscent of the vaulted heaven, and the underside analogous to the flat disc of the earth. As animals living a long life, tortoises symbolised longevity but also immutability and steadfastness. The use of the tortoise as support, such as in the present example, probably derives from the observation of the animal's habit of burying itself under the ground and re-emerge at certain times. The use of the tortoise as an ink-stone probably derived from the tortoise's further association with water. For reference see C.Michaelson, Gilded Dragons. Buried Treasures from China's Golden Ages, London, 1999, pp.54-55.

A similar but slightly larger tortoise-shaped ink-stone and cover, Han dynasty, from the collection of the Miho Museum, Kyoto, is illustrated in Catalogue of the Miho Museum (The South Wing), Kyoto, 1997, pl.119.

Compare with a related tortoise-shaped pottery ink-stone, Han/Tang dynasty, which was sold at Sotheby's Hong Kong, 2-3 June 2016, lot 693.
Bonhams. Fine Chinese Art, London, 7 Nov 2019