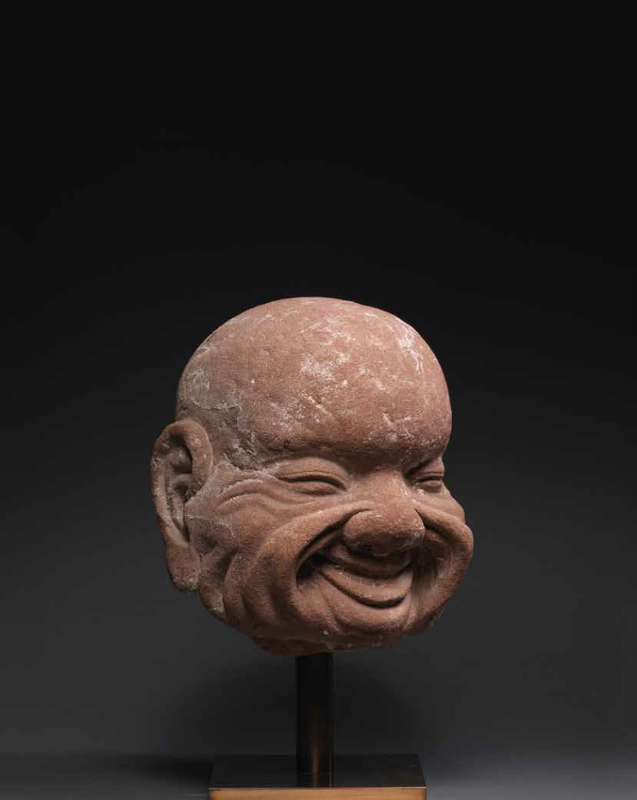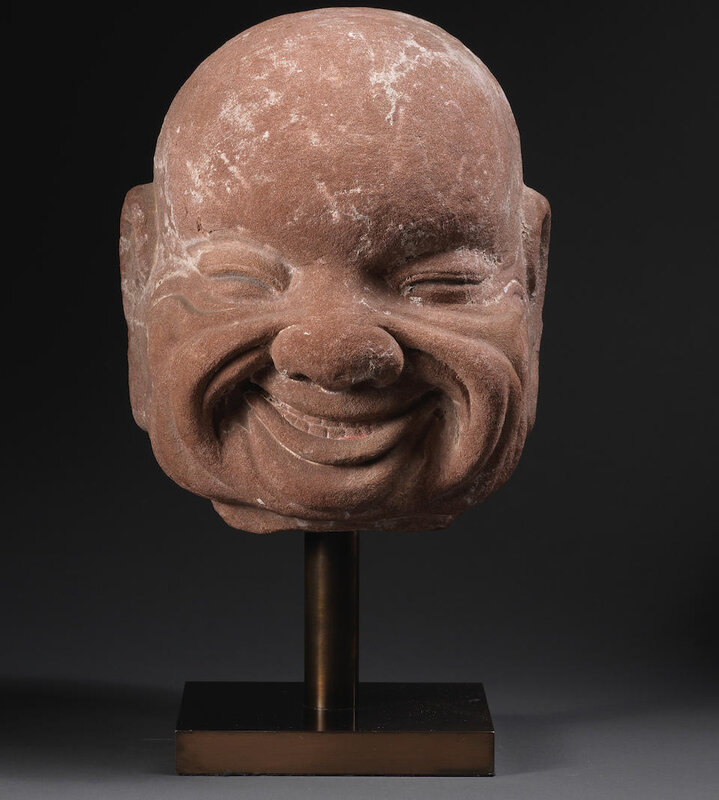 Lot 55. A rare sandstone head of a luohan, 14th-15th century; 25cm (9 7/8in) high. Estimate £ 8,000 - 12,000. Sold for £ 8,812 (€ 10,289). Photo Bonhams.
Expressively carved with a broad smile and deep-cut lines, beneath a short bulbous nose and narrow squinting eyes, all between large pendulous ears, the stone of dark reddish-brown tone, stand.
Property from the Collection of John J. Studzinski, CBE
Provenance: Ben Janssens Oriental Art Ltd., London, 20 February 2006
John J. Studzinski, CBE
Published and illustrated: A & J Speelman Ltd., Catalogue, London, 1990, no.14
Note: Animated like portraits of luohans are extremely rare, most examples being straightforward and somewhat idealised renditions. The present lot most probably originates from Sichuan Province, which has a long tradition of depicting lively, caricature-like effigies of humans, as is evident in some of its pottery figures of entertainers, such as a figure of the grimacing drummer in the Sichuan Provincial Museum; see R.Bagley, Ancient Sichuan: Treasures from a Lost Civilization, Seattle, 2001, p.298, no.111. A more naturalistic trend in sculpture was initiated by Song dynasty sculptors, who also often depicted human figures with animated, expressive faces. This trend continued into the subsequent Yuan and Ming dynasties. Two sandstone sculptures of arhats, one with a tiger, the other with a dragon, were discovered in 1980 at the Boshan Temple site in Fu county, Shaanxi Province; see H.Rogers, China 5000 Years: Innovation and Transformation in the Arts, New York, 1998, no.177.
Bonhams. Fine Chinese Art, London, 7 Nov 2019