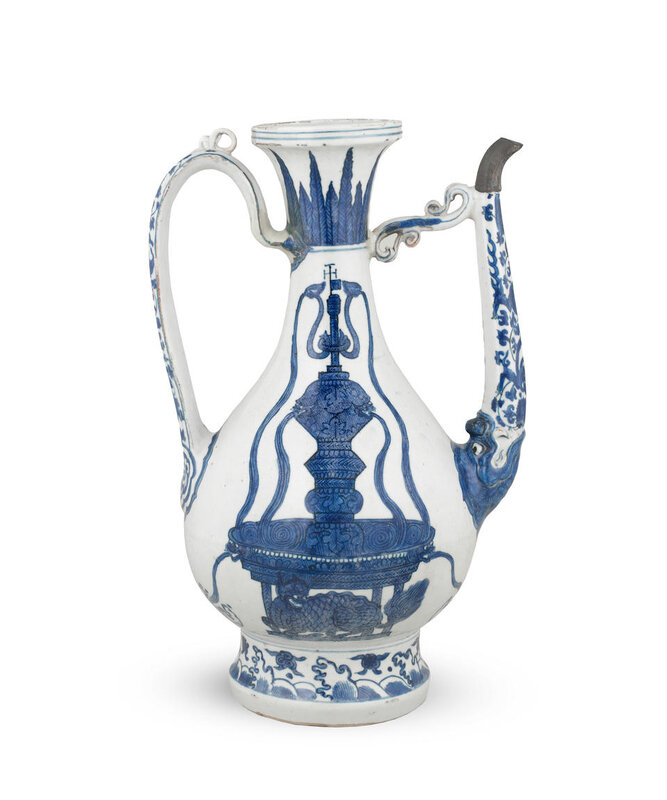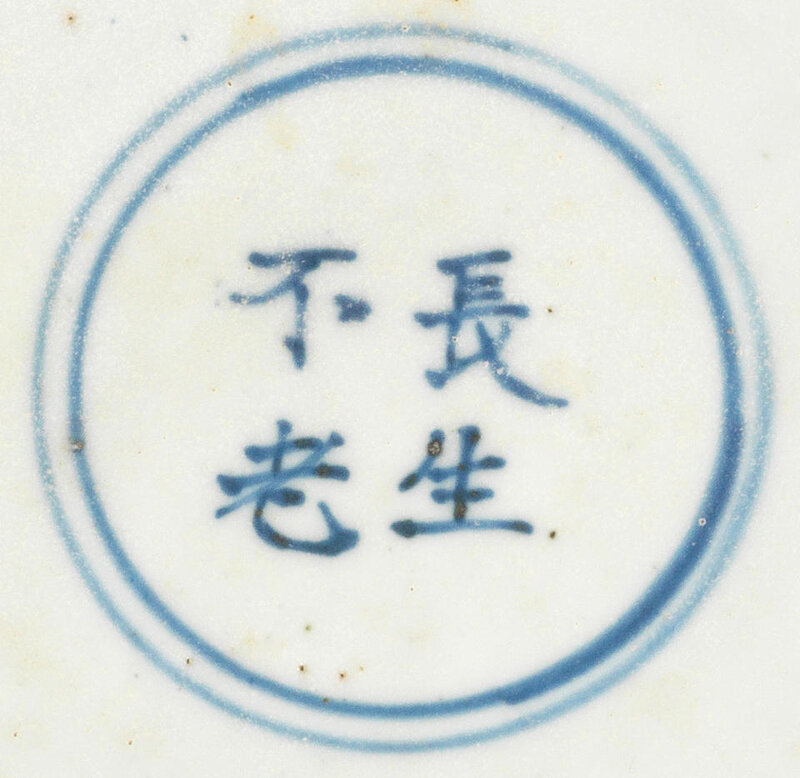 Lot 90. A rare blue and white 'magic fountain' ewer, Changsheng bulao four-character mark, Jiajing period (1522-1566). 33cm (13in) high. Estimate: £22,000 - £28,000. Sold for £ 22,562 (€ 26,339). Photo: Bonhams.
Of compressed globular form with a long waisted neck below a galleried rim, painted in vivid tones of blue on each side of the body with an elaborate water fountain surmounted by a cross and supported by a mythical qilin, the neck with upright plantain leaves, the elegantly curved spout issuing from a mythical beast-head and arched strap-handle further decorated with writhing dragons amidst floral scrolls, fitted box.
Note: The Jiajing emperor was so concerned with immortality that many decorative motifs were associated with longevity. The precise meaning and origins of these fountains are unclear, but the motif appears to evoke the wish of extending life, or living forever. This theme is carried on by the mark on the base reading 'chang sheng bu lao', which can be translated as 'live forever and never become old', implying almost that to drink from this ewer would extend one's own life.

These ewers also found their way to Europe where they were appreciated for their exoticism. An oil painting in the Museo Nacional Thyssen-Bornemisza, Madrid, by Willem Kalf, circa 1660, depicts a still life with a very similar blue and white ewer with the same motif (ac.no.1981.77).

A related blue and white ewer with similar motif, Xuande six-character mark, 16th century, is illustrated by J.Pope, Chinese Porcelains from the Ardebil Shrine, London, 1981, pl.99. Another similar blue and white ewer with the same motif is in the Victoria and Albert Museum, London (acc.no.C.105-1928).

Compare with a related blue and white ewer with similar motif, Jiajing, which was sold at Sotheby's London, 5 November 2014, lot 318.
Bonhams. Fine Chinese Art, London, 7 Nov 2019