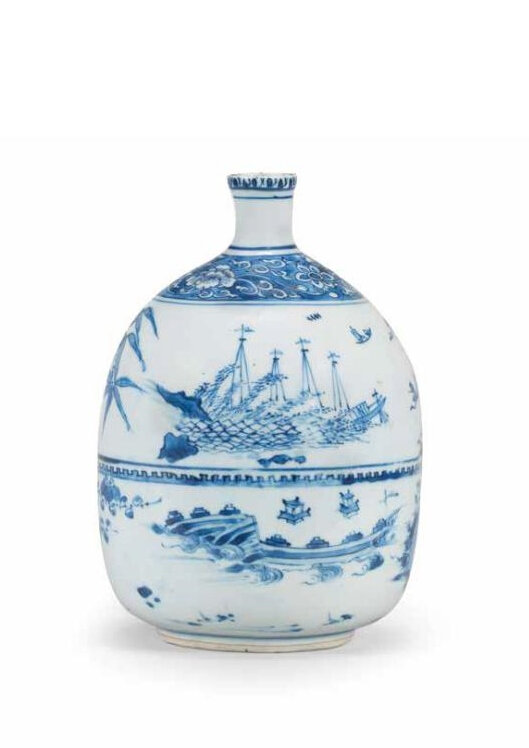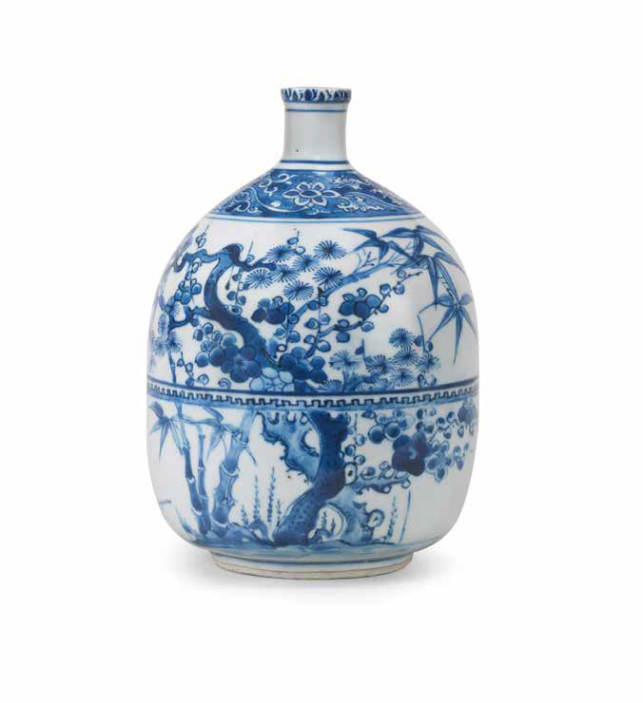 Lot 91. A rare blue and white flask for the Japanese market, Tianqi-Chongzhen (1621-1644); 18.5cm (7 1/4in) high. Estimate: £18,000 - £24,000. Sold for £ 22,562 (€ 26,339). Photo: Bonhams.
Of ovoid shape with narrow short neck and channelled mouth rim, painted around the exterior with sampan boats and larger fleets journeying through a riverside landscape with distant pavilions, amongst the 'Three Friends of Winter' and a shan border on the luting line, encircled at the shoulder with a floral scroll.
Provenance: an English private collection
This bottle has been featured on the BBC's 'Antiques Roadshow.'
Note: Compare with a very similar blue and white flask for the Japanese market, Tianqi/Chongzhen, but with a reduced neck with later silver mounts, which was sold at Sotheby's London, 15 May 2013, lot 129.

The present lot is extremely rare for its combination of Chinese and Japanese elements, perfectly encapsulating a short yet unique period of history of trade between China and Japan during the 17th century. Its rarity is due not only to the short time-span of history in which Chinese merchants could trade directly in Japan but also because the present lot would have been most probably designed in accordance to the highly refined taste of the tea masters who ordered original wares for their personal use.

Although trade between China and Japan by vessels of either nation was officially banned by Ming emperors during the 16th century, following the weakening of central authority and power, Chinese merchants regularly sailed from Nanjing, Fuzhou, Quanzhou and Xiamen to Nagasaki; see for example the early 17th century 'Selden' map of China and East Asia, in the Bodleian Library, Oxford, which shows the 'un-official' lined trade routes between China and Japan (acc.no. MS.Selden supra 105). From the end of the Wanli reign until the overthrow of the Ming dynasty in 1644, Chinese merchants exported wares for use in the Japanese tea ceremony. These pieces became known to the Japanese as 'Ko-sometsuke' (literally 'old blue and white'). The feudal lords and their tea masters who ordered these wares required original designs for their personal use or limited number of followers. Although orders were small, the prices paid were very high.

As trade with Japan developed during the Tianqi period, a profusion of new shapes and decorative motifs emerged. The present lot was inspired by a Japanese shape; see for example a very similarly shaped Imari blue-glazed bottle vase, 18th century, illustrated in Old Imari Ware, Tokyo, 1991, p.62, no.123. Although the shape is Japanese, the decoration is essentially Chinese: landscapes with small figures in boats and the Three Friends of Winter. The Japanese influence is also seen in the unusual arrangement of the shan patterned border around the body, and the floral band around the shoulder.
Bonhams. Fine Chinese Art, London, 7 Nov 2019