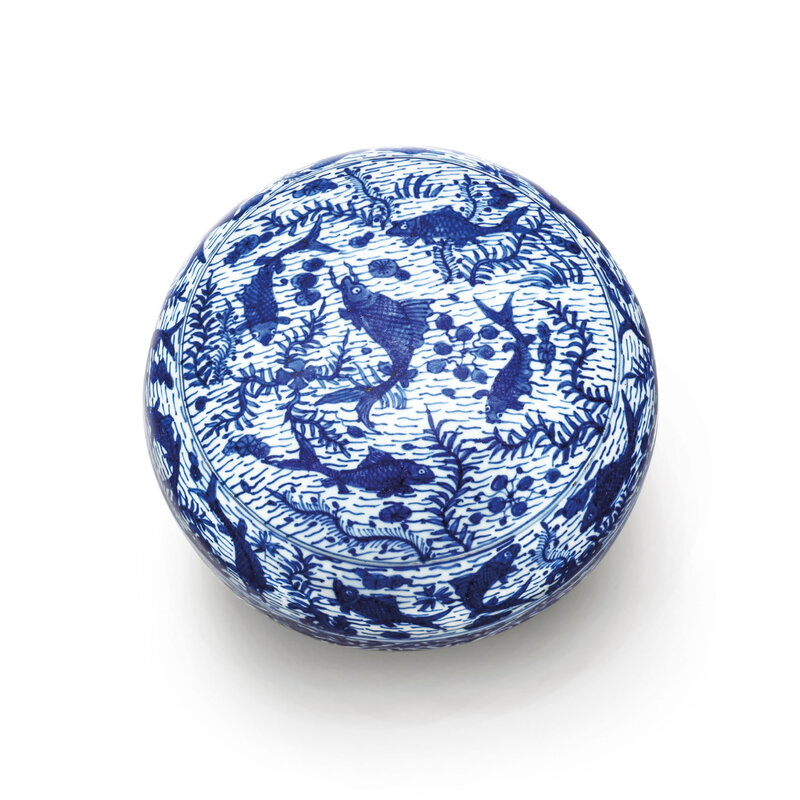 Lot 3070. A blue and white 'fish' circular box and cover, Wanli six-character mark within a double circle and of the period (1573-1619); 7 1/4 in. (18.5 cm.) diam. Estimate HKD 300,000 - HKD 500,000 (USD 38,484 - USD 64,140). Price realised HKD 375,000. © Christie's Images Ltd 2019
The top of the domed cover is painted in brilliant cobalt tones depicting several types of fish including a mullet, sole, bream and perch, swimming in a pond amid floating aquatic plants. The theme is repeated on the sides. The box is raised on a straight of conforming shape and decorated with the same theme on the exterior.
Note: Fish has been popular choice of the decorative theme in China since the Neolithic period. The design of fish swimming amongst aquatic plants developed on later ceramics as a decorative theme is due to a combination of artistic, philosophical and lexical reasons. Much of the popularity of fish as a decorative theme, especially in later dynasties, hinges on the fact that the word for fish (yu) is a homophone for the word for abundance or surplus (yu). Over time, the depiction of fish in water has come to provide a rebus for yushui hexie 'may you be as harmonious as fish and water'. The particular design on the current box and cover which includes a mullet, sole, bream and perch, is especially auspicious, as these fish are pronounced qing, bai, lian and gui, combining to sound like the phrase qingbai lianjie, which means 'of good descent, modest and honorable'. Thus, if presented as a gift, the current box and cover would pay a most gracious compliment to the recipient.
Christie's. Important Chinese Ceramics and Works of Art, Hong Kong, 27 November 2019