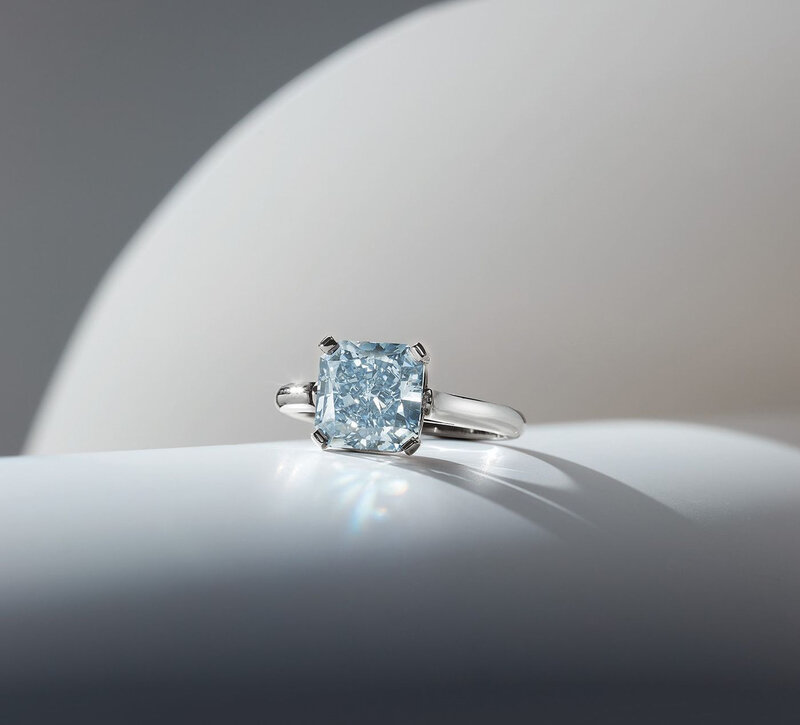 Lot 228. Tiffany & Co. An Important 3.02 carats and VS2 clarity Fancy Intense Diamond and Platinum Ring. Estimate: $1,500,000 - 2,500,000. Image courtesy of Phillips.
NEW YORK, NY.- Phillips announced highlights from the New York Jewels auction on Monday, 9 December. Comprised of 228 lots, the sale will feature a strong selection of fancy and colorless diamonds, rare gemstones, and signed pieces by leading jewelry makers. Phillips will also host a dedicated online-only sale in tandem with the live auction, which will be open for bidding from 26 November - 11 December.

Susan Abeles, Phillips' Head of Jewels Americas, said, "Following the solid results of our New York auction in June, we are delighted to have assembled a sale of such strong material this season, led by the stunning Tiffany & Co. fancy intense blue diamond ring. It has also been a privilege to work with One Drop this season in offering a lot donated by jewelry designer Sevan Biçakçi, the proceeds of which will help benefit their truly remarkable work."

Leading the auction is a Tiffany & Co. fancy intense blue diamond ring. At 3.02 carats and VS2 clarity, this exceptional stone was masterfully cut to maximize its inherent beauty. Tiffany prides itself on delivering the finest gemstones that meet their most rigorous guidelines to produce the ideal cut. They have imbued this blue diamond with optimum brilliance, fire and scintillation, and have determined that the stone's natural beauty can best be captured in their signature mounting.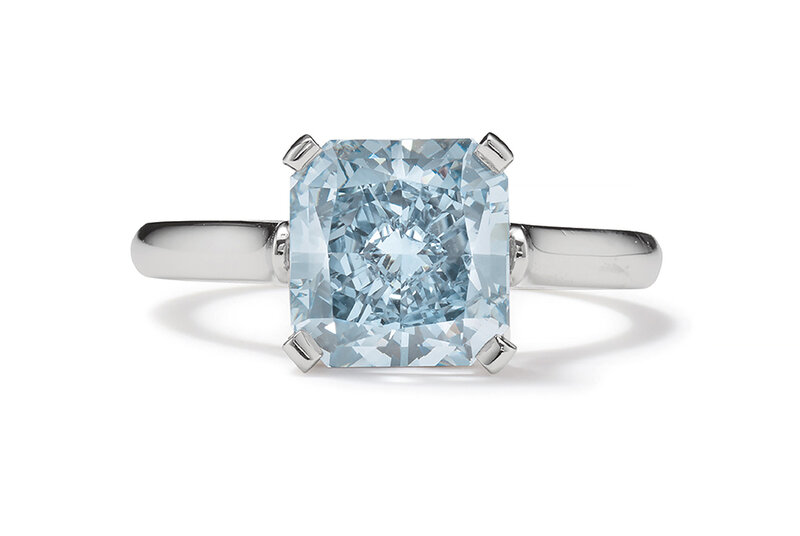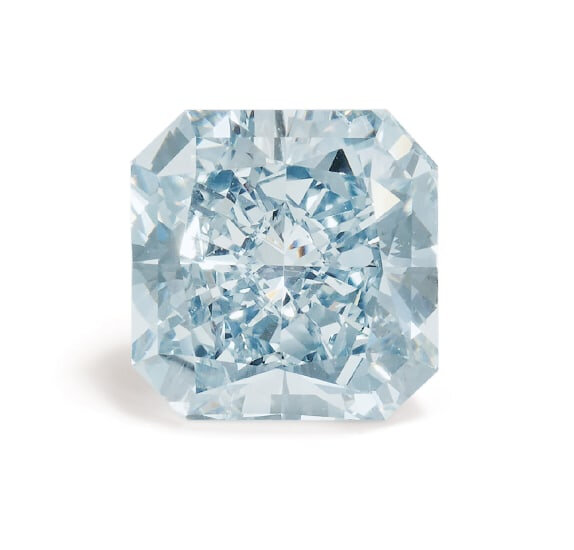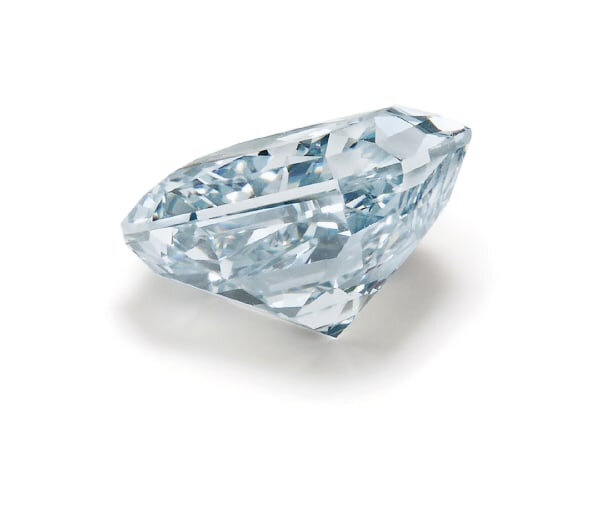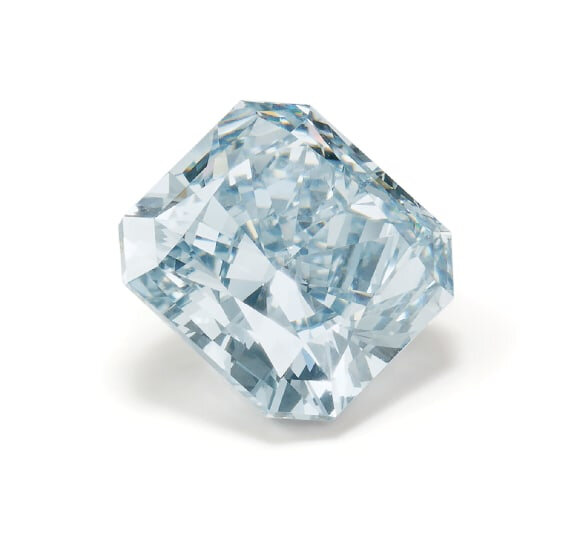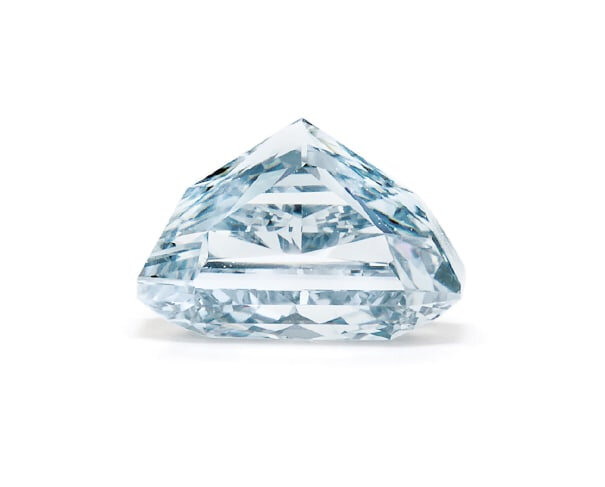 Lot 228. Tiffany & Co. An Important 3.02 carats and VS2 clarity Fancy Intense Diamond and Platinum Ring. Estimate: $1,500,000 - 2,500,000. Image courtesy of Phillips.
A cut-cornered square modified brilliant-cut fancy intense diamond, 3.02 carats. Signed, numbered, with Russian assay marks. Platinum, size 6, with signed box.
GIA Report: Fancy Intense Blue color, VS2 clarity
Accompanied by original Tiffany & Co. Diamond Certificate.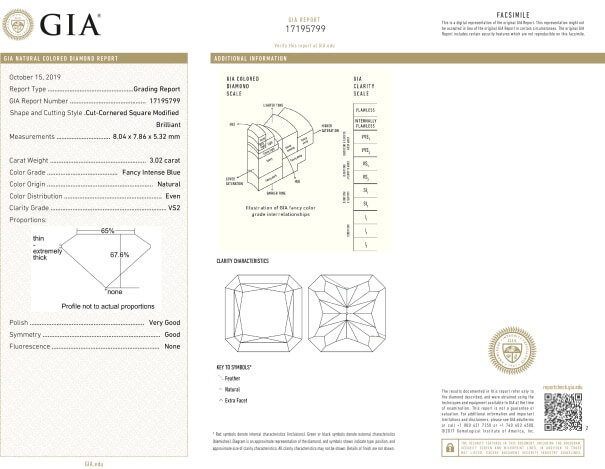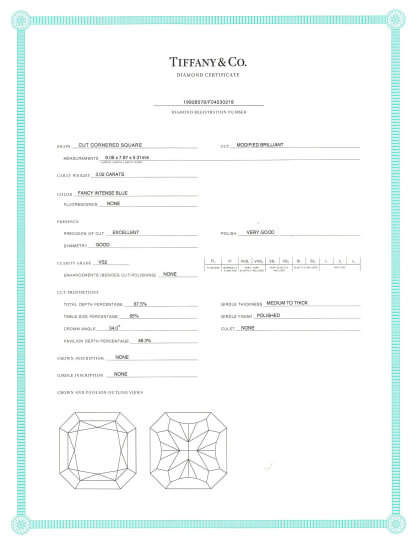 Note: Blue diamonds are amongst the rarest colored diamonds in nature. This exceptional blue diamond was chosen by Tiffany & Co. as a "stone of distinction," masterfully cut to maximize its inherent beauty.

Understanding how finite the market is for blue diamonds, Tiffany has carefully procured this 3.02 carat fancy intense gem. Most likely this diamond was re-cut from their initial purchase so that it will conform to their high standards – most notably, quality. Tiffany prides itself on delivering the finest gemstones that meet their most rigorous guidelines to produce the ideal cut. It is no small feat that they have imbued this blue diamond with optimum brilliance, fire and scintillation, nor is it by chance that they have determined that the stone's natural beauty can best be captured in their signature mounting. On every level, this diamond, this ring, and its signature, are exceptional.

Historically, blue diamonds were first sourced from the legendary Golconda mines in India, which are now depleted. Seventeenth century French explorer and gemstone merchant Jean-Baptiste Tavernier recorded these finds in The Six Voyages during his travels to Turkey, Persia and the East-Indies. Tavernier is also known for the discovery of the 'Tavernier Blue', which was re-cut and sold as the 'French Blue' to Louis XIV in 1668. This diamond was later stolen and re-cut, surfacing years later in 1839, in the collection Henry Philip Hope as his most prized gemstone. Today, the 'Hope Diamond' is considered one of the most famous blue diamonds in the world, residing at the Smithsonian in Washington, D.C.

In recent years, the main source of many blue diamonds has been the mines in South Africa. In September, the Cullinan Mine produced a beautiful 20.08 carat rough, an exceptional find. One must understand that it will take months of study before a window is cut, allowing the lapidary to determine how and where the color and inclusions sit within the crystal. The final cutting and polishing of the stone may take a year or more before a faceted gem is achieved. While other areas such as Sierra Leone, Borneo and Brazil occasionally produce blue diamonds, these exceptionally colored diamonds are only found in a few areas, making them more valuable.

For most blue diamonds, their color is caused by trace amounts of the element boron, which is substituted for some of the carbon atoms in the diamond's crystal lattice. Unlike other diamonds, which form in Earth's upper mantel at approximately 90-140 miles beneath the surface, blue diamonds form even deeper in the lower mantel at depths between 250-400 miles. Recent studies indicate that boron, which dissolves in water, settles at bottom of the ocean and through subduction, when the tectonic plates collide, is carried below the mantel when one plate sinks. This process moves boron to a lower depth, suggesting that the water cycle goes far deeper than previously thought.

Other aspects that make blue diamonds rare are the challenges involved in cutting the rough. Unlike most diamonds that form as octahedrons or dodecahedrons, blue diamond crystals are typically asymmetrical. Additionally, care must be given to maintain color, especially if the rough contains color zoning. Blue diamonds without any modifying color are indeed rare, with only small fraction of every diamond graded by the GIA assigned a 'natural blue' diamond.
A wonderful selection of colorless diamonds will also be on offer, including a Harry Winston emerald-cut 11.34 carat diamond ring, a cut-cornered rectangular modified brilliant diamond ring of 13.05 carats, and a Spaulding & Co. Art Deco diamond and platinum ring, circa 1925. Weighing 7.69 carats, this marquise diamond stands apart not only for its substantial size, sensuous shape and premier color, but also for its type IIa designation, as type IIa represent only one percent of all natural diamonds. In addition to the Spaulding & Co. ring, the Harry Winston diamond ring has also been designated as a type IIa.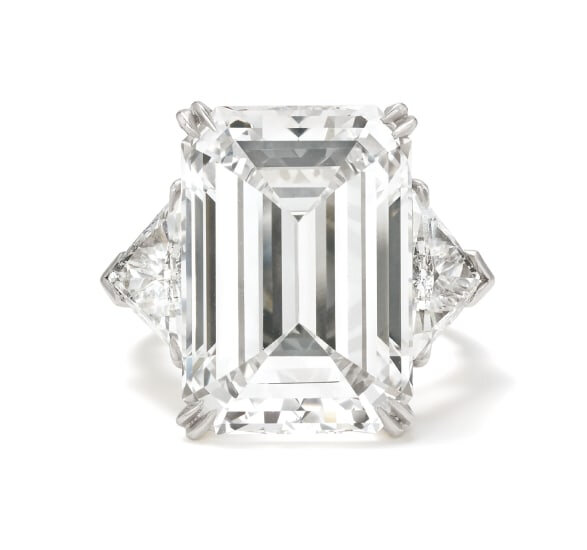 Lot 226. Harry Winston. An Important 11.34 carat type IIa Diamond and Platinum Ring, 1983. Estimate $500,000 - 800,000. Image courtesy of Phillips.
An emerald-cut diamond, 11.34 carats. Triangle-shaped diamonds, total 1.45 carats. Signed with maker's mark. Platinum, size 3 1/2.
GIA Report: D color, VVS2 clarity
Accompanied by the original Harry Winston valuation and a Diamond Type Classification for GIA Diamond Grading Report.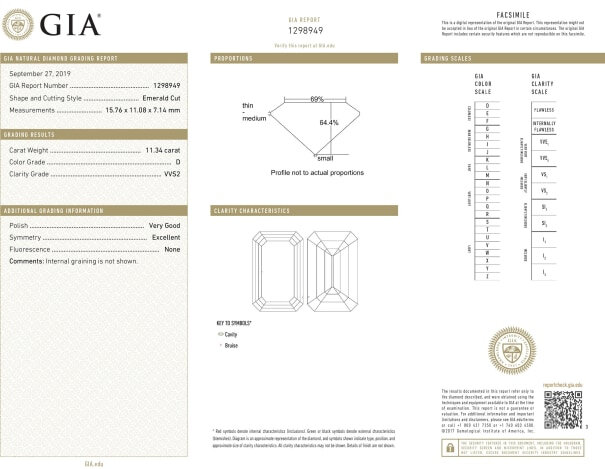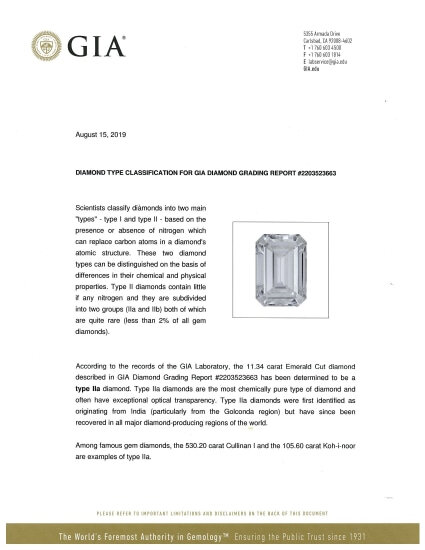 Note: At twelve years old, Harry Winston was already a success. His first purchase for 25 cents - an emerald ring, which he spotted in the window of a pawnbroker shop – he sold two days later for $800. This first and legendary transaction illustrates his passion, business acumen and instinct. These three characteristics, plus his phenomenal read of people, adroit marketing skills and philanthropic nature, helped to create the thriving international business the jewelry house is today.

Harry Winston was a tour de force within the jewelry industry, establishing his namesake company, Harry Winston Inc., in 1932. Unlike his competitors, Winston focused on purchasing estate property. Having the rare and valuable instinct to measure the beauty of gemstones, he had large stones removed from their estate settings, and re-cut them to optimize their color, brilliance and liveliness. Upon completion, these newly fashioned diamonds and colored gemstones were placed into elegant platinum mountings, which provided a perfect backdrop to showcase their unique qualities.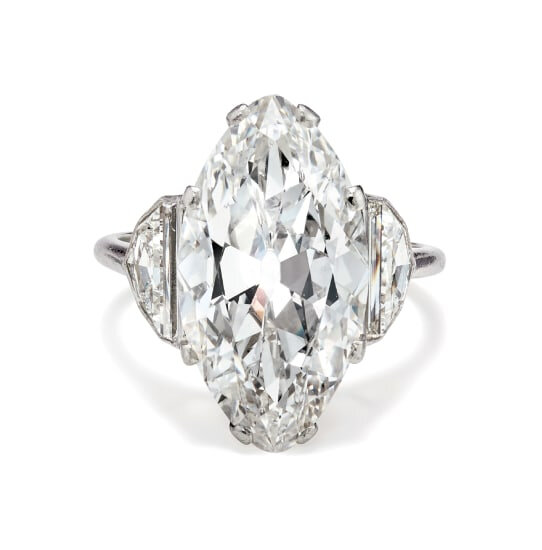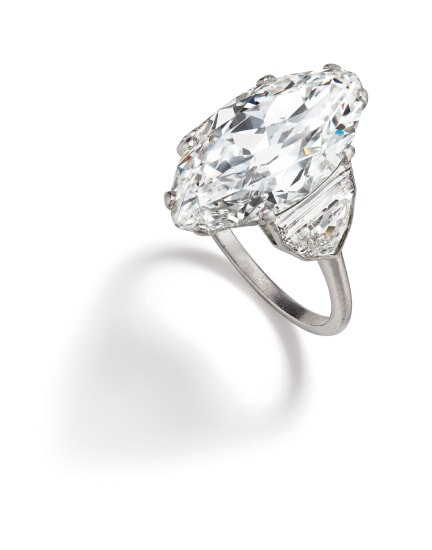 Lot 10. Spaulding & Co. An Art Deco 7.69 carats type IIa Diamond and Platinum Ring, circa 1925. Estimate $150,000 - 250,000. Image courtesy of Phillips.
A modified marquise brilliant-cut diamond, 7.69 carats. Baguette-cut and fancy-shaped diamonds. Platinum, size 6.
GIA Report: D color, VS2 clarity
Accompanied by a Diamond Type Classification for GIA Diamond Grading Report.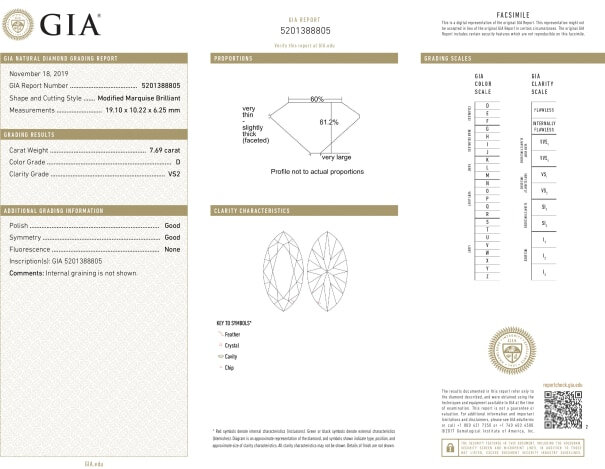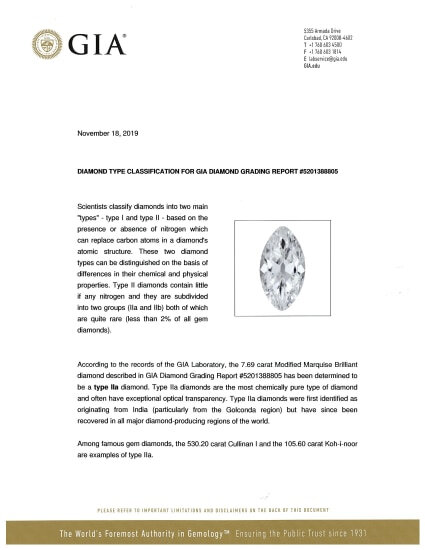 Note: The origin of the marquise-cut diamond dates back to the 18th century when King Louis XV of France commissioned his jeweler to create a diamond cut that mirrored the perfect lips of his mistress, Jean Antoinette Poisson, the Marchioness Madame de Pompadour. Poisson's court title, Marquise, historically refers to a nobleman who supersedes an earl and count, but is below a duke. Following Poisson, courtiers later wore navette or marquise-cut diamonds publicly to demonstrate their rank in society.

This Art Deco, 7.69 carat, marquise-cut diamond ring stands apart not only for its substantial size, sensuous shape and premier color, but also for its type IIa designation, as type IIa represent only one percent of all natural diamonds.

What are the properties that make type IIa diamonds such a rare natural phenomenon? Foremost, they contain negligible amounts of nitrogen within their crystal lattice structure, making it difficult for them to absorb short-wave light. Thus, light directed at a type IIa diamond is immediately reflected and returned to the beholder's eye, producing a breathtaking limpidity that other diamonds do not possess. Furthermore, colorless varieties of type IIa diamonds are remarkably transparent, with the highest color grades because they are composed almost entirely of carbon. Lastly, these diamonds are typically devoid of inclusions; they are pure.
Colored stones also figure prominently in the auction, including an important fancy diamond, colored diamond and gold necklace which boasts a 3.01 carat pear modified brilliant-cut fancy blue-gray diamond as its centerpiece. A stunning zircon and platinum necklace will also be offered. This brilliant and well-matched electric blue zircon riviera necklace is comprised of 37 stones, totaling over 160 carats. As plentiful as zircon is, its availability in large crystals is uncommon, making the center stone of 18.94 carats, with its high clarity and alluring shade of blue a rare and lovely example of the mineral.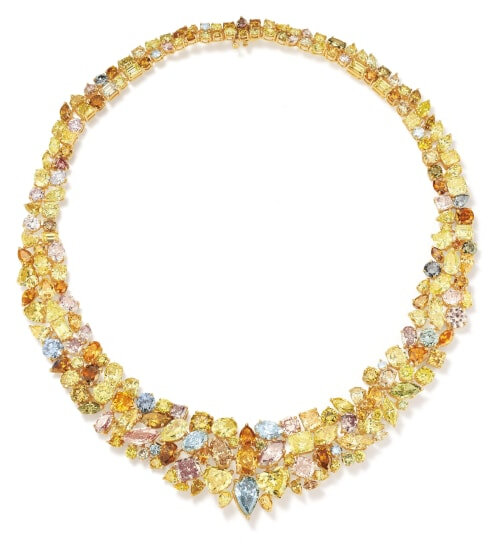 Lot 179. An Important Fancy Diamond, Colored Diamond and Gold Necklace. Estimate $250,000 - 450,000. Image courtesy of Phillips.
A pear modified brilliant-cut fancy blue-gray diamond, 3.01 carats. Round brilliant-cut and fancy-shaped colored diamonds. 22 karat yellow gold plated 18 karat gold, length approximately 16.00 inches. Original gouache painting gifted with purchase.
GIA Report: Fancy blue-gray color, SI1 clarity
See condition report for twenty additional GIA certificates.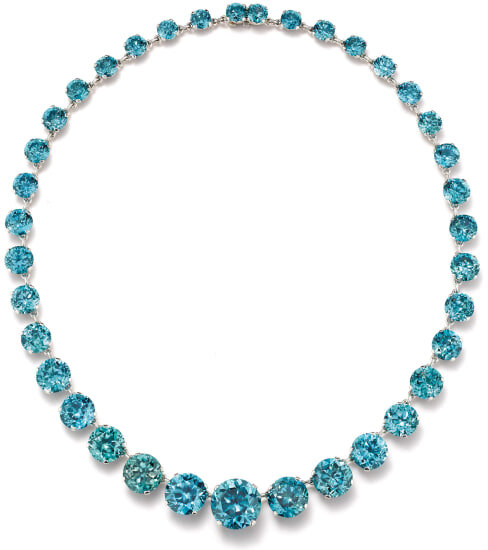 Lot 188. A Zircon and Platinum Necklace. Estimate $20,000 - 30,000. Image courtesy of Phillips.
Round zircon, total 169.20 carats. Platinum, length approximately 17.50 inches.
Note: Zircon is a brilliant, beautiful and fiery gemstone with a varied palette of colorless, yellow, green, red, orange, brown and blue. It is the oldest mineral at 4.4 billion years old, an age that coincides with the surface of the earth beginning to cool and crust, and it is found across six continents in metamorphic and sedimentary rocks. Despite its beauty, abundance and rich history, zircon has not reached the demand of more well-known stones like diamond and sapphire. While zircon has trended in jewelry, notably in the Victorian era and in the Art Nouveau designs of Louis Comfort Tiffany, its more unusual attributes make it an enigma to consumers.

One reason for the confusion comes from zircon's name itself. Scholars believe that the name derives from the Persian word zargun, meaning gold colored, or the Arabic word zarkun, meaning cinnabar or vermilion. Either possibility seems credible given zircon's color range. Even though the name has deep roots, zircon is often mistaken with the similarly named and more modern cubic zirconia (CZ). To further confusion, both stones possess great luster and fire, aptly suiting them as diamond simulants. Zircon is a more historical simulant source that gave way to other imitations mid-way through the twentieth century, whereas CZ entered the market in the early 1970s and is still a popular simulant today. Although both stones are chemically unique, their similar names, properties and uses in jewelry lead some buyers to believe that zircon is still an imitation diamond rather than a unique and fashionable gemstone in its own right.

Another puzzling attribute of zircon is that some stones contain trace amounts of uranium and thorium, which can break down the stone's crystal structure and change its properties over long periods of time. This process of irradiation is known as metamictization. Zircons that have suffered extensive damage are typically green and can have much lower specific gravity, refractive index and double refraction than those with stable crystal structures. Though this process is harmful to the stone, buyers should not worry about it posing health concerns to the wearer since the amount of radioactive elements is too low. Furthermore, the irradiation process in many metamict zircons can be reversed by heating the stone to high temperatures thus restoring its crystalline form.

Although zircon is sometimes mystifying to consumers, it is making a resurgence in the market. Its bold colors and strong dispersion make it a favorite among designers and can be seen in innovative and exquisite works by JAR, Hemmerle, Nicholas Varney and Lauren Adriana.
Impressive selections of named pieces will also be available, including works by Bulgari and Graff. Among the Bulgari highlights is the feminine and colorful 'Divia's Dream' necklace. The 'fan' motifs draw inspiration from Rome's mosaic Caracalla Baths, constructed in 217 AD. Through this design, Bulgari has subliminally captured a part of ancient Rome and the important role these baths provided. The theme and the imagery that it inspires are very much a part of the Bulgari marque. Significant pieces by Graff include earrings featuring round brilliant-cut, pear-, and marquise-shaped diamonds, totaling 22.10 carats, as well as a pair of ruby diamond, and gold earrings, in which the round rubies total 28.68 carats.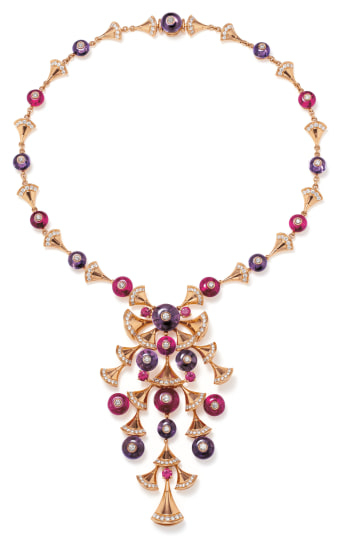 Lot 214. Bulgari. A Diamond, Amethyst, Rubellite and Gold 'Divas' Dream' Necklace. Estimate $20,000 - 30,000. Image courtesy of Phillips.
Round brilliant-cut diamonds. Round polished amethyst beads. Round and round polished tourmaline beads. Signed, numbered, with Italian assay mark. 18 karat rose gold, length approximately 15.00 inches, with signed box.
Note: Originally from Kalarites, Greece, Sotirios Voulgaris emigrated to Rome because of Greece's rising poverty and difficulty separating from the Ottoman Empire. He set foot on Italian soil in 1880 with little money in his pocket and spent the next four years preparing what would go on to become Italy's oldest jewelry company.
In 1884, Bulgari opened its doors to the Italian people with its offering of jewelry and accessories. Bulgari's style takes from traditions in Greek and Roman craftsmanship to elegantly balance volume and subtlety. Later, in the late 1960s, Bulgari bridged classicism and modernity by introducing its seductive, now-iconic Serpenti collection of snake-shaped coil bracelets and watches. It is through its meticulous combination of influences that Bulgari has garnered an international and loyal high-profile clientele, which included Elizabeth Taylor and Audrey Hepburn. These Hollywood stars have immortalized the house's unique gem-adorned bracelets, necklaces and earrings in rounded forms
Phillips will offer nearly 100 lots from a distinguished private collection. This exceptional group of works, including names such as Belperron, Verdura, Schepps, Webb, Van Cleef & Arpsels, and, Bulgari, was thoughtfully assembled by a dedicated collector and features a group of pieces that span a century – from 1920 to the present day. The collection includes a ruby, diamond, and platinum brooch and earrings by the Aletto Brothers, as well as a diamond and gold double clip 'tulip' brooch by René Boivin, circa 1950.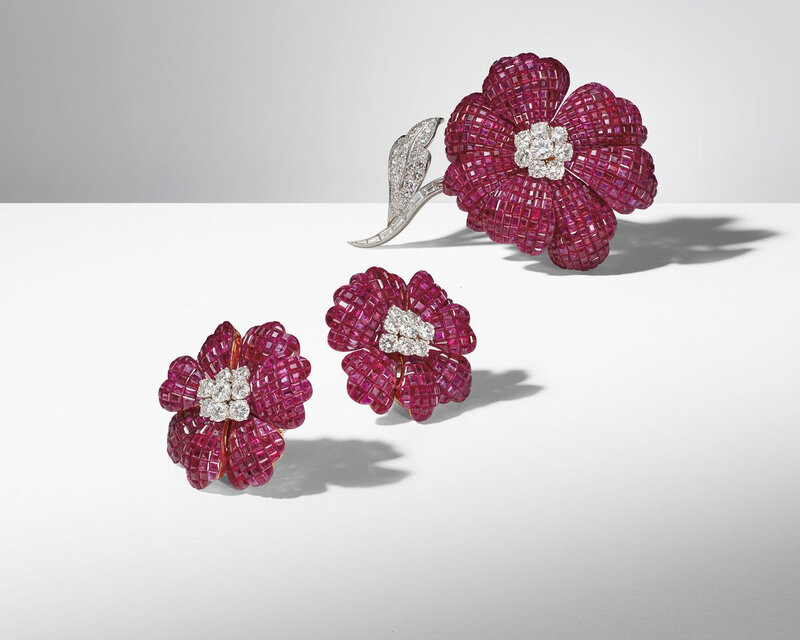 Aletto Brothers. A Ruby, Diamond, Platinum and Gold Brooch and a Pair of Ruby, Diamond, Platinum and Gold Earrings. Image courtesy of Phillips.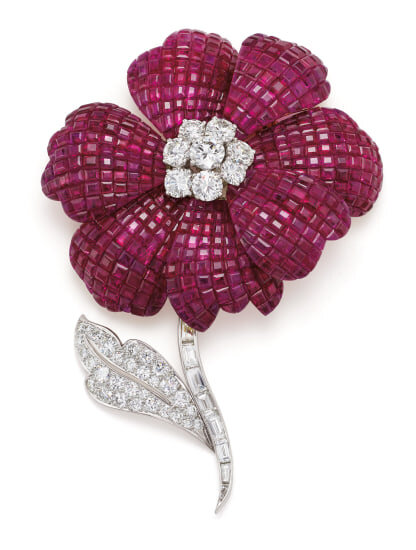 Lot 138. Aletto Brothers. A Ruby, Diamond, Platinum and Gold Brooch, 1992. Estimate $60,000 - 90,000. Image courtesy of Phillips.
Calibré-cut rubies and round brilliant-cut diamonds. Signed, numbered. Platinum and 18 karat yellow gold, length approximately 3.50 inches, with signed box. Stem can be removed
Accompanied by a letter of authenticity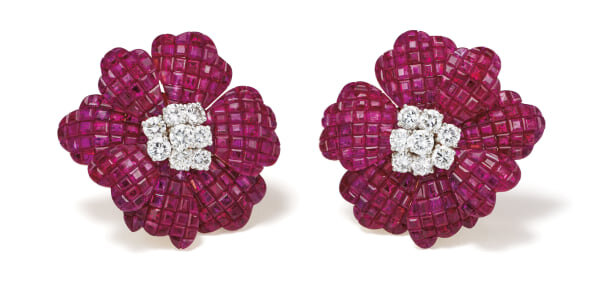 Lot 139. Aletto Brothers. A Pair of Ruby, Diamond, Platinum and Gold Earrings, 1992. Estimate $25,000 - 35,000. Image courtesy of Phillips.
Calibré-cut rubies and round brilliant-cut diamonds. Signed, numbered. Platinum and 18 karat yellow gold, length approximately 1.50 inches, with signed box.
Accompanied by a letter of authenticity.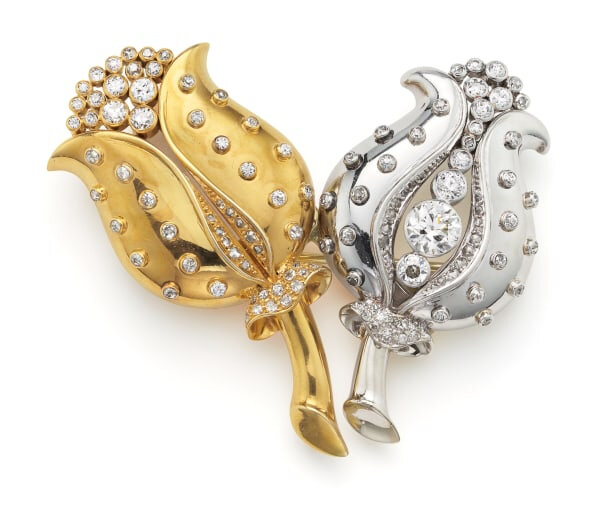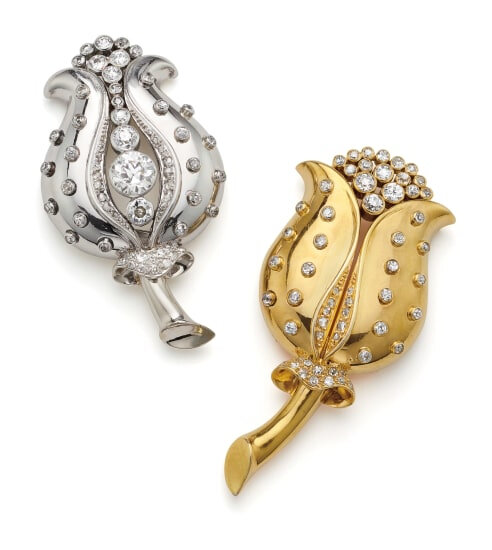 Lot 129. René Boivin, A Diamond and Gold Double Clip 'Tulip' Brooch, circa 1950. Estimate $25,000 - 35,000. Image courtesy of Phillips.
Single-, old European- and table-cut diamonds. Signed, with maker's mark, with French assay marks. 18 karat yellow and white gold, approximately 2.25 x 2.00 inches.
Accompanied by an Attestation from Ms. Francoise Cailles and Mr. Jean-Norbert Salit
An unusual and rare antique brooch, circa 1890, is a star lot of the sale. This fancy light diamond, emerald, diamond and silver-topped gold brooch, which was store in a safe deposit box for years, was originally given to a highly respected surgeon in lieu of payment. It has since been passed down by the doctor to his children. The jewel is comprised of a briolette fancy light orangy pink diamond of 7.13 carats as a briolette and a a lozenge step-cut emerald centerpiece. Based on the construction of the piece, the cutting and mounting style of the emerald and diamonds, and the type of metal and their fittings, the brooch can be dated to the early 20th century, from European manufacture. The fittings and the pin stem on the reverse suggest that it might have been a turban ornament, or a removable section from a diadem, or even a section from a stomacher.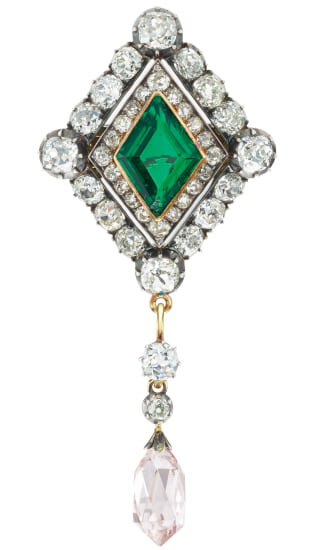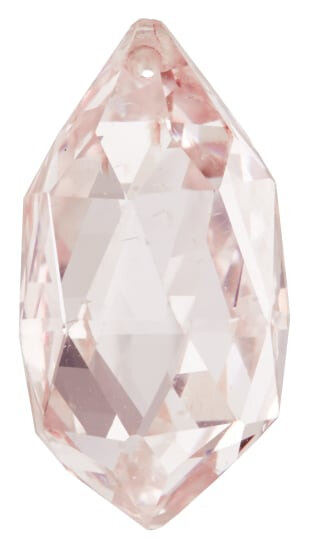 Lot 203. An Antique 7.13 carats Briolette Fancy Light Diamond, Colombian Emerald, Diamond and Silver-Topped Gold Brooch, circa 1890. Estimate $150,000 - 250,000. Image courtesy of Phillips.
A briolette fancy light diamond, 7.13 carats. A lozenge step-cut emerald, measuring approximately 16.50 x 11.60 x 5.45mm. Old mine-cut diamonds. Silver-topped 14 karat yellow gold, measuring approximately 3.00 x 1.25 inches.
GIA Report: Fancy Light Orangy Pink color, SI2 clarity
Accompanied by a Diamond Type Classification for GIA Colored Diamond
AGL Report: Colombia, insignificant traditional clarity enhancement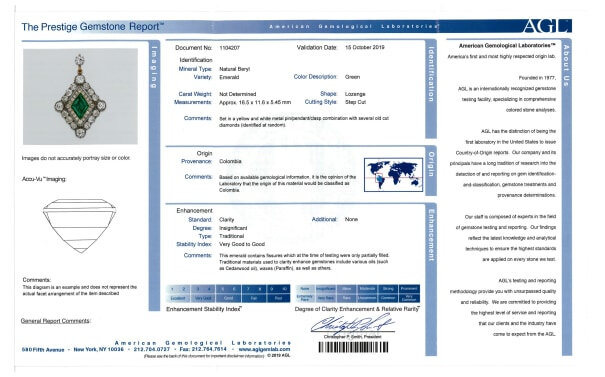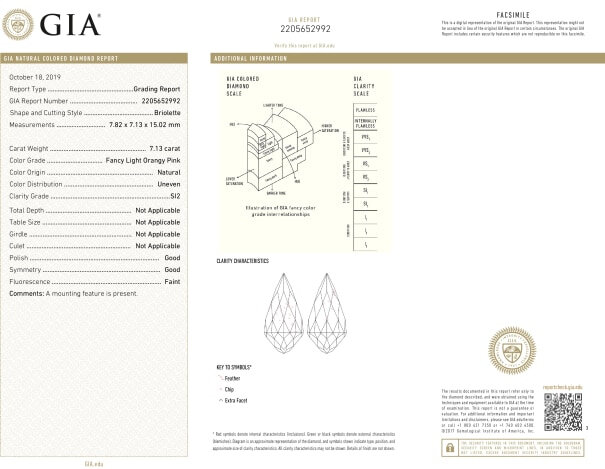 As previously announced, Phillips is honored to be working with One Drop this season in offering a ring generously donated by jewelry designer Sevan Bıçakçı. The ring's gemstone carving depicts the intricate architecture of Istanbul, which plays a significant role in his artistic identity. Inversely carved within a rock quartz cabochon is an engraved intaglio of domes under a rainy Istanbul sky. A crown of 36 green diamonds surrounds the cabochon. Conceived to represent raindrops, the lower part of the ring is embellished with 20 tear-shaped rock crystal cabochons scattered amongst 312 single-cut diamonds set in 24K gold and sterling silver. In addition to the ring, the winning bidder of this lot will receive a unique drawing of the masterpiece, a private meeting with the artist for a tour of his workshop located near Istanbul's Grand Bazaar, a visit of the architectural landmarks that have inspired his work, as well as an exclusive invitation to Bıçakçı's private yacht for a Bosphorus cruise tour. All net proceeds from this lot will be allocated to One Drop's important mission.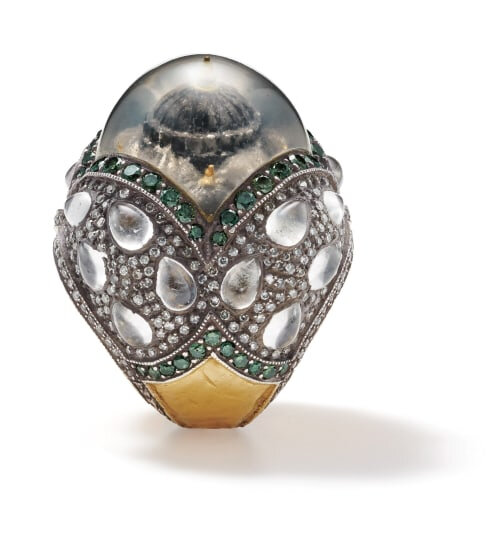 Lot 151. Sevan Bıçakçı. A Rock Crystal, Colored Diamond, Diamond, Gold and Silver 'Oh God, Let it Rain' Ring. Estimate $20,000 - 30,000. Image courtesy of Phillips.
Round rock crystal cabochon with reverse intaglio carving. Pear-shaped rock crystal cabochons. Round brilliant-cut colored diamonds and single-cut diamonds. Signed, numbered0. 24 karat yellow gold and sterling silver, size 7 (re-sizable).
Accompanied by a framed drawing of the ring.
Jeweler Sevan Bıçakçı. Image courtesy of Phillips.
SEVAN BICAKCI – THE BLADESMITH OF ISTANBUL
Just a gemstone's throw from Istanbul's famous Grand Bazaar, in an atelier overlooking a quiet cobbled street, goldsmith Sevan Bıçakçı and his dedicated team of specialist artisans hand-craft the extraordinary, enigmatic, esoteric jewels that are amongst today's most lusted-after contemporary works of art; most particularly, the monumental, otherworldly rings treasured by Sevan's devoted clientele of collectors and connoisseurs. The atelier is situated above Sevan's deceptively low-key boutique. If you make the journey to the boutique, as I've been fortunate to do, you find the door handles are shaped as daggers; this is both Sevan's signature and the key to his life's story. His name, Bıçakçı, means 'Bladesmith", and the dagger tells both of his Armenian metalsmithing heritage and the story of Ottoman jeweled arts - his enduring inspiration. Single-handedly, Sevan has revitalized and contemporized ancient, recherché Byzantine and Ottoman skills, arts and craft – goldsmithing, engraving, miniature painting, calligraphy, mosaics and gem-setting, many of which have been handed down through millennia, but have languished in modern day Turkey.
These jeweled arts were nurtured and perfected in the court workshops of Istanbul's lavish Topkapi Palace, and so form a vital part of the city's rich, diverse, multi-layered history. Istanbul remains Sevan's most potent inspiration: the captivating city in which Sevan was born and bred, the city that fed his imagination, a city of exoticism and adventure, monuments, myths and mysteries, in which ancient and modern, East and West, meet and mingle, a city of dreams.
Born to Armenian parents in the Samatya neighborhood of Istanbul, Sevan had a humble upbringing. He was a mischievous, unruly child and at 12 years old, was sent to work as an apprentice to a master goldsmith in the Grand Bazaar. Here, in the dark, dank, cramped workshops and gold-smelting furnaces, running errands through the labyrinthine maze of alleyways, Sevan learnt his craft, progressing from one workshop to another, slowly discovering and then honing his exceptional skills and special gift for model-making.
Sevan opened his own workshop when he was 18, making models for other jewelers, and there followed years of trial and tribulation, experiments, setbacks and financial struggles, adversity overcome through sheer hard work, tenacity and unshakeable determination to bring innovation and artistry to the deeply conservative Turkish jewelry industry. He finally threw caution to the wind and followed his instincts, and in 2002 launched his first collection of huge rings, sculpted as turbaned sultan heads. They grabbed the attention of the press and catapulted him to success. Alongside his massive rings, Sevan also crafted weighty padlocks, as if conjured from ancient treasure chests, heavy chains, and bejeweled dagger motifs, in lavishly engraved silver and gold, and set with the rose-cut diamonds, evocative of Ottoman jewels, or with diamonds set upside down, an innovation that was to become hugely influential.
Sevan possesses a rare combination of artistic sensitivity, cultural curiosity, technical ingenuity and supreme craft skills, all of which he drew on to develop the unique, reverse intaglio rings for which he is best known. Dazzlingly theatrical, these rings showcase dream-like, minutely detailed images that seem to float inside massive rock crystal domes. The dome shape itself, he explains, was an homage to the many domes of Istanbul, including Hagia Sophia, whose presence has always exerted a powerful influence on Sevan. Through Sevan's pioneering technique of layered miniature painting, the images inside the crystals acquire a mesmerising, three-dimensional holographic effect. In this way, Sevan has taken the Victorian technique of reverse intaglio jewels to another level entirely, and made the art form his own. Although, as he explains, at the time he came up with the idea he was completely unaware of this late 19th century fashion, never having been exposed to Western European antique jewelry.
Each of Sevan's rings is one-of-kind, with very limited numbers made each year and like Sevan himself, each is a lyrical storyteller, tapping into the Orientalist tradition of wandering minstrels or troubadours. Favored subjects for the floating images include the mosques, minarets and monuments of Istanbul, seascapes, still lifes, seagulls over the Bosphorus, pomegranates, birds, insects or flowers, and mythological characters or scenes. Sometimes the scenes are courageously and extravagantly carved in aquamarines, pale amethysts, even emeralds. Sevan describes himself as a "maestro" of artisans, conducting a team of talented designers, artists, sculptors, goldsmiths, engravers, gem-carvers, gem-setters, miniature painters, mosaicists, enamellists, glass artists, calligraphers and more, many of whom he trains in the ateliers, others still who find their way to him from across Turkey, all of whom contribute to these modern masterpieces.
Sevan's story, his imagination and ingenuity, his celebrated wit and warmth, are all encapsulated in the impressive ring that he has so generously donated to this auction: 100% of the proceeds from the sale of the ring will go to One Drop, the charity that collaborates with the global art and design community, working towards enabling access to safe water and sanitation for some of the most deprived areas in the world. It is an especially generous gesture, given that so few of these awe-inspiring and eagerly sought after rings are lovingly hand-crafted each year.
Sevan has wholeheartedly embraced One Drop's mission by creating a special ring, designed around the theme of water. He pays homage to water as a precious resource, both a gift and a giver of life, in his use of rarefied green diamonds and water-drop-shaped cabochon rock crystal, and in the detailed finesse of craftsmanship lavished on the ring.
As always, Sevan underpins this jewel with his own particular philosophy, countering its immense physical presence with metaphysical, spiritual meaning. The concept of this ring, he explains, is inspired by a popular Turkish song from the 1980s, whose title translates as "Oh Lord, Let it Rain", while the floating mirage-like scene carved and painted inside its rock crystal cocoon shows a cloudy, rain-drenched Istanbul.
In Turkey, Sevan Bıçakçı is hailed as a national hero for his success, his personal tale of triumph-over-adversity, and for sharing the beauty and romance of Ottoman jeweled arts with the world. Even more, around the world, Sevan's devoted fans prize his jewels for the essential humanity that lies at the heart of his storytelling and his art. It is a humanity that is expressed so poetically in this ravishing ring and its heartfelt message of hope.
Written by Vivienne Becker, Jewelry Historian