Lot 165. From The Collection of Vita Sackville-West (1892-1962). A historic rock crystal and emerald necklace, by Cartier, 1912. Estimate £ 50,000 - 70,000 (€ 58,000 - 82,000). Courtesy Bonham's.
The glittering marriage of Vita Sackville-West, the daughter of the 3rd Lord Sackville, to career diplomat Harold Nicolson in 1913 was the event of the season. The Great Hall at the Sackville's ancestral home at Knole was laden with wedding presents, including a huge collection of jewellery given to Vita by her mother, Lady Sackville. The previous year, Lady Sackville had marked Vita's engagement in equally extravagant style with gifts including the Cartier rock crystal and emerald necklace that features in Bonhams London Jewels sale at New Bond Street on Wednesday 4 December. Its estimate is £50,000-70,000.
Lady Sackville was also a valued and regular customer of Cartier's. The necklace in the sale dates from 1912, and was considered significant enough to feature in Hans Nadelhoffer's seminal monograph on Cartier where it is noted as being by Cartier Paris, 1912.
Vita Sackville-West's granddaughter Vanessa Nicolson said, "My grandmother was very elderly when I knew her as a child, but in her youth we know that she loved dressing up and going to balls. In the early 1960s shortly before she died, Vita gave my mother half of her jewellery collection. For security reasons we have kept them in a bank vault ever since so I like to think of the emerald necklace as a lost jewel now coming back into the light."
Bonhams Head of Jewellery in the UK, Emily Barber said, "This jewel has, of course, wonderful history and provenance – it's been in the Sackville family for more than 100 years. It's an important and early example of Cartier's phase of 'Indian' jewels which flowed from his inspirational trip to the East in 1911. Cartier designers began to incorporate oriental design motifs, as well as historic gems – such as this 99-carat carved Mughal emerald – into their creations.
"At around this time – the early 1910s – the firm also started to move away from the Garland style that had characterised many of their designs for the previous 20 years. The Sackville-West necklace perfectly represents the more abstract, geometric forms that signalled the birth of the age of Art Deco."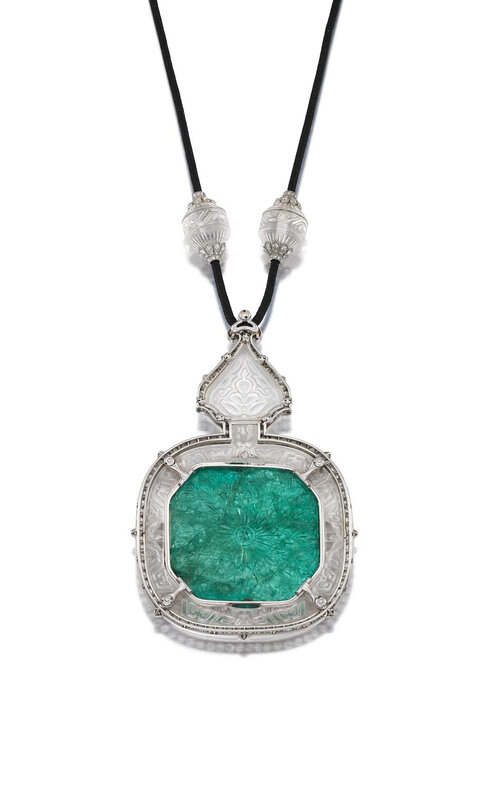 Lot 165. From The Collection of Vita Sackville-West (1892-1962). A historic rock crystal and emerald necklace, by Cartier, 1912. Estimate £ 50,000 - 70,000 (€ 58,000 - 82,000). Courtesy Bonham's.
Set with a large cushion-shaped emerald tablet (cracked), engraved front and back with Indian floral motifs, within a frame of frosted rock crystal, engraved in similar taste, decorated with old brilliant and single-cut diamonds, surmounted by an engraved rock crystal and diamond fountain motif, on a long black cord necklace with rose-cut diamond clasp and two rock crystal barrel-shaped slides of floral and fluted decoration and rose-cut diamond finials, unsigned, numbered 1472, workshop marks for Henri Picq, French assay marks, length of pendant 9.2cm
Provenance: Victoria, Lady Sackville of Knole (1862-1936) and her daughter Victoria (Vita Sackville-West), wife of Sir Harold Nicolson (1892-1962)
Descent to the current owner.
Illustrated:Stopford, Francis, "The Romance of the Jewel", London, 1920, plate 13.
Stopford, Francis. 1861-1935. The Romance of the Jewel. London: Privately printed, 1920, plate 13. Two carved emerald and diamond jewels by Cartier. Above: belonging to Lady Sackville-West, sold by Bonhams in 1994. Below: lot 165, photographed in 1920. © ***
Nadelhoffer, Hans, "Cartier Jewellers Extraordinary", Thames and Hudson, 1984, plate 104, where is it is described "Pendant. Cartier Paris, 1912, sold to Lady Sackville. Platinum; 99-carat emerald tablet engraved with Indian floral design and set in engraved rock crystal and diamond mount; black silk cord with crystal slides."

See also, auction sale catalogue: "A Magnificent Mughal Emerald", Bonhams Knightsbridge, 29 April 1994, for another carved emerald jewel by Cartier, of similar date, that belonged to Lady Sackville, sold for a hammer price of £210,000 (illustrated top left).
Note: This jewel, made by Cartier in 1912, not only represents the firms transition from the Garland Style, towards more abstract, geometric forms, but is also an important example of the firms' early phase of "Indian" jewels.

Cartier's designers, inspired by the decorative arts of the Indian sub-continent as well as other non-European cultures, began to incorporate oriental design motifs, as well as historic gems - such as this 99-carat carved Mughal emerald - into their creations. The burgeoning vogue for Indian-inspired jewels resonated particularly in England, due to British colonial interests, and by 1909 Cartier London became the pivot for all aspects of Cartier's Indian business, including maintaining customer relations with wealthy maharajas, who brought their valuable historic gems to be re-set, and sourcing coloured gems from India for use in jewellery design.

In 1911, Jacques Cartier, Director of the London branch, embarked on the first of several journeys to India where many important contacts were made and where he became increasingly enamoured with the splendour and beauty of Indian jewellery. 1911 was also the year of George V's coronation as Emperor of India at the Delhi Durbar, a dazzling scene of Eastern and European magnificence where the display and the giving and receiving of jewels emphasised the grandeur of the participants. This was the beginning of a long and fruitful relationship with Cartier and the East, resulting in numerous purchases of rare and historic Indian jewels in Delhi, Calcutta and Bombay. A number of stones were probably purchased at auction; the Nizam of Hyderabad and the Gaekwar of Baroda were certainly disposing of jewellery and antique weapons around 1912-13 and other sources were from Cartier's buying agents. Once in London, these gems were combined with diamonds and platinum, transforming them into modern European jewels rooted in antiquity.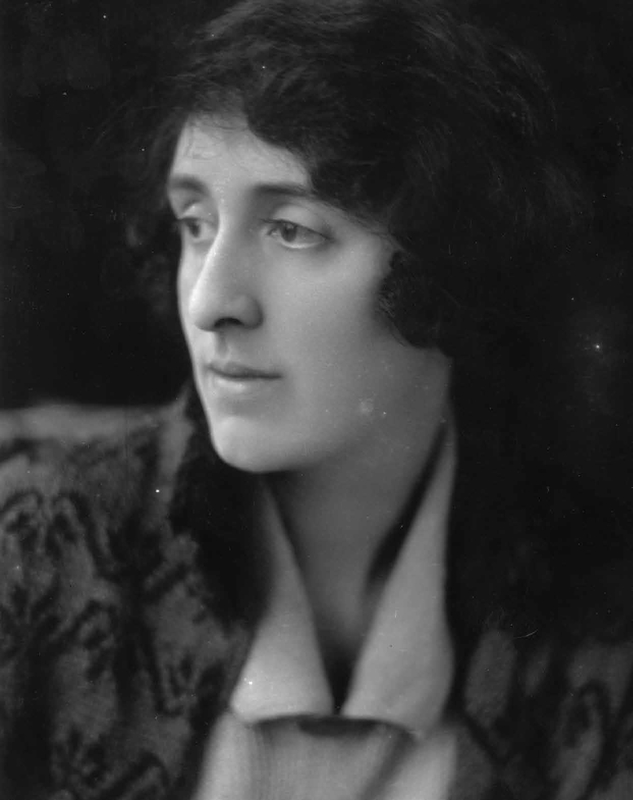 Vita Sackville-West, circa 1925 © Sasha/Getty Images
Vita Sackville-West was a gifted poet, novelist, journalist, broadcaster and writer as well as one of the most influential English gardeners of the 20th century. The gardens she created with her husband Harold Nicolson at their home Sissinghurst Castle in Kent are world famous.

Her unconventional, yet devoted, 50-year marriage to Nicolson, a prolific writer and the leading critic of his day, was clarified by their son, Nigel Nicolson, in his book "Portrait of a Marriage" and her remarkable life definitively explored in Victoria Glendinning's Whitbread Prize-winning biography.

Sackville-West was also a complex, passionate, often secretive, woman who forged intense relationships with women throughout her life. She ran away for a brief time with her lover, Violet Trefusis, daughter of Edward VII's mistress Alice Keppell and her close friend, Virginia Woolf based the character of Orlando upon her; the resulting eponymous novel has been described as "the longest and most charming love letter in history".

Vita often referred to her dual nature; despite her modern, avant-garde, seemingly feminist impulses (including keeping her own name after marriage), she was in essence the product of a proud noble heritage: sophisticated, well-connected and well-travelled. In other words, very much part of the conventional aristocratic society into which she was born.

Vita was the only child of Lionel Sackville-West, 3rd Baron Sackville (1867-1928) and Victoria Josefa Dolores Catalina Sackville-West (1862-1936).

Lady Sackville, a "vison of loveliness" with dark blue eyes and black hair that fell to her hips, was the illegitimate daughter of British diplomat, Sir Lionel Sackville-West, 2nd Baron Sackville (1827-1908) and a beautiful Spanish dancer Josefa de la Oliva, known as Pepita. At 18, she accompanied her father to the United States upon his appointment as British Minister to Washington and took the town by storm. For seven years she presided over her father's parties and balls as diplomatic hostess, captivating Washington society and entrancing many with her wit, charm, manners, intelligence and beauty. President Arthur proposed to her, she discussed his campaigns with General Sherman, hunted with Native Americans and broke dozens of hearts and received 25 offers of marriage.

On her return to England, she chose, from her many suitors, her first cousin, Lionel, and her father's heir. This cemented her position as chatelaine of one of the oldest and largest country houses in England and she became a brilliant and much celebrated society hostess, entertaining royalty, aristocracy and the very rich on a lavish scale. Her circle of male admirers included Pierpont Morgan, Rudyard Kipling, Lord Kitchener, W.W. Astor, Auguste Rodin, Sir Edwin Lutyens, Lord Leverhulme, Henry Ford and Gordon Selfridge.

One of the reasons Lady Sackville could afford the upkeep of her splendid but encumbered home at Knole, as well as indulge her love of travel and fine things, including clothes and jewels, was due to the financial support of her most devoted friend Sir John Murray Scott. Sir John was the first director of the Wallace Collection and after Lord and Lady Wallace had gifted the bulk of their famed collection to the nation, he had inherited the remainder of their large fortune. Sir John, an immensely tall and rotund man, was an important part of Vita's early life. She called him "Seery" (in reference to the fact that his French servants called him "Seer" John) and he called her "Kidlet". Upon his death in 1912, he left £150,000 plus his Parisian apartment, with its valable contents, to Lady Sackville and a diamond necklace to Vita. His disgruntled siblings contested his will culminating in a famous and scandalous court case in 1913 in which both Lady Sackville and Vita took the stand. The jury—after eight gruelling days—took just 12 minutes to clear Lady Sackville of all aspersions of "undue influence". The Times wrote that few would begrudge Lady Sackville her victory. "Into the somewhat vapid life of an old man, with no one about him to light it up, came a brilliant and imperious woman."

This necklace dates from Knole's heyday. A black and white photograph of it is published in Hans Nadelhoffer's seminal monograph on Cartier where it is noted as being by Cartier Paris, 1912. Lady Sackville was a valued customer of Cartier and loved jewels. She often lavished them on her daughter, buying them on impulse, using them to smooth over a quarrel and also exchanging them and claiming them back at will. In Susan Mary Alsop's biography of Lady Sackville, a shopping spree between mother and daughter, after the court case in July 1913, is described: as the two passed a jeweller's on Bond Street a necklace caught Lady Sackville's eye. "How much is that?" "Two thousand pounds, my lady." "Thank you - we'll take it with us. Do you like it, darling? I think it will look very pretty on you."

It is thought Lady Sackville gave this necklace to Vita upon her engagement to Harold Nicolson in 1913. Vita's marriage took place at Knole on 1 October 1913 and was a huge society event, widely reported in the national press. In the Great Hall more than 600 valuable wedding presents were put on display, the star exhibit being a huge collection of jewels, mainly of emeralds and diamonds, many given to Vita by Lady Sackville.

With Grateful thanks to Vanessa Nicolson, granddaughter of Vita Sackville-West, for her help in researching this jewel.

Further reading: Nicolson, Nigel, "Portrait of a Marriage", London, 1973
Glendinning, Victoria, "Vita. The Life of Vita Sackville-West", London, 1984
Alsop, Susan Mary, "Lady Sackville", New York, 1978
Armstrong, Isobel (ed) "New Feminist Discourses: Critical Essays on Theories and Texts', chapter 'Vita Sackville-West and her mother' by Raitt, Susannah, 1992
Dictionary of National Biography
British Newspaper Archive.
Bonham's. London Jewels, December 4, 2019 2:00 PM GMT