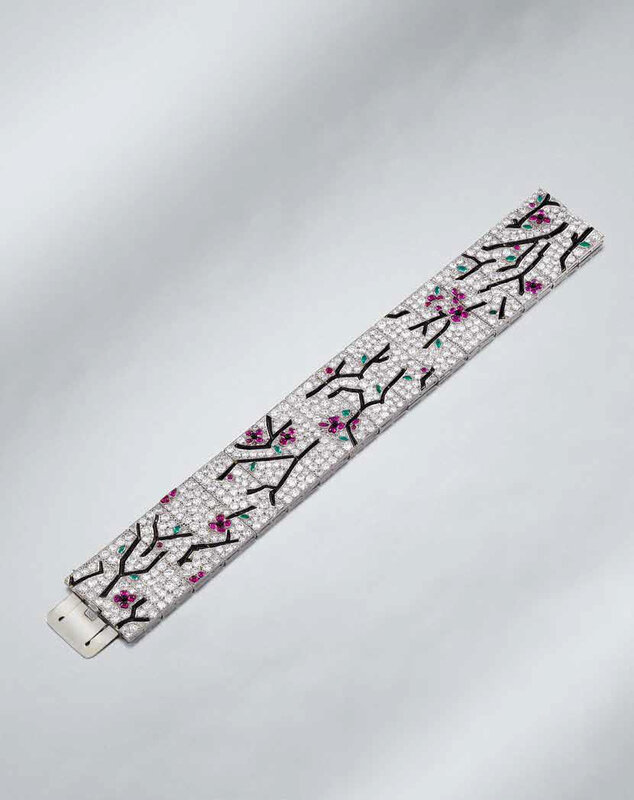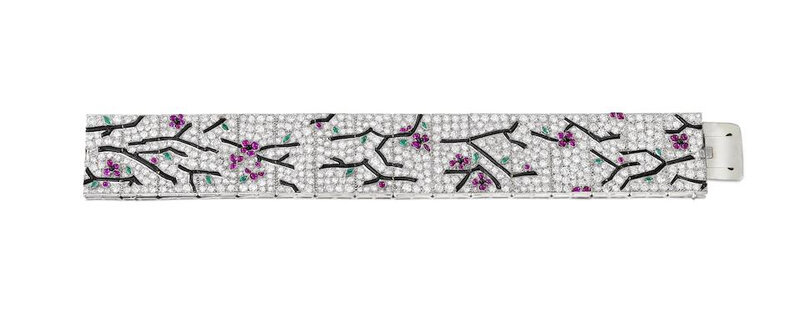 Lot 164. An Art Deco diamond, enamel and gem-set picture bracelet, attributed to Lacloche Frères, circa 1925. Estimate £ 120,000 - 150,000 (€ 140,000 - 180,000). Courtesy Bonham's.
The integral-link strap formed of articulated panels pavé-set with old brilliant, brilliant and single-cut diamonds, overlaid with cherry blossom motifs, with black enamel branches, cabochon ruby blooms and cabochon emerald leaves, unsigned, length 18.3cm
Note: See Laurence Mouillefarine & Véronique Ristelhueber, 'Lacloche Joailliers', Éditions Norma, 2019, p.167, for a gouache drawing of a near identical bracelet (one cherry blossom petal in the centre is missing on this bracelet from the gouache drawing) exhibited at the 1925 Exposition Internationale des Arts Décoratifs et Industriels Modernes by Lacloche Frères.

This seminal exhibition held in Paris in 1925 gave its name to the Art Deco genre. The importance of this exhibition, and the worldwide impact it had, cannot be overstated and Lacloche Frères were one of 30 out of 400 companies selected to exhibit. Their stand, in the centre of the room, was flanked on one side by Cartier and Van Cleef & Arpels, and on the other by Dusausoy and Sandoz.

The exhibition's admission committee stated that only "works of inspiration and originality are accepted at the exhibition". Just three years earlier, in 1922, Lacloche Frères would have witnessed the exhibition of Japanese art at the Grand Palais, and this bracelet is an example of the fascination with exoticism that had swept through French creative design in the early 1920s and inspired sectors of elegance in haute couture, perfumery and jewellery.

Lacloche Frères produced a number of exceptional jewels that recalled Japanese landscapes and blossoms; examples of which can be seen in the gouache drawings exhibited at the 'Exposition Internationale des Arts Décoratifs et Industriels Modernes' (see Mouillefarine and Ristelhueber, 'Lacloche Joailliers', pp164-183).
Bonham's. London Jewels, December 4, 2019 2:00 PM GMT