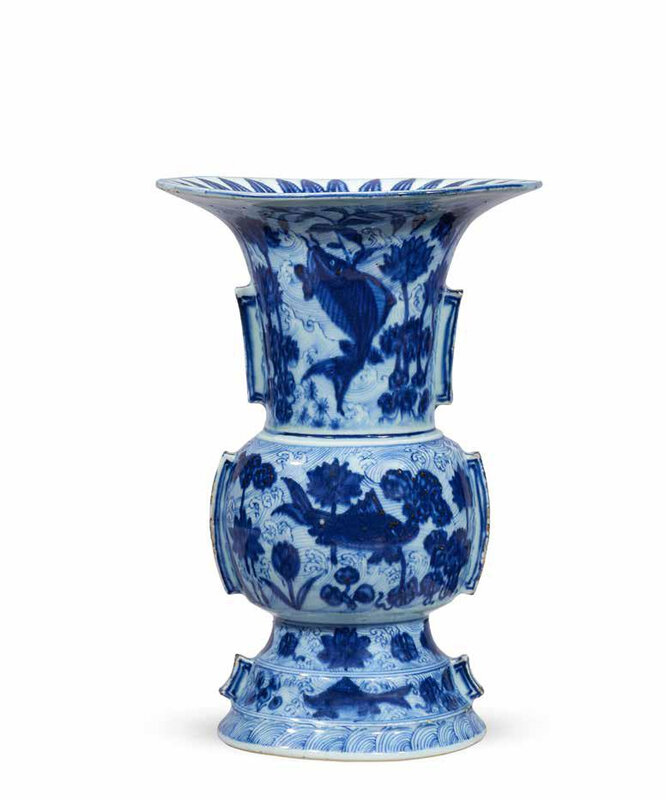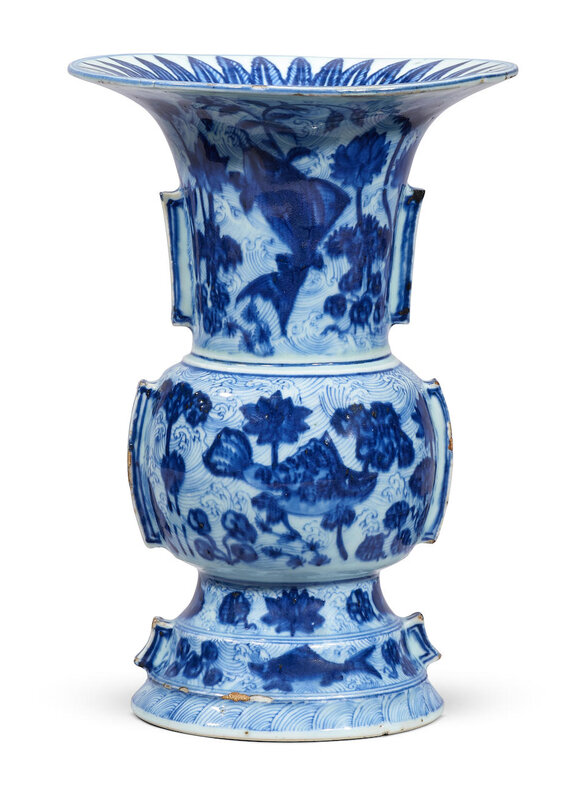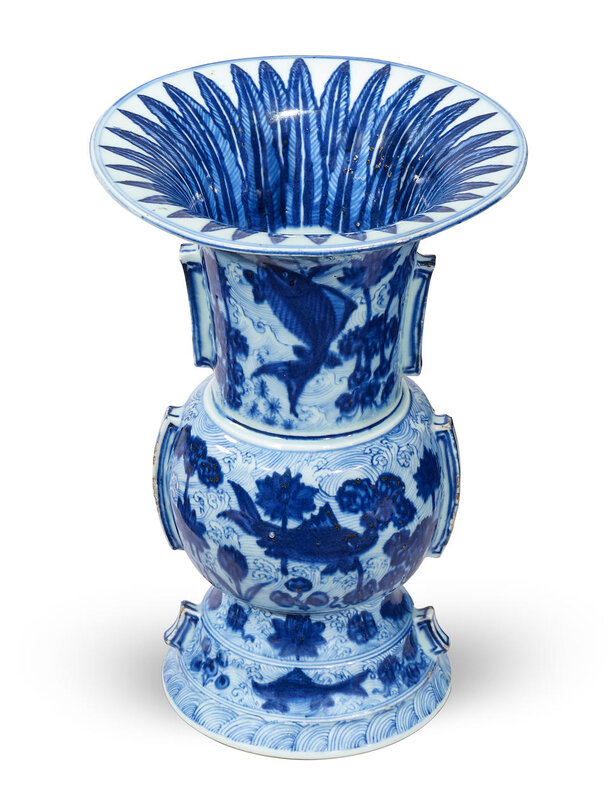 Lot 39. A very rare blue and white 'fish and lotus' vase, zun, Jiajing period (1796-1820); 21.5cm (8 1/2in) high. Estimate HK$ 1,200,000 - 1,500,000 (€ 140,000 - 170,000). Courtesy Bonham's.
Of archaistic bronze form of a zun-shaped vase, the body set with vertical flanges on opposite sides, the bulbous mid-section painted in deep and vibrant tones of underglaze blue with a carp swimming amidst lotus plants and water weeds reserved on a ground of finely outlined turbulent waves, the long trumpet-shaped neck similarly decorated with fish swimming up towards the rim, the stepped foot encircled with three bands of lotus, fish and rolling waves, the interior of the neck painted with slender overlapping leaves radiating towards the rim, box.
Provenance: An American private collection, New York, acquired prior to 1950
Imperial Oriental Art, New York, 1999
Christie's New York, 21 March 2013, lot 1456.
Note: It is extremely rare to find blue and white vases in the archaistic zun form with decorations of carps swimming among waterweeds, and only one other similar example appears to have been published. See a similarly decorated but slightly larger blue and white zun vase, Jiajing, from the Qing Court Collection, illustrated in The Complete Collection of Treasures in the Palace Museum: Blue and White Porcelain with Underglaze Red (II), Hong Kong, 2009, no.92.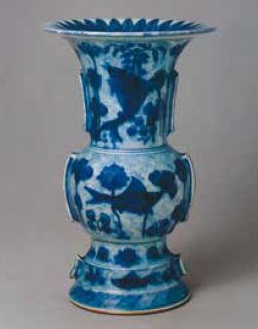 A blue and white zun vase, Jiajing period (1796-1820), from the Qing Court Collection. Image courtesy of Palace Museum, Beijing.

The Jiajing emperor was particularly fervent in his Daoist beliefs among the Ming dynasty emperors. He poured large sums of money into the construction of Daoist temples and the performance of Daoist rituals. Following frustration with his ministers and court politics at large, he became an adherent of alchemical Daoism and his overriding concern became the quest for immortality. Self-promoting officials at court were quick to realise that they could advance further up the official hierarchy and stay in favour with the emperor by writing Daoist-style memorials and notes to him. Equally, the emperor's devotion also influenced the court arts of his reign which bore themes associated with Daoism and longevity.

According to the Daoist philosophy, the carp is associated with harmony, advancement and wealth in official life, and fish swimming in ponds creates the pun yu shui he xie which translates as 'may you be as harmonious as fish and water', or jin yu man tang, 'may your hall be filled with gold and jewel'.

Literary reference of the Wanli period such as the Jiangxi sheng da zhi: tao shu [Annals of Jiangxi: Book of Ceramics] also records that on the 30th year of the Jiajing reign, corresponding to 1551, the imperial court dispatched an order for 200 blue and white vessels painted with fish, see Eskenazi Ltd., Two Rare Chinese Porcelain Fish Jars of the 14th and 16th Centuries, London, 2002, p.42.

Such design can also be seen on a number of brushwashers from this reign period, such as one from the National Palace Museum, Taipei, illustrated in Porcelain of the National Palace Museum: Blue-and-White Ware of the Ming Dynasty, vol.5, Hong Kong, 1963, pp.62-63, no.21; and another illustrated in Chinese Porcelain, The S.C. Ko Tianminlou Collection, vol.1, Hong Kong, 1987, no.41; see also a third example from the Falk Collection, which was later sold by Christie's Hong Kong, 28 May 2014, lot 3312.

The elegant form is inspired by the archaic bronze ritual wine vessels of the late Shang and Western Zhou dynasty, which were reproduced in porcelain from as early as the Song dynasty. The imperial archaic bronze collection provided inspiration for the creation of numerous reinterpretations in ceramics according to the contemporary taste as seen in this vase.

See another blue and white vase, Jiajing mark and of the period, of similar form, but decorated with dragon and peony flowers from the Qing Court Collection, illustrated in ibid., Hong Kong, 2009, no.91.
Bonham's. Fine Chinese Ceramics and Works of Art, Hong Kong, 26 november 2019