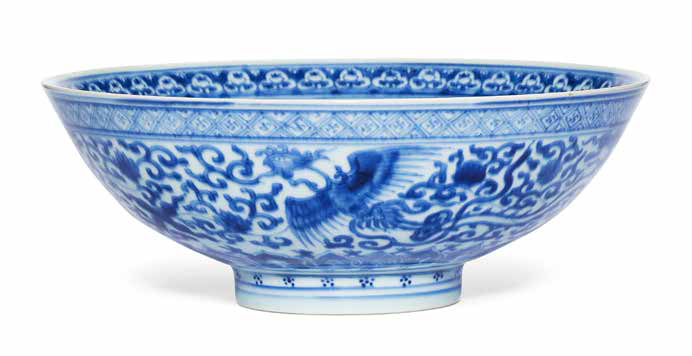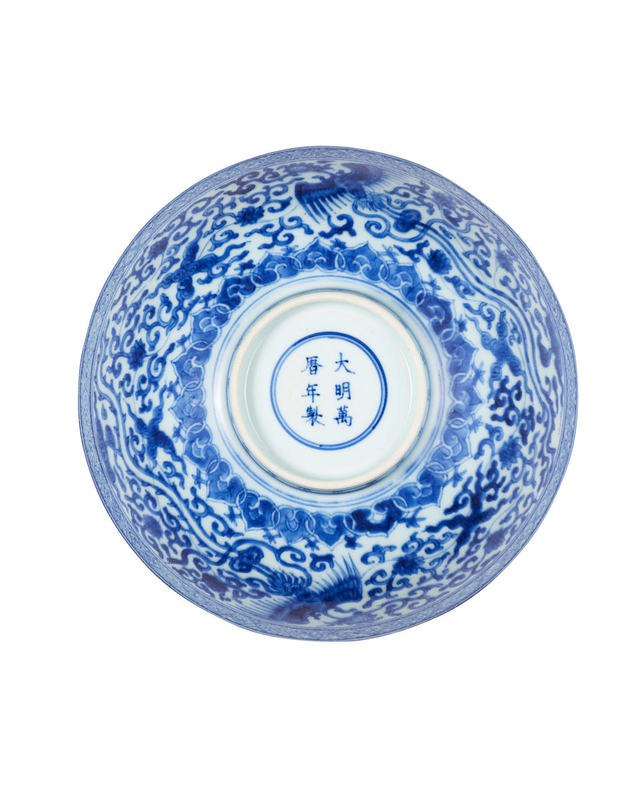 Lot 40. A very rare blue and white 'phoenix' bowl, Wanli six-character mark and of the period (1573-1619); 21cm (8 1/4in) diam. Estimate HK$ 500,000 - 800,000 (€ 58,000 - 92,000). Courtesy Bonham's.
The interior vividly painted with a circular panel enclosing two swooping phoenix in pursuit of each other amidst dense lotus scroll ground, the cavetto encircled by eight phoenix roundels below a border of lingzhi heads at the rim, the exterior with a wide frieze of two flying phoenix between a wan-diaper border at the rim and interlinking ruyi heads around the foot.
Provenance: Sotheby's Hong Kong, 19 November 1986, lot 206
Sotheby's New York, 20 September 2000, lot 112.
Note: It is very rare to find a Wanli mark and period bowl of this size and decoration and only four other closely related examples appear to have been published: see a Wanli period blue and white bowl of similar design and size from the National Palace Museum, Taipei, illustrated in Minji meihin zuroku [Illustrated catalogue of important Ming porcelains], vol.3, Tokyo, 1978, pl.69; and another from the Collection of Dr Ip Yee, illustrated in the Min Chiu Society exhibition catalogue, An Anthology of Chinese Ceramics, Hong Kong, 1980, no.88, which was later sold at Sotheby's Hong Hong, 19 November 1984, lot 190. A third closely related example was sold at Sotheby's Hong Kong, 16 November 1988, lot 135; and the fourth example is illustrated by David Lin & Company, Yuan and Ming Blue and White Porcelain, Taipei, 2000, pl.20, and was later sold at Christie's Hong Kong, 30 May 2012, lot 4067.

The Wanli emperor is known to have greatly admired porcelain wares made in the Xuande and Chenghua periods. The design of the archaistic phoenix pattern on the present lot is also inspired by the imperial blue and white 'phoenix' bowls produced earlier in the Xuande period; for such example but with different designs of borders, see Porcelain of the National Palace Museum: Blue and White Ware of the Ming Dynasty, Book II, Taipei, 1963, pl.56.

The use of the phoenix motif was highly restricted outside of the imperial court, as stated in the Da ming hui dian or Code of Great Ming Dynasty. It is possible that the current bowl was made to be used in an imperial wedding ceremony, as the depiction of the two swooping phoenix with slightly different tails represent a luan, the male phoenix and a feng, the female phoenix, forming the idiom luan feng he ming or the Luan and the phoenix to sing together in harmony, representing happy marriage and conjugal felicity.