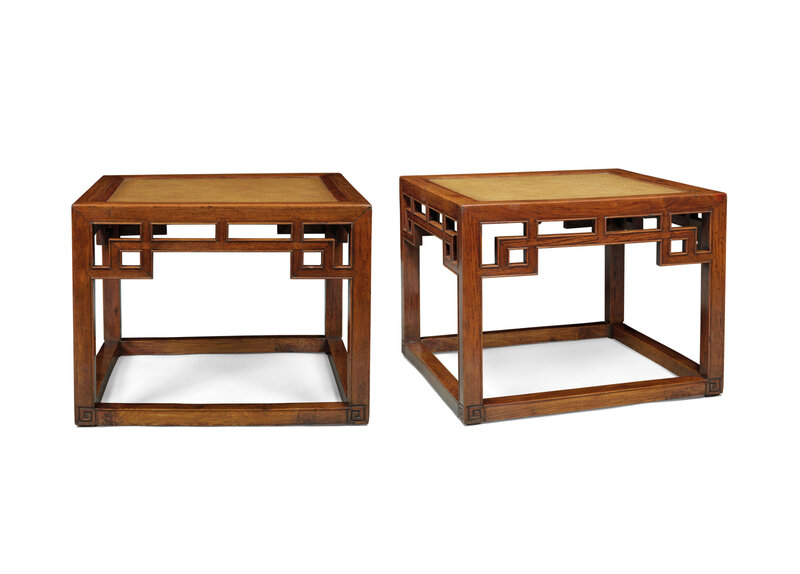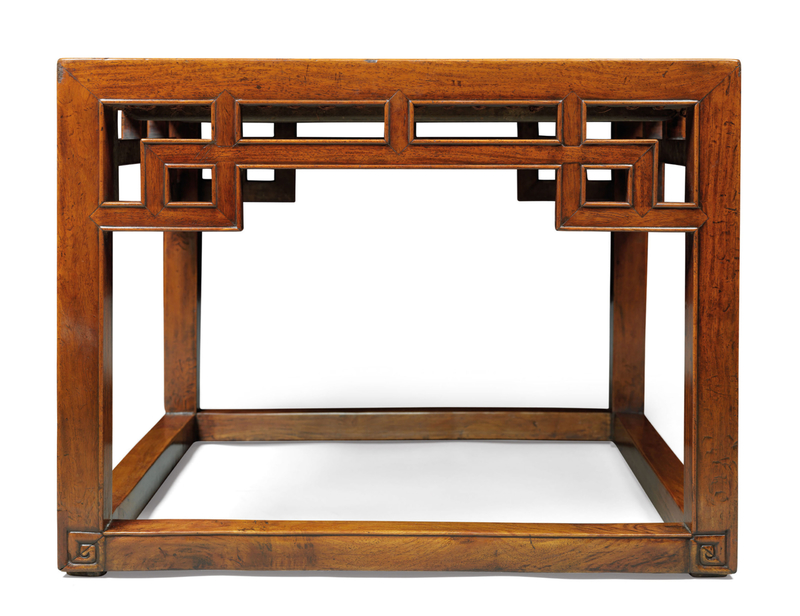 Lot 3048. An extremely rare pair of large huanghuali meditation square stools, chandeng, Qing dynasty, 18th century; 19 1/2 in. (49.5cm.) high, the top 25 1/2 in. (64.8cm.) square. Estimate HKD 1,500,000 - HKD 2,500,000. Price realised HKD 2,375,000. © Christie's Images Ltd 2019.
Each with soft cane seat within a plain frame supported on the square corner legs joined by angular bracket aprons with continuous beading, the hoof feet carved with squared scrolls joined by a stretcher frame at the base.
Provenance: Sold at Christie's New York, 2 June 1994, lot 204
Sold at Christie's New York, 21 September 2000, lot 48
A European private collection, 2001
David A. Berg, New York
Sold at Christie's New York, 21 September 2000, lot 409, A sale
to benefit the Harvard University Art Museums.
Note: Stools of box-form, such as the present example, are extremely rare. The form is distinguished by the simple elegance and refined geometry of its design. The feet stretchers are attached to the underside of the legs instead of the side of the legs, creating a box-form structure which is similar to another form of base stretchers called tuoni. This box-form platform structure in furniture was seen in as early as 6th -8th century China, as recorded in a painting attributed to Gu Kaizhi (c. 344-406), The Admonitions of the Instructress to the Court Ladies in the British Museum collection. For a discussion of the box-platform structure, see Gustav Ecke, Chinese Domestic Furniture, p. 3-12.

The size of the present pair of stools is significantly larger (approximately 20 square centimetres larger) than the typical square stools, (such as lot 3049 in the present sale). The exceptionally large size suggests that the present pair of stools were made for a dedicated purpose such as meditation, when the sitter's legs could be raised and crossed on the seat in dhyanasana. A box-form meditation platform was depicted by Tang dynasty painter Li Zhen (785-805) in a portrait of Amoghavajra or bukong, one of the most influential monks in history of Buddhism, illustrated in Shina meiga hokan, The pageant of Chinese painting, Tokyo, 1936 (fig. 1).
fig. 1 Portrait of Amoghavajra by Li Zhen (fl. ca. 785-805), after Shina meiga hokan, Tokyo, 1936.
This type of structure has been difficult to preserve as the base stretchers were in direct contact to the often damp floor and the resulting damage from moisture would be expected. The present pair of stools is unique, no other pair of such large size appears to have been published. Compare with a considerably smaller huanghuali box-form stool from The Lai Family Collection sold at Christie's New York, 17 September 2015, lot 914; and another smaller huanghuali example illustrated in Chan Chair and Qing Bench: The Dr. S.Y. Yip Collection of Classic Chinese Furniture II, Hong Kong, 1998, pp. 70-1, pl. 6.