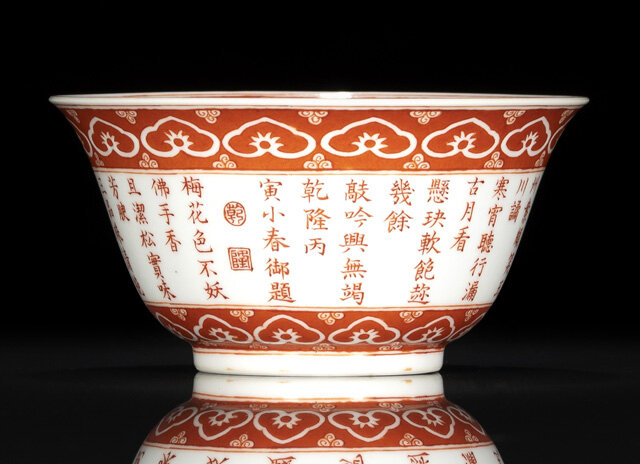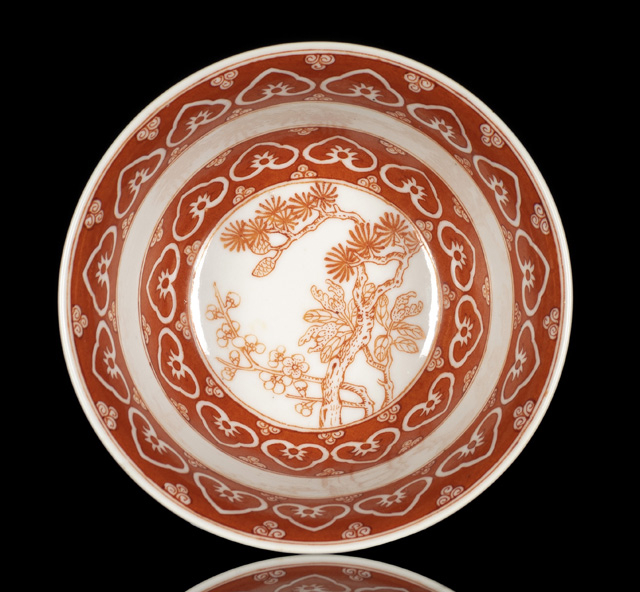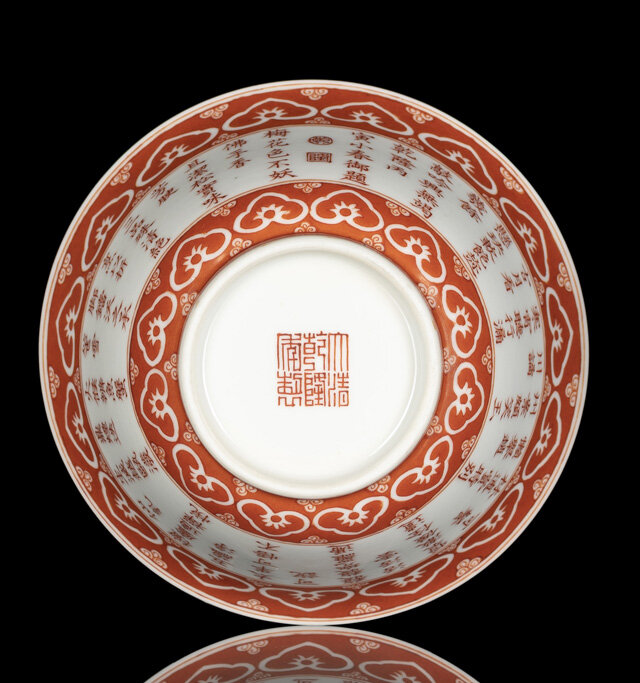 Lot 46. An iron-red decorated bowl inscribed with an imperial poem, dated to the 11th year of the Qianlong reign (1746), iron-red Qianlong seal mark to base and period; D. 10,9 cm. Estimate 25,000-35,000 EUR. © Nagel
the compressed baluster body rising from a recessed base to a short straight neck, boldly painted around the body and shoulders with two sinuous scaly yellow dragons striding amidst leafy scrolling ruyi, all between rocks and waves at the base and ruyi clouds at the shoulder and reserved on a rich dark iron-red ground, the base with a six-character mark in underglaze blue, carved wood stand, Japanese wood box.
Provenance: Old French private collection, sold Sotheby's Paris 23.6.2016 and bought by the present owner.
Note: The pair to the present lot inscribed with the same poem, also dated to the 11th year of the Qianlong reign (1746), and bearing an identical iron-red seal mark with the same second character, was included in the Special exhibition of K'ang-hsi, Yung-cheng and Ch'ien-lung Porcelain Ware from the Ch'ing Dynasty in the National Palace Museum, National Palace Museum, Taipei, 1986, cat. no. 142 and p. 168, fig. 142B.
The poem on the bowl: Sanqing cha (The Purity Tea) was one of the Qianlong Emperor's favourites. It described the tea made from prunus, finger citron, and pine nut kernels, and praises the virtues of tea making.
Translation:
Prunus, beautiful not coquettish;
Citron, pure with rich aroma;
Pine nut, tasty and fragment,
The three are all pure and fresh to extreme.
Boiled in an ancient boiler together with snow water for treat.
The key is to well control of fire and observe the appearing and vanishing of vapor while boiling.
From a small tea bowl made in Yue kiln the immortal drink is poured.
Inside a humble house the joy of tranquility and harmony is longed for.
My whole world is largely purified, which is a feeling beyond words.
Widely spread the pleasant aroma, lively suffused the pure drink.
This must be a gift from an immortal for poet Lin Bu while he was enjoying prunus.
Even early tea sages, Cong Shen from Zhaozhou and Yu Chuan, can not compare with it.
At a cold night, listen to the sound of dripping from water clock,
Look up at the far-away jade-like moon,
Drink a few bowls of this tea,
Here comes poem inspiration and endless joy.
Written by Qianlong Emperor in the early spring of 1746.
Nagel. China I - Fine Asian Art - Salzburg, 05.12.2019