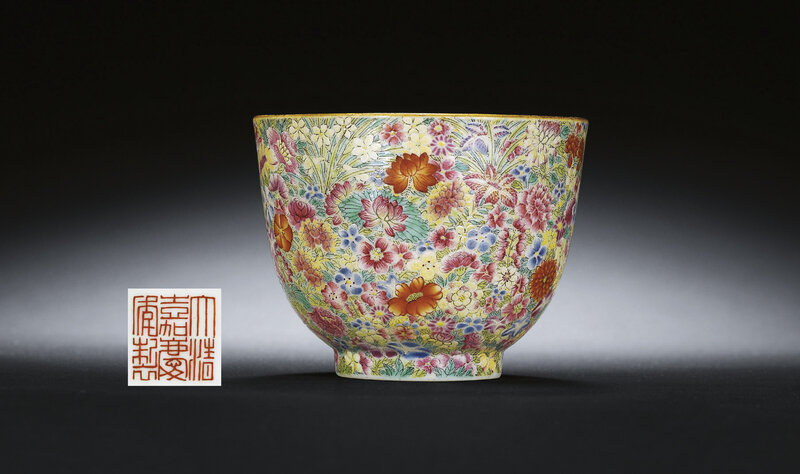 Lot 1751. A fine famille rose mille fleurs cup, Jiaqing sealmark in iron-red and of the period (1796-1820);3¼ in. (8.2 cm.) diam. Estimate HKD 150,000 - HKD 250,000. Price Realized: HKD 391,500 © Christie's Image Ltd 2008.
The deep sides decorated on the exterior with a dense pattern of various flowers below the gilt mouth rim, Japanese wood box.
Provenance: Kumasaku Tomita.
Mr Kumasaku Tomita (1872-1953) was an influential figure in the world of Chinese and Japanese art at the beginning of the 20th century. He joined the famous dealership Yamanaka Shokai in London in 1903 and went on to head their London branch. In this role he worked with many of the great European collectors of Asian art at the time including Sir Percival David. It wasn't until after his return to Japan in 1922 to establish his own antique business in Kyoto that he first met Alfred Baur, a collector with whom he would go on to form a lifelong professional and personal friendship.

Baur subsequently invited Tomita to his home in Geneva where he was asked to make an inventory of the Baur collection of over 1000 Japanese works of art. Tomita advised Baur to focus his efforts on acquiring more important and significant pieces which led to the dispersal of most of his existing collection of Japanese art at auction.

In 1928, Mr Tomita suggested that Baur should start to put more emphasis on collecting Chinese works of art and to this end he began travelling extensively to Beijing, Shanghai and Tokyo to source suitable pieces for the Baur collection. With the help of Tomita, Baur's ambition was to build a collection that would rival those of George Eumorfopolous and Sir Percival David and in subsequent years Baur acquired over 500 important pieces with Tomita's guidance.

Sadly, the advent of World War II curtailed their professional relationship and they were never able to meet again. However, until the end of their lives they continued to correspond, often on a weekly basis, discussing pieces that would come into their possession.
Note: The mille fleurs or wanhuajin (myriad flower brocade) design seen on this cup was developed in the Qianlong reign (1736-95) and continued to be much admired at court during the reign of his successor the Jiaqing Emperor. The pattern is a masterpiece of design, interweaving the flowers to form a harmonious overall decoration. One scholar has identified some of the flowers incorporated in the design, noting "peonies of several kinds, lotus, chrysanthemum, magnolia, roses, hibiscus (both pink and yellow), orchids, iris, lilies (scarlet and white), asters, hydrangea, wisteria, dielytra, pomegranate, begonia, narcissus, convolvulous, syringa (white and lilac), Pyrus japonica (hai-t'ang) and double peach, Olea fragrans, cockscomb, etc." See S. Bushell, Oriental Ceramic Art, London, 1981, p. 214.

A pair of cups of this pattern and date from the Edward T. Chow collection was illustrated by C. and M. Beurdelay in La Céramique Chinoise, Fribourg, 1974, no. 151. These were later sold at Sotheby's Hong Kong, 25 November 1980, lot 171 and again at Christie's Hong Kong, 30 April 2001, lot 708.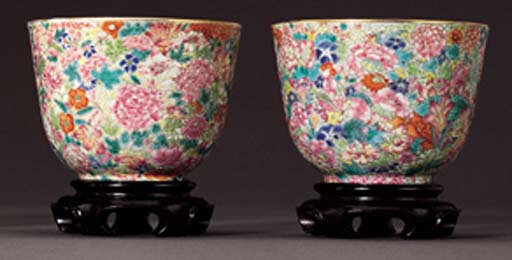 From the Edward T. Chow collection. A pair of famille rose 'millefleurs' cups, Iron-red Jiaqing six-character seal marks and of the period(1796-1820); 3 1/4 in. (8.2 cm.) diam. Sold for 199,750 HKD at Christie's Hong Kong, 30 April 2001, lot 708.
Christie's. Hong Kong. Important Chinese Ceramics and Works of Art. 27 May 2008