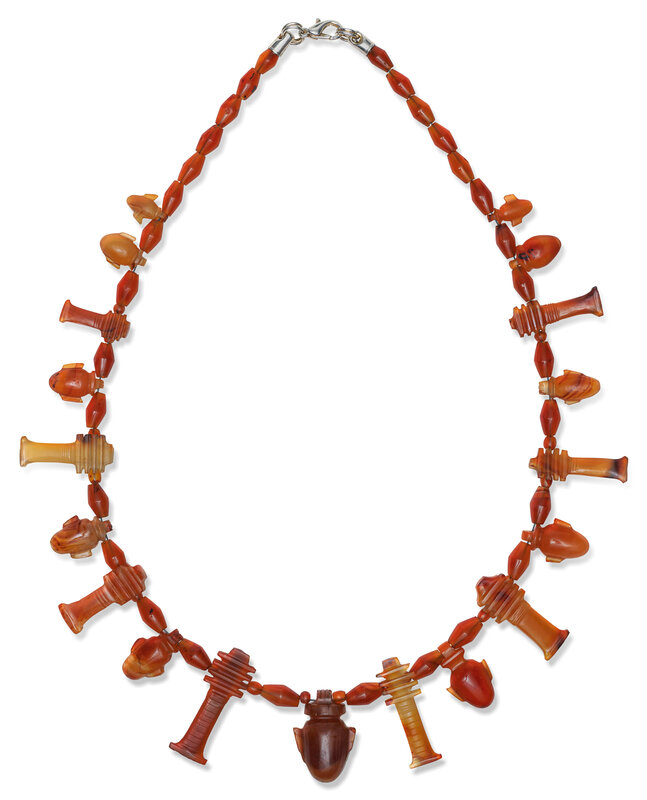 Lot 406. An Egyptian carnelian and agate bead and amuletic necklace, Third Intermediate Period, 21st-22nd dynasty, circa 1069-664 B.C. Estimate GBP 30,000 - GBP 50,000. Price realised GBP 43,750. © Christie's Images Ltd 2019.
Largest pendant: 1 ¼ in. (3.2 cm.) high,
Length strung together: 17 in. (43 cm.) long
Provenance: Goddard and Josephine Du Bois collection, USA, acquired in Egypt circa 1901-1907; thence by descent to Dr Goddard Du Bois, San Diego, USA.
Antiquities, Sotheby's, New York, 8 December 2015, lot 39.
Exhibited: The Metropolitan Museum of Art, New York, 1919-1935.
Museum of Man, San Diego, 1968.
Note: Made of agate and carnelian, a stone associated with new life and immortality, this necklace comprises of djed-pillars and heart amulets that graduate in size as they approach the middle, with a large heart amulet pendant in the centre.

C. Andrews in Amulets of Ancient Egypt, 1994, p. 72, informs how the heart was the most important of organs to the Egyptians, not because of its biological function of pumping blood around the body, which was not known to the Egyptians, but because they believed it was the centre of intelligence, the source of all emotions and actions, and the keeper of one's memory. This is why it was the heart which was weighed in the balance in the Underworld to determine whether its owner was worthy to enter paradise. Several chapters of the Book of the Dead (numbers 27 to 29A) were concerned with the heart, with Chapter 29B specifically naming amulets made of carnelian in the shape of hearts as funerary amulets. From the New Kingdom onwards, the heart became one of the most important amulets and was set on almost all the bodies of the deceased until the end of the pharaonic period. For another carnelian heart amulet, see accession no. 10.130.1800 at the Metropolitan Museum of Art, New York.

The djed-pillar had similar funerary connotations. A symbol of stability, the djed-pillar was first thought to represent a stylised tree trunk with branches lopped off (C. Andrews, op. cit.) and later as a stylised representation of the backbone of Osiris.ade intaglios highly desirable decorative pieces both in antiquity and for antiquarian collectors of the nineteenth century onwards.
Christie's. Antiquities, London, 4 December 2019