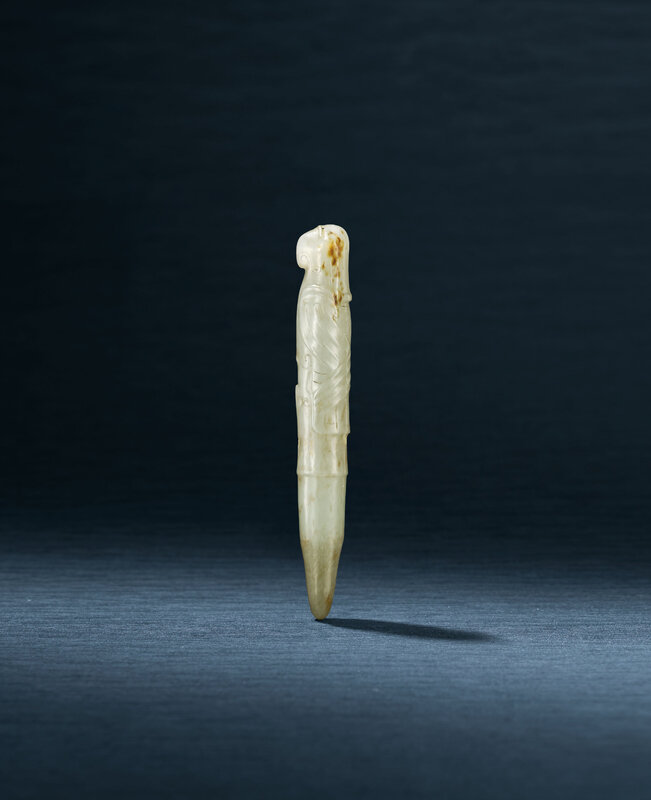 Lot 2753. A rare celadon jade bird-form hair ornament, Shijiahe Culture, circa 2500-2000 BC; 3 1/2 in. (9.1 cm.) long. Estimate HKD 200,000 - HKD 300,000. Price realised HKD 2,500,000. © Christie's Images Ltd 2019
The tubular carving is finely carved on the exterior in shallow relief with a face of disintguishing features including a wide flat nose, downturned mouth, and piered ears, below a headdress in the form of a raised band with incised rope-twist design, box.
Provenance: Lantien Shanfang Collection, acquired in Taipei in 1991.
Shijiahe Culture is a Neolithic culture developed around the middle reaches of Yangtze River, most notable for its exceptional and sophisticated jade carvings. It is named after the site of Luojiabailing in Shijiahe city, located in Tianmen of Hubei province, first discovered in the early 1980s. Areas around the Jianghan Plains form the nucleus of Shijiahe Culture, spreading across Hubei, south of Henan and north of Hunan. It is dated to circa 2500 to 2000 BC.
Rubbing by Tsai Chinyun
Note: The semi-translucent stone is of an even celadon tone. The top section has some purplish inclusions while the tip appears light russet.

The ornament has an elongated conical shape. The top is carved with an eagle's head, with wings folded, legs straight, and talons tucked in. The conical tip would have functioned as a tenon tongue for the mortise hole cut into the corresponding element.

Hair ornaments with bird motifs form a distinctive category among jades from the Shejiahe Culture.

Compare with a similar jade ornament discovered at Zaolingang, Hubei Province, now in the Jingzhou Museum, illustrated in Jade Objects in the Shijiahe Culture, 2008, p. 109, no. 73 (fig. 1), which is shorter (5 cm.) and russet in tone.
(Text by Wang Mingda)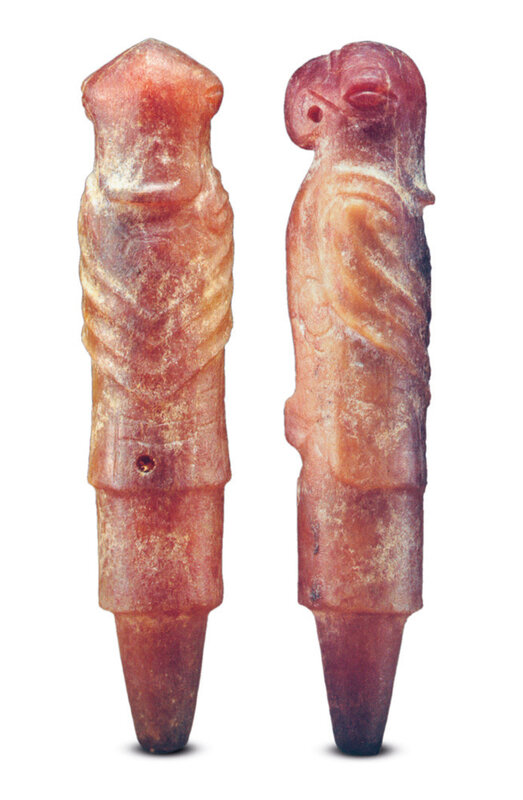 fig. 1. A russet jade ornament, 5 cm, discovered at Zaolingang, Hubei Province, now in the Jingzhou Museum. Photo provided by Wang Mingda
Christie's. The Chang Wei-Hwa Collection of Archaic Jades, Part I - Neolithic Period, Hong Kong 27 November