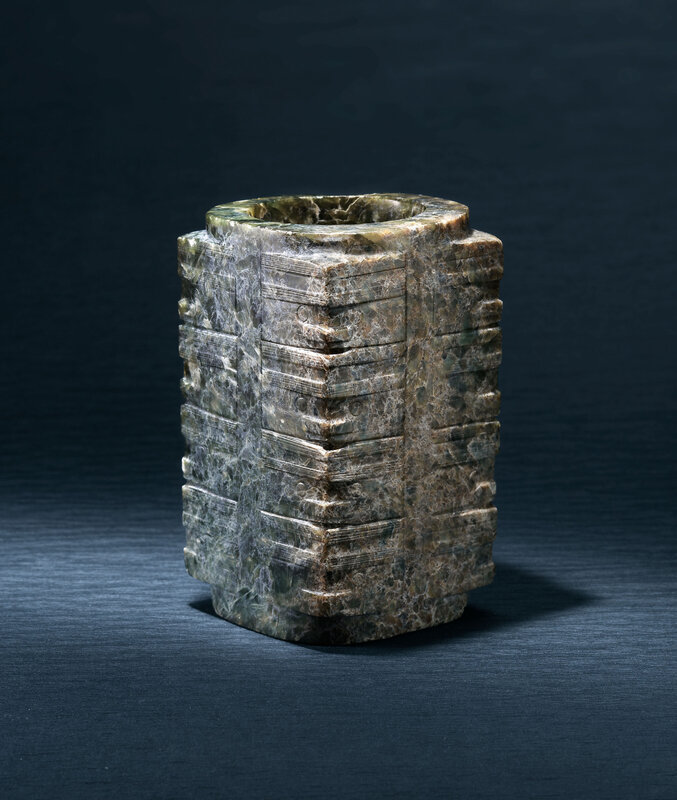 Lot 2720. A jade four-tiered cong, Liangzhu culture, circa 3300-2300 BC; 4 1/2 in. (11.4 cm.) high. Estimate HKD 300,000 - HKD 500,000. Price realised HKD 2,375,000. © Christie's Images Ltd 2019
The cong is of square cross section surrounding a cylindrically hollowed tube to the centre with rounded square corners, and tapers slightly from top to bottom. The sides are divided into four registers with a stylised mask at each of the four corners, comprising two long bars above a shorter bar and flanked by two incised circles forming the eyes. The stone is of a dark sage-green colour with some white veining and russet inclusions, box.
Provenance: Lantien Shanfang Collection, acquired in Hong Kong in 1992.
Note: Liangzhu Culture is a Neolithic culture developed in the lower reaches of the Yangtze River. It is named after the archaeological site located at Liangzhu of Yuhang County in Hangzhou, Zhejiang province. Liangzhu Culture is primarily spread around Lake Taihu area, stretching down to Qiantang River in the south and up to Changzhou area in Jiangsu province. Excavated materials from the upper stratum of Qingdun in Hai'an county of Jiangsu province also suggest their connection to the Liangzhu Culture. At the site of the Fuquan Mountain, its upper stratum is attributed to the Liangzhu Culture while its lower stratum to the Songze Culture, thus indicating the former may have evolved from the Songze Culture. Scientific radiocarbon dating places the Liangzhu Culture to circa 3300 to 2200 BC. Millets, jade carvings, carved black pottery, woven bamboo, linen and silk fabrics were among the finds from the Liangzhu sites. Among the material cultures found such as the advanced level of pottery making and jade carvings, all these would strongly support a community that had reached an unprecedented level of sophistication.
Christie's. The Chang Wei-Hwa Collection of Archaic Jades, Part I - Neolithic Period, Hong Kong 27 November