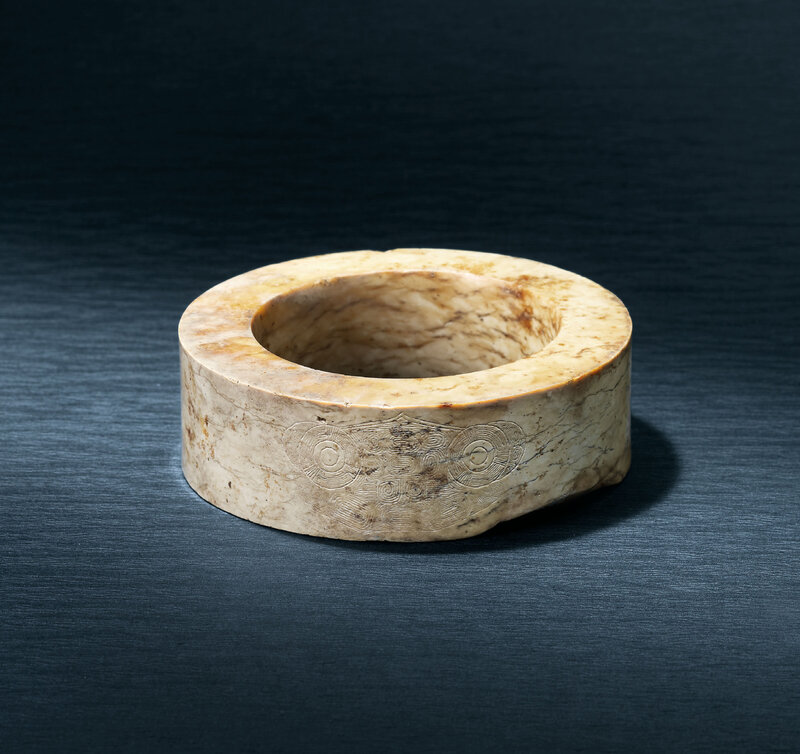 Lot 2724. A very rare jade bangle, Liangzhu culture, circa 3300-2300 BC; 3 3/4 in. (9.6 cm.) diam. Estimate HKD 1,200,000 - HKD 1,800,000. Price realised HKD 2,375,000. © Christie's Images Ltd 2019
The bangle is finely incised on the exterior with three evenly spaced animal masks. The stone has been altered into an ivory colour with russet veining and inclusions, box.
Provenance: Lantien Shanfang Collection, acquired in Hong Kong in 1993.
Note: Liangzhu Culture is a Neolithic culture developed in the lower reaches of the Yangtze River. It is named after the archaeological site located at Liangzhu of Yuhang County in Hangzhou, Zhejiang province. Liangzhu Culture is primarily spread around Lake Taihu area, stretching down to Qiantang River in the south and up to Changzhou area in Jiangsu province. Excavated materials from the upper stratum of Qingdun in Hai'an county of Jiangsu province also suggest their connection to the Liangzhu Culture. At the site of the Fuquan Mountain, its upper stratum is attributed to the Liangzhu Culture while its lower stratum to the Songze Culture, thus indicating the former may have evolved from the Songze Culture. Scientific radiocarbon dating places the Liangzhu Culture to circa 3300 to 2200 BC. Millets, jade carvings, carved black pottery, woven bamboo, linen and silk fabrics were among the finds from the Liangzhu sites. Among the material cultures found such as the advanced level of pottery making and jade carvings, all these would strongly support a community that had reached an unprecedented level of sophistication.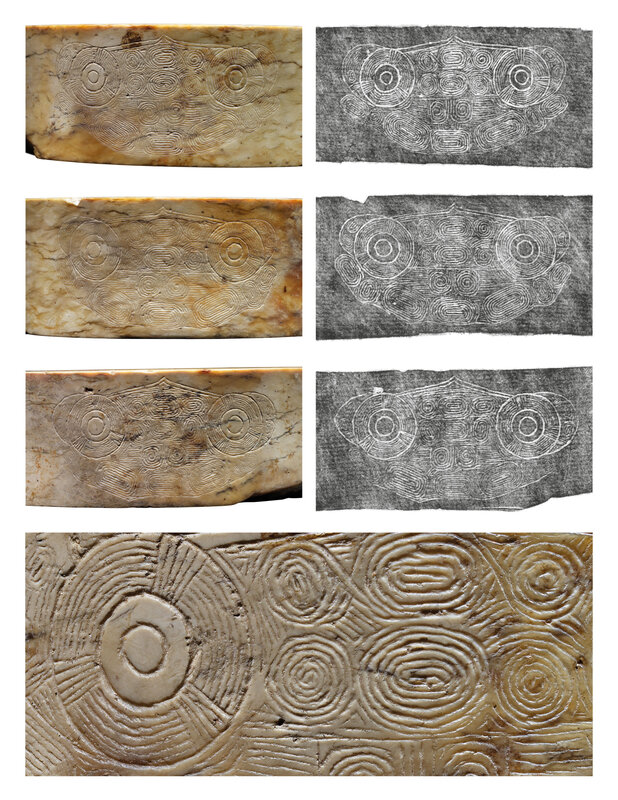 detail of carving. Rubbings by Tsai Chinyun.
An 'animal mask' jade bangle
The bangle is covered with white alterations and gives off a rich well-handled patina.

The bangle is of a short cylindrical form with straight outer walls. The inner walls of the circular aperture drilled from both sides are slightly convex after thorough polishing. The bangle is well carved and imparts a solemn and sturdy appearance.

The exterior of the bangle is carved with three equidistant animal masks. Each mask has a pair of double-circle eyes enclosed by eyelids which are connected to each other by an arched beam, above two conjoined spirals symbolising the nose, and a further set of seven conjoined spirals. The in taglio decoration is remarkably fine in that each incised line appears thinner than a hair, making the decoration hard to decipher with the naked eye.

The animal mask on the present bangle is similar to that found on a , illustrated in Wenming de shuguang: Liangzhu wenhua wenwu jingpinji, Shenzhen, 2005, p. 220 (fig. 1), which is the only other Liangzhu jade carving that can compare in terms of the fineness of the incised decoration to the work on the current bangle.
(Text by Wang Mingda)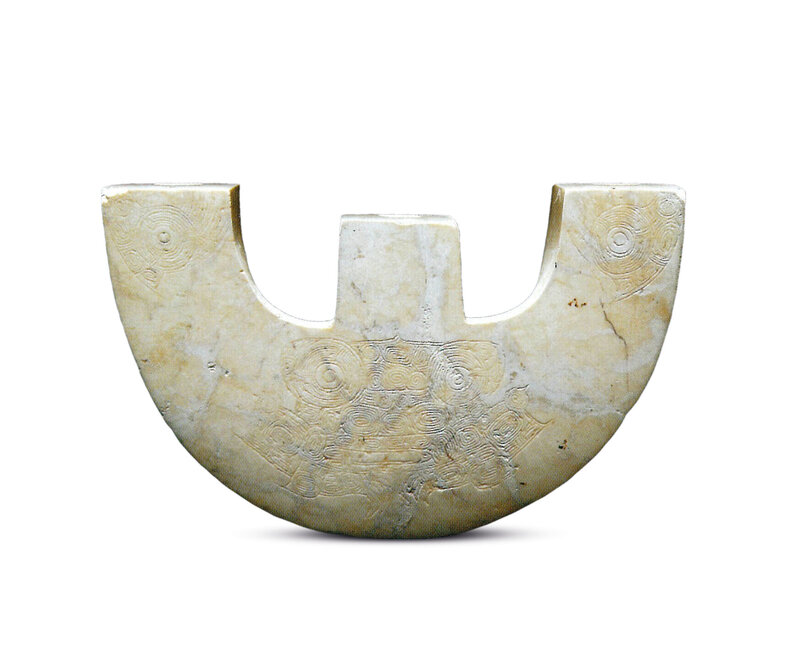 fig. 1. A three-pronged plaque unearthed at Fanshan, Yuhan District of Hangzhou City, Zhejiang province, now in the collection of Zhejiang Provincial Institute of Archaeological and Cultural Relics. photo provided by Wang Mingda
Christie's. The Chang Wei-Hwa Collection of Archaic Jades, Part I - Neolithic Period, Hong Kong 27 November