Lot 2712. A celadon jade toothed animal mask ornament, Hongshan Culture, circa 4000-3000 BC; 4 15/16 in. (12.6 cm.) wide. Estimate HKD 300,000 - HKD 500,000. Price realised HKD 812,500. © Christie's Images Ltd 2019
The well-polished stone is carved and pierced in the form of an animal mask. It is decorated with arched brows, and circular eyes. The details of the face are carefully rendered with thick concave troughs and the bottom of the jade is carved with segmented sections representing the teeth of the animal. The top of the ornament is pierced with a small aperture for suspension, box.
Provenance: Lantien Shanfang Collection, acquired in Taipei in 1989.
Note: As one of the Neolithic cultures developed across northern China, Hongshan Culture is named after the archaeological site behind Hongshan (Red Hill) in Chifeng city, Inner Mongolia, discovered by the Japanese archaeologists Kosaku Hamada and Seiichi Mizuno in 1935. Initially termed 'Chifeng Culture Phase 1', it was later renamed Hongshan Culture in 1954. Findings include painted pottery, pottery with impressed zigzag or combed design, fine stone tools, as well as polished stone carvings. Hongshan Culture spans across southeast Inner Mongolia, west Liaoning and north Hebei. A small number of findings were also found in northwest Jilin. Excavated sites include Zhizhu Mountain in Chifeng, Xishuiquan, Sandaowanzi in Aohan Banner, Sileng Mountain, as well as Nanyangjiayingzi in Barin Left Banner etc. Hongshan Culture is dated to circa 3500 BC based on radiocarbon dating of its archaeological finds.
Compare to two similar jade toothed animal mask ornaments of this period from the Yangdetang collection, one larger (19.6 cm. wide) and of a more greenish tone , sold at Christie's Hong Kong, 29 November 2017, lot 2704; the other of comparable size (12 cm. wide) and yellowish in tone, sold at Christie's Hong Kong, 28 November 2018, lot 2708.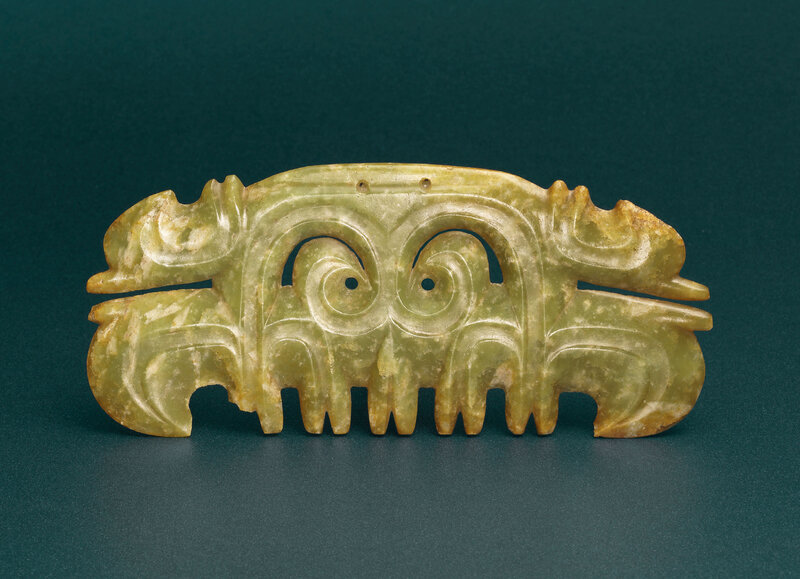 A very rare green jade toothed animal mask ornament, late Hongshan Culture, circa 3500-3000 BC; 7 7/8 in. (19.6 cm.) wide. Estimate HKD 300,000 - HKD 500,000. Price realised HKD 10,900,000 at Christie's Hong Kong, 29 November 2017, lot 2704. © Christie's Images Ltd 2017
Cf. my post: A very rare green jade toothed animal mask ornament, late Hongshan Culture, circa 3500-3000 BC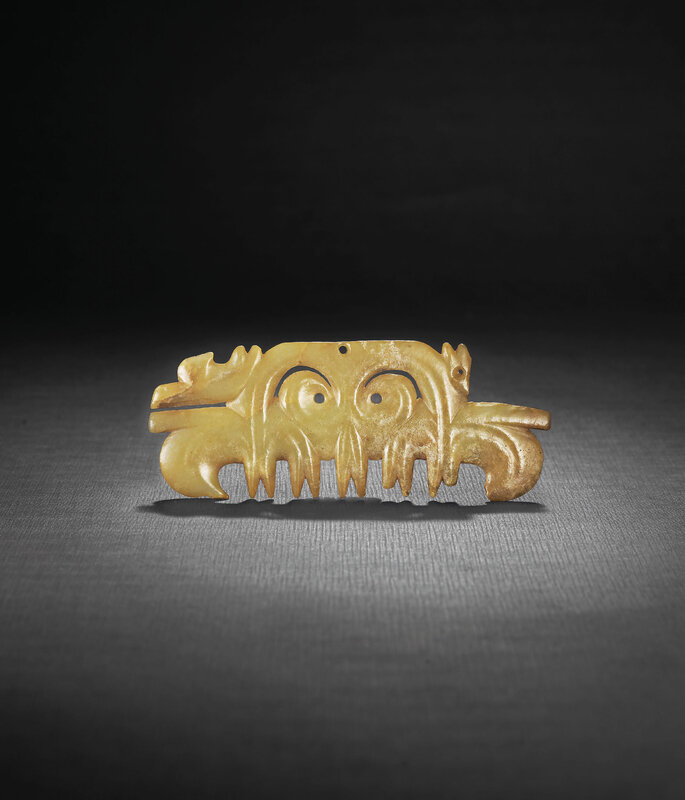 A very rare celadon jade toothed animal mask ornament, Hongshan Culture, circa 4000 -3000 BC; 4 ¾ in. (12 cm.) wide. Estimate HKD 150,000 - HKD 200,000. Price realised HKD 1,750,000 at Christie's Hong Kong, 28 November 2018, lot 2708. © Christie's Images Ltd 2018
Cf. my post: A very rare celadon jade toothed animal mask ornament, Hongshan Culture, circa 4000 -3000 BC
Christie's. The Chang Wei-Hwa Collection of Archaic Jades, Part I - Neolithic Period, Hong Kong, 29 November 2019