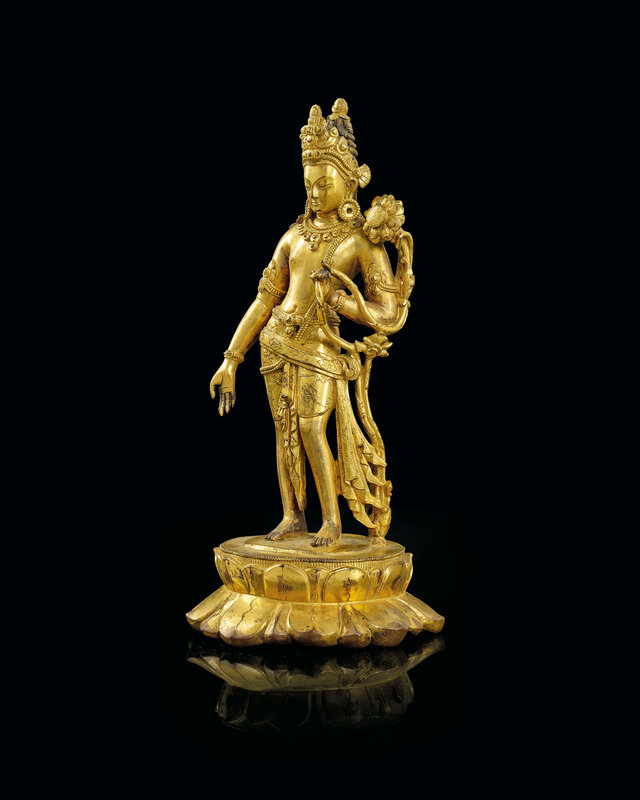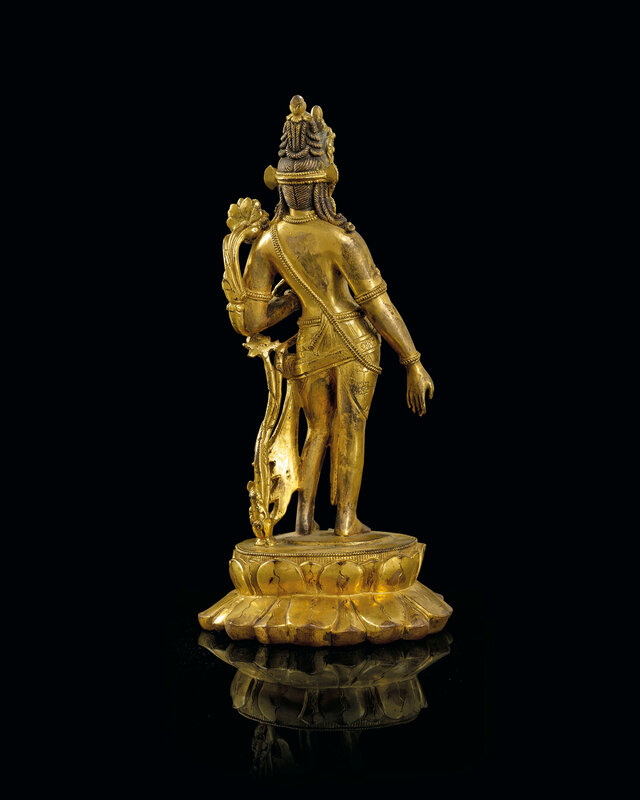 Lot 237. A gilt-bronze figure of Padmapani, Nepal, Licchavi revival style, circa 17th century; Hauteur: 24,8 cm. (9 ¾ in.). Estimate EUR 70,000 - EUR 90,000. Price realised EUR 81,250. © Christie's Image Ltd 2019
Il est représenté en tribhanga sur un socle lotiforme. Sa main droite est en varadamudra, sa main gauche en vitarkamudra tient une tige de lotus. Il est paré de bijoux et vêtu d'un dhoti incisé de fleurs. Son visage est empreint de sérénité. Ses cheveux sont coiffés en un haut chignon.
Provenance: Collection of Geraldine Rockefeller Dodge, United States of America.
Sotheby's Park Bernet, New York, 7 October 1975, lot 247.
American private collection, acquired in New York, 23 December 1975.
Christie's New York, 21 March 2012, lot 835.
Property of a Southeast Asian collector.
Note: This handsome and relatively large gilt-bronze sacred image represents a manifestation of Avalokiteshvara or the bodhisattva of Compassion. This specific form displays two arms of which one hand is holding the stem of the padma-lotus that flowers along his left upper arm. Hence its name of Padmapani, a form that remained throughout the ages extremely popular in Nepal. The earliest examples were executed in stone and date from around the sixth century although earlier prototypes must have existed. Endless versions of this image were well made into the nineteenth century and it is often not easy to precisely date individual representations.

Indeed this Padmapani figure shows a strong reminiscent of Licchavi examples dating back to circa the eight century. Its suave modelling, elegant simplicity and a gentle, introspective facial expression are clearly derived from such early religious works of art. Compare this gilt-bronze figure for instance with a late Licchavi bronze seated Buddha example discussed as lot ?????. The Licchavi prototypes for this work were as well prized throughout Tibet and Mongolia and must have inspired Newari artists of the seventeenth and eighteenth century in the creation of these new sculptures though based on these ancient examples.