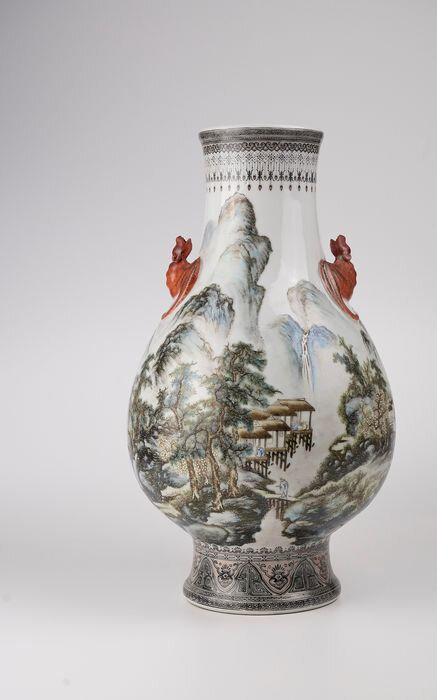 A Famille rose Landscape vase, Republic period (1912-1949); 37.5 cm in height. Estimate €6,000 - €10,000. © Catawiki
An incredibly fine porcelain vase of Hu form decorated in overglaze famille rose enamels depicting a 360 degree landscape scene. The scene depicts extreme mountain ranges, forests, rivers, lakes, waterfalls, buildings, cliffs, boats and scholars to name a few. Flanked at either side of the vase is an upward facing overglaze iron red bat handle. At the mouth of the vase various continuous boarders including shou characters. The base with an apocryphal four character Qianlong mark. However the vase dates to the Republic period 1912-1949.
Provenance: Martindale Chinese Art, London.
Note: For a republic landscape vase of similar size with the same boarder see Christies South Kensington May 17th 2013 lot 1225.
https://www.catawiki.com/l/33085919-vase-famille-rose-porcelain-landscape-china-republic-period-1912-1949?fbclid=IwAR0ZLK4rtBCFgS85IayGVZuM51MFCo8rXDx32sI4C__6-xwX_Vali1NrlGM