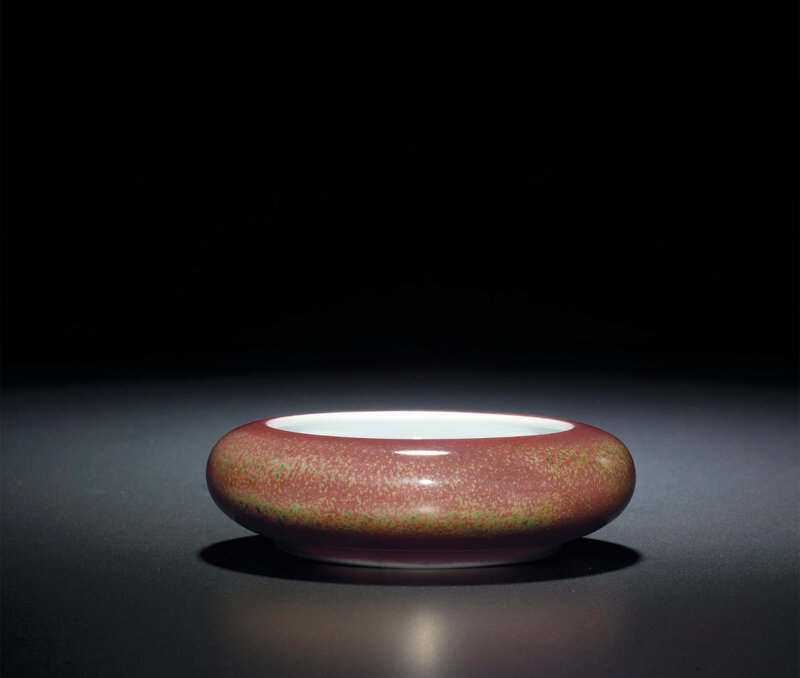 Lot 1905. A fine peachbloom-glazed brush washer, tangluoxi, Kangxi six-character mark and of the period (1662-1722); 4 7/8 in. (12.3 cm.) diam. Estimate HKD 300,000 - HKD 500,000. Price Realized HKD 990,000. © Christie's Image Ltd 2013
The compressed globular body is covered on the exterior with a glaze of crushed strawberry-red and mottled greyish-green colour. The interior and base are white. The base is inscribed with the reign mark in underglaze blue.
Note: This type of brush washer is described as being of 'gong' shape, or tangluoxi, as it has a very compressed body. It belongs to a group of vessels referred to as the Badama, 'Eight Great Numbers'. This group was previously thought to comprise a total of eight differing shapes. John Ayers identified a possible ninth form of the Badama by pointing out the existence of two slightly different globular water pots. The first is termed as a pingguo zun, 'apple jar' modelled with a gently inward curving mouth rim; and the other with a raised, low, neck (similar to a stalk) that maybe referred to as a Shi liu, or 'Pomegranate jar'. See, J. Ayers, 'The 'Peachbloom Wares of the Kangxi Period (1662-1722), Transactions of the Oriental Ceramic Society, vol. 64, 1999-2000, p. 49.

Many of the world's great museums have published similar examples of brush washers, including the Metropolitan Museum of Art, The Palace Museum, Beijing and the Sir Percival David Collection at the British Museum, London. The brush washer in the Metropolitan Museum is illustrated with a group of peachbloom-glazed vessels made for the scholar's table, including a beehive water pot, illustrated by S. Valenstein, A Handbook of Chinese Ceramics, New York, 1989, rev. ed., p. 237, no. 236. Compare with examples of Kangxi-marked brush washers of this type sold at Christie's New York, 15 September 2009, lot 445, and 16-17 September 2010, lot 1403.
Christie's. In Pursuit of Refinement - A Legacy of the YC Chen Collection, Hong Kong, 29 May 2013