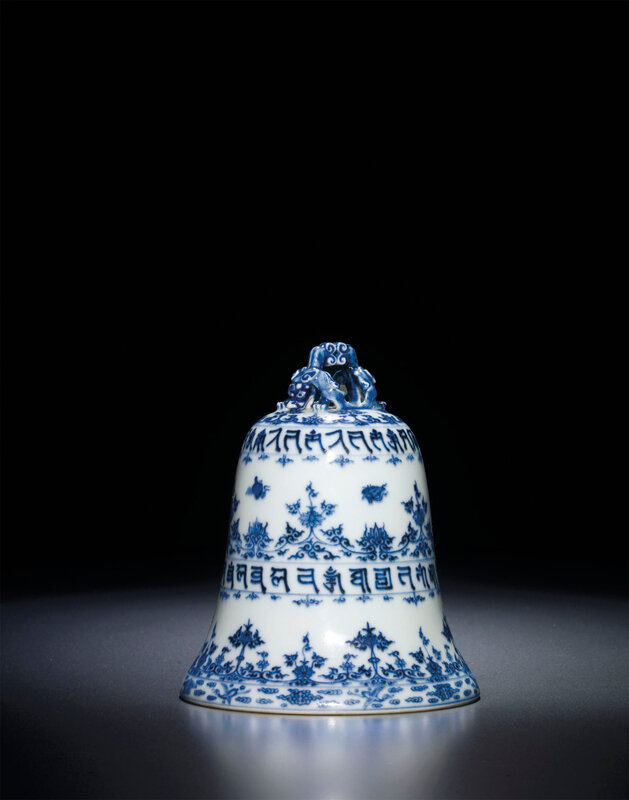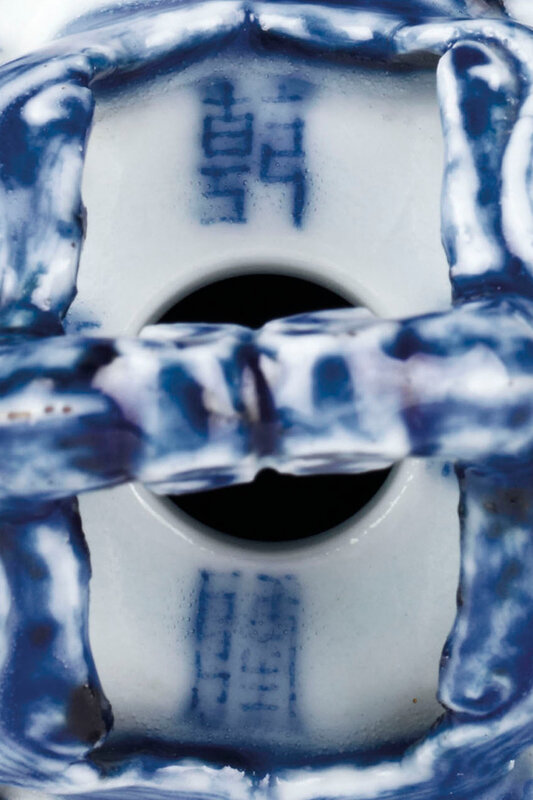 Lot 1937. A rare blue and white 'sanskrit' inscribed bell, Qianlong four-character seal mark and of the period (1736-1795); 5 5/8 in. (14.3 cm.) high. Estimate HKD 800,000 - HKD 1,200,000. Price realised HKD 15,550,000. © Christies Image Ltd 2013
The bell is decorated with delicately painted bands of leafy lotus scrolls which are interspersed with bands of Sanskrit characters and a band of emblems. It is further decorated with a border of cranes in flight amidst clouds to the rim and applied to the top with a small handle formed by two mythical beasts. The mark is written around the perforation beneath the handle.
Note: The Sanskrit inscriptions are likely to be Buddhist mantras.

Bells are rare forms in porcelain and those with blue and white decoration are particularly rare. A blue and white bell with a similar dragon handle to the current lot from the Tianqi period (1621-1627) was sold at Christie's London, 12 November 2002, lot 13. Another bell of the same size and form to the Tianqi bell is in the collection of the Palace Museum, see Blue and White Porcelain with Underglaze Red II, The Complete Collection of Treasures of the Palace Museum, Hong Kong, 2000, pp. 232-233, no. 212. Compare also to a similarly shaped Qianlong white-glazed bell in the Palace Museum, illustrated in Monochrome Porcelain, The Complete Collection of Treasures of the Palace Museum, Hong Kong, 1999, p. 129, no. 118. A 'snowflake' blue-glazed bell dating to the Kangxi period with a dragon handle from the Qing Court Collection, is also illustrated op. cit., p. 90, no. 83.

The bell's blue and white decoration is in a similar 'pencilled' style to a group of Qianlong blue and white stem bowls with leafy lotus scrolls and Sanskrit characters. A stem bowl of this type was sold at Christie's Hong Kong, 27 November 2007, lot 1698.

An identical bell from the collection of Mrs S.K. de Forest was sold at Christie's London, 15 May 2012, lot 389.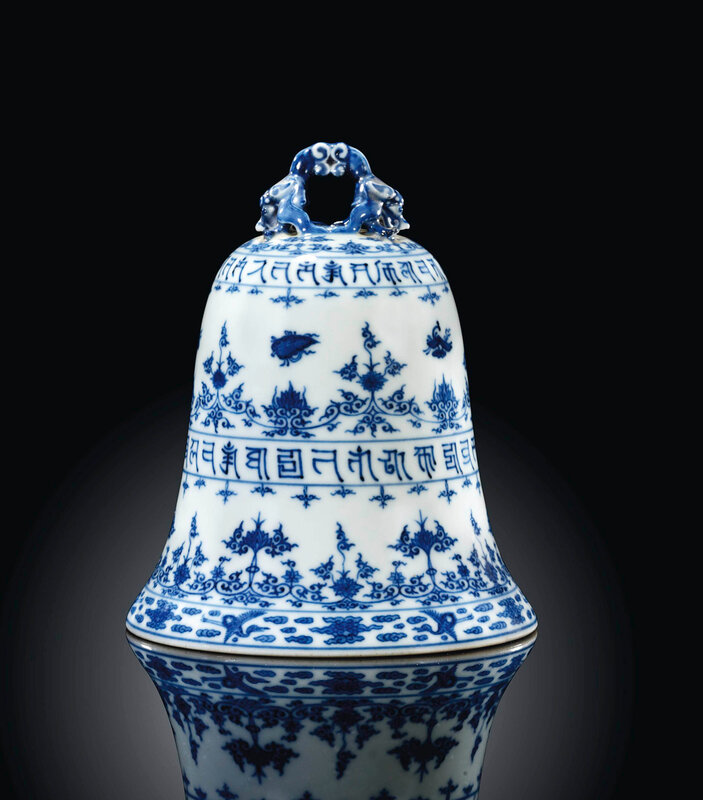 From the Collection of Mrs S.K. de Forest. A rare blue and white bell, Qianlong underglaze blue four-character seal mark beneath the handle and of the period (1736-1795); 5 5/8 in. (14.3 cm.) high. Sold for GBP 481,250 at Christie's London, 15 May 2012, lot 389. © Christies Image Ltd 2012
Cf. my post: A rare blue and white bell, Qianlong underglaze blue four-character seal mark beneath the handle and of the period (1736-1795)
Christie's. IN PURSUIT OF REFINEMENT - A LEGACY OF THE YC CHEN COLLECTION. Hong Kong, 29 May 2013