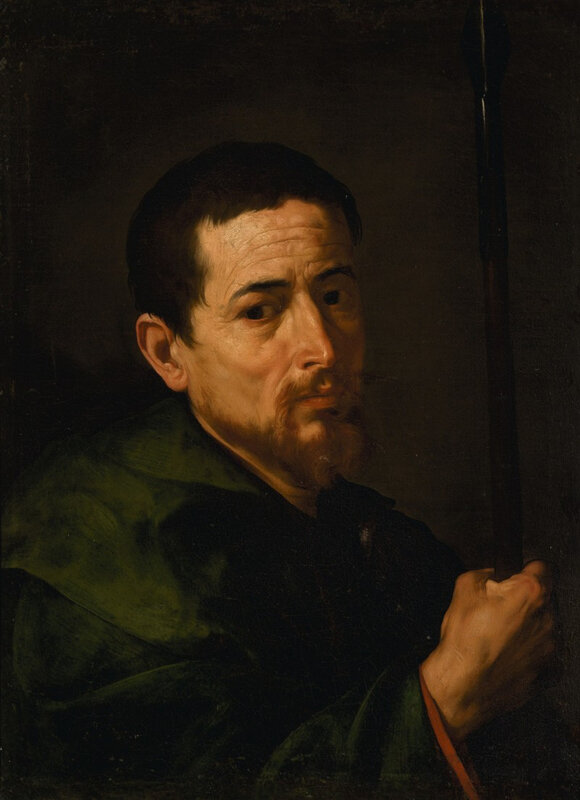 Lot 9. Jusepe de Ribera, called Lo Spagnoletto (Játiva, Valencia 1591 - 1652 Naples), Saint Judas Thaddeus, oil on canvas, 65 x 50 cm.; 25⅝ x 19¾ in. Estimate 200,000 - 300,000 GBP. Lot sold 399,000 GBP. © Sotheby's.
Property from a Spanish Private Collection.
Provenance

:

By descent in the Imperiali-Francavilla family, Naples and later Rome, to
Don Andrea Imperiali, Rome;
By whom sold, London, Sotheby's, 5 July 1995, lot 72;
There acquired by the father of the present owner;
Exhibited: Naples, Castel Sant'Elmo, Ribera, 1992, no. 1.7b.
Literature

:

N. Spinosa, Jusepe de Ribera, exh. cat., Naples 1992, pp. 124–25, no.1.7b, reproduced in colour p. 125;
A.E. Pérez Sánchez, N. Spinosa, Jusepe de Ribera, exh. cat., New York 1992, p. 66, under no. 7, p. 259;
N. Spinosa, Ribera. L'opera completa, Naples 2003, p. 255, no. A24;
A. Buondonno, in José de Ribera Bajo el signo de Caravaggio (1613–1633), N. Spinosa (ed.), exh. cat., Salamanca, Valencia, Seville, 2005, pp. 62–63 and 84–85, no. 11;
N. Spinosa, Ribera. L'opera completa, Naples 2006, p. 267, no. A30;
N. Spinosa, Ribera. La obra completa, Madrid 2008, p. 331, no. A53;
J. Milicua, J. Portús (eds), El joven Ribera, exh. cat., Madrid 2011, p. 158, under no. 24.
Note: Prof. Nicola Spinosa (see Literature) dates this well-preserved work to the very end of Ribera's Roman period, or the beginning of his activity in Naples, where he moved in 1616.
Spinosa links Saint Judas Thaddeus with the Saint Philip of exactly the same dimensions, formerly with Giovanni Sarti, Paris, and now in a private collection.1 These two works were very likely part of a set depicting the twelve apostles of which the others are lost or destroyed, but which may also include the Saint Peter in the collection of the University Art Museum, Bloomington;2 and the Saint Paul in a private collection, Naples.3 Both of those works, of similar dimensions to the present painting, are dated by Spinosa to the same period. A further work which very likely also formed part of the same series is at the National Gallery, London;4 though previously identified as Saint Judas Thaddaeus, usually portrayed with a club or an axe, he most likely represents either Saint Thomas or Saint Matthew, both of whose common attribute is a spear.
Ribera painted several series of the apostles throughout his career, the most complete being that now housed in the Museo del Prado, Madrid, and executed circa 1630. That series, showing the saints half-length, is first mentioned in the Spanish royal inventories at the end of the eighteenth century.
1 Spinosa 2008, p. 331, no. A52.
2 Spinosa 2008, p. 330, no. A51.
3 Spinosa 2008, p. 330, no. A50.
4 Spinosa 2008, p. 498, no. C7.