LONDON.- Working in collaboration with the Old Master Prints specialists and the Valuations team, Christie's Heritage and Taxation experts negotiated the acceptance in lieu of six etchings by Rembrandt van Rijn, which have been allocated to National Museums NI for display at the Ulster Museum.

This is a particularly fitting acquisition, being completed in the year of the 350th anniversary of Rembrandt's death. This is the first time that any works by Rembrandt have entered these collections and demonstrates the importance of the scheme to provide works of significance for the public to view.

Included amongst the etchings is The Adoration of the Shepherds which will go on display with immediate effect in an exhibition entitled Masterpieces of Dutch Landscape Painting at the Ulster Museum, together with Six's Bridge. The works will remain on display until 26th January 2020.
Rembrandt, The Adoration of the Shepherds, 1654, etching.
Ruth Cornett, Director, Heritage and Taxation Advisory Service, commented: "We are pleased to have played a part in allocating these works to the Ulster Museum, with two of the etchings immediately contributing to an exhibition celebrating the very best of Dutch works of art. The timing is particularly poignant, as we complete the acquisition in the 350th anniversary year of Rembrandt's death. In addition, the Nativity scene captured in The Adoration of the Shepherds could not be more fitting as we approach the Christmas season."

The exhibition at the Ulster Museum also includes a painting, The Cornfield by Jacob van Ruisdael, which was accepted in lieu in 2017 with the assistance of Christie's.
The four etchings that have yet to be displayed are:
Bearded Man In A Furred Cap And Robe
The Artist's Mother
The Sleeping Herdsman
The Descent From The Cross By Torchlight.
For nearly 50 years, Christie's Heritage & Taxation Advisory Service has built up extensive experience, helping numerous Christie's clients with transactions that have resulted in over 10,000 chattels of pre-eminent national interest being acquired by public museums, galleries or institutions, through a private treaty sale or in lieu of inheritance tax or other death duties.

The acceptance of the six Rembrandt etchings settled £150,500 of tax.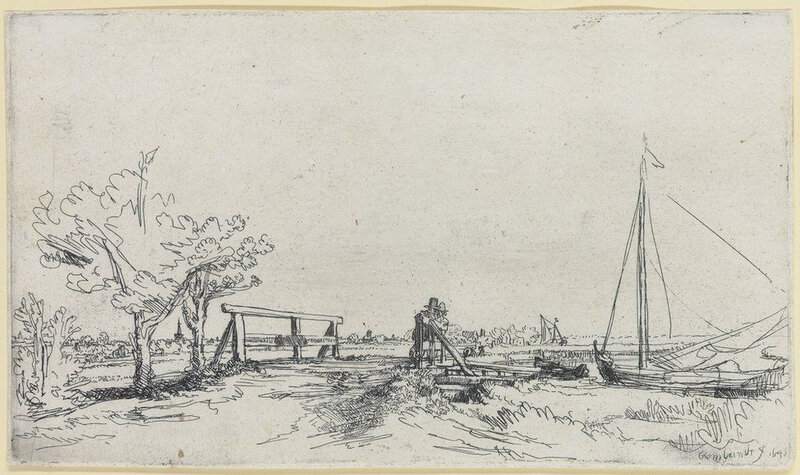 Rembrandt, Six's Bridge, 1645, etching and drypoint.