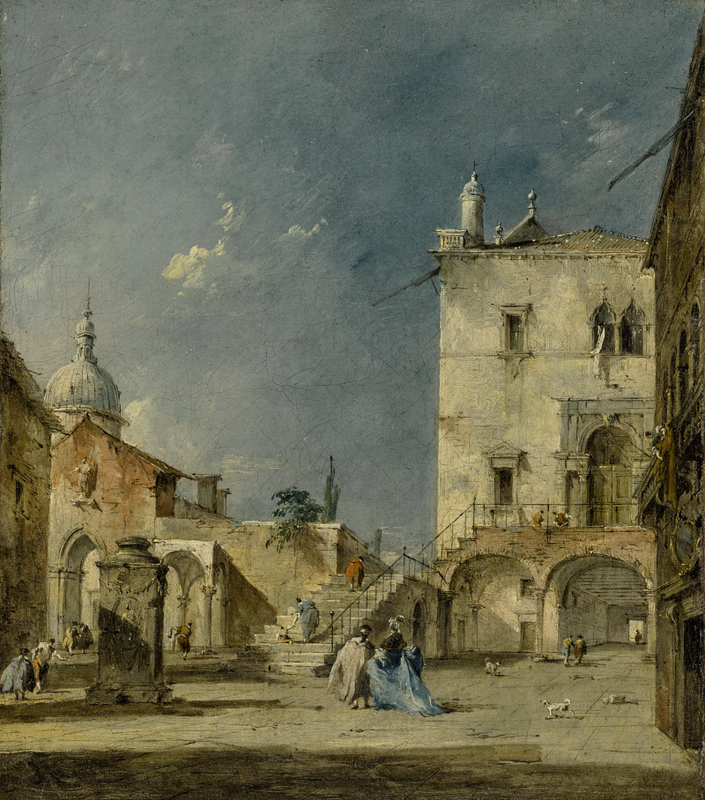 Lot 51. Francesco Guardi (Venice 1712 - 1793), Capriccio view of a Venetian campo, oil on canvas, 12⅜ by 10⅝ in.; 31.4 by 27 cm. Estimate: 200,000 - 300,000 USD. © Sotheby's.
Property from The Metropolitan Museum of Art, Sold to Benefit the Acquisition Fund.
Provenance: Derveaux, Paris;
Madame Raymond Thome-Patenôtre, until shortly before 1962;
From whom acquired by Rosenberg & Stiebel, New York;
From whom acquired by Lesley and Emma A. Sheafer, 1962;
Thence by bequest to the Metropolitan Museum of Art, 1973 (inv. no. 1974.356.27).
Exhibited: New York, The Metropolitan Museum of Art, The Lesley and Emma Sheafer Collection: A Selective Presentation, July 1975, no. 31;
Shizuoka Prefectural Museum of Art; Kobe City Museum, Landscape Painting in the East and West, 19 April - 13 July 1986, no. 6.
Literature: A. Morassi, Guardi: Antonio e Francesco Guardi, Venice 1973, vol. 1, p. 452, cat. no. 764, vol. 2, reproduced fig. 700 (dating this painting a little later than the version in the Musée Jacquemart-André, Paris, which he assigns to Guardi's mature period);
L.R. Bortolatto, L'opera completa di Francesco Guardi, Milan 1974, p. 129, cat. no. 655, reproduced p. 127;
D. Succi, Francesco Guardi, Itinerario dell'avventura artistica, Milan 1993, p. 147-148, reproduced fig. 145;
K. Baetjer, European Paintings in The Metropolitan Museum of Art by Artists Born Before 1865: A Summary Catalogue, New York 1995, p. 92, reproduced (as "Capriccio");
B.A. Kowalczyk (ed.), Canaletto Guardi: Les deux maîtres de Venise, exhibition catalogue, Musée Jacquemart-André, Brussels 2012, p. 184, under cat. no. 50 reproduced in color fig. 2;
M. Delon (ed.), The Libertine: The Art of Love in Eighteenth-Century France, New York 2013, reproduced in color p. 342.
Note: Datable to circa 1780, this dazzling canvas is a masterful example of Francesco Guardi's remarkable skills in creating enchanting and convincing views from a pastiche of invented components. Within this imagined corner of Venice, his genius is found within the virtuosity of his brushstroke and poetic dynamism, both used here to conjure up the true essence of the city. In addition to their popularity among eighteenth century Grand Tourists, such capricci seem to have also been avidly collected by Venetians themselves, who enjoyed the whimsical rearrangement of familiar landmarks, sites, and characters.
A handful of figures, dogs, and shadows animate this sunny square. The blue dress of the elegant noblewoman at center echoes the cool tones of the crisp blue sky, which in turn pleasingly contrasts with the warm hues of the architectural details. Beyond the pedestal at left is an arched entrance to a church, beyond which rises a dome. A young mother near the center hurries her small child up a set of stairs that lead to the entrance of a building, beneath whose door stretches an arcaded portico that extends deep into the picture plane. At the far-right edge of the scene appears the foreshortened façade of a palazzo, with a woman leaning over a balcony attending to laundry. The costume of the female at center helps to date this painting to about 1780, as her feathered headdress was first made popular in the mid to late 1770s by Madame du Barry.
This painting closely compares to a larger capriccio on gouache by Guardi in the Jacquemart-André Museum in Paris (fig. 1).1 Although that example differs in staffage and in the inclusion of a framing portico with a hanging lamp in the foreground, in both paintings, Guardi displays an intimate familiarity with a few works by Canaletto: the latter's painting of a capriccio with a courtyard and a portico (fig. 2),2 his preparatory drawing for the painting,3 and his related engraving of a portico with a lantern.4 Canaletto completed this painting in 1765 as a reception piece for the Venice Academy, and it was first publicly exhibited in Saint Mark's Square in 1777 on the Feast of the Ascension.
1. Gouache on paper, 55.5 by 38 cm, Paris, Jacquemart-André Museum, inv. no. MJAP-P1264.
2. Oil on canvas, 131 by 93 cm, Venice, Accademia, inv. no. 472, cat. 463.
3. Pen and brown ink on paper, 23.5 by 17 cm, Venice, Museo Correr, inv. no. 1785. See Kowalczyk 2012, p. 184, reproduced under cat. no. 50, fig. 1.
4. Etching, circa 1735/1746, New York, Metropolitan Museum of Art, inv. no. 1838,0526.4.10.