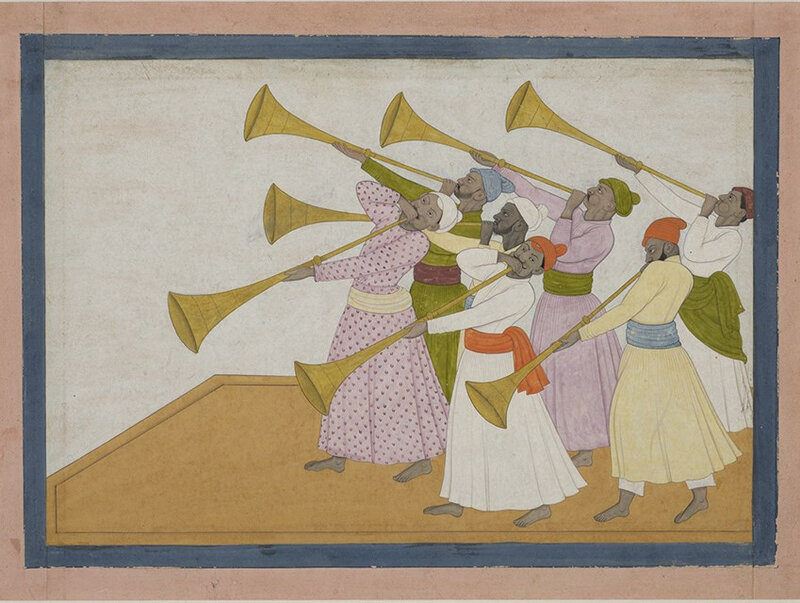 Nainsukh of Guler, 'The Trumpeters', 1735-1740. © The Trustees of the British Museum.
LONDON.- A masterpiece by one of India's greatest painters has been saved from export after being purchased by the British Museum. 'The Trumpeters' by Nainsukh of Guler – described as a work "unparalleled in North Indian art" - had its licence for export blocked in 2018 by the Secretary of State for Digital, Culture, Media and Sport, in order to enable a UK institution to raise the £440,000 required to stop it from being sold overseas. Thanks to the support of Art Fund, the National Heritage Memorial Fund and the Brooke Sewell Permanent Fund, it has now joined the collection of the British Museum and will remain in the UK. It has gone on free display in the Museum's Sir Joseph Hotung Gallery of China and South Asia.

The painting, thought to have been created between 1735-40, depicts a traditional musical performance in Northern India. It shows seven musicians playing Pahari horns with long pipes known as turhi, their cheeks puffed out with the effort. It is a highly impressive and unusual example of the artist's work, combining aspects of Nainsukh's early work with some of his later achievements. It has been in a private collection since being purchased by the prominent British artist Winifred Nicholson (1893-1981) during a tour of India, Burma (Myanmar) and Ceylon (Sri Lanka) in 1919-20. After Nicholson's death, it remained with her family and this is now the first time it has entered a public collection.

Nainsukh is the most famous and highly regarded artist of the Pahari or 'Hill' style of painting, which developed in the Punjab Hills of north-west India. He is famous for his sensitively observed portrayals of people and places, conveyed through highly original and dynamic compositions. Three other masterful paintings by Nainsukh of Guler are in the collection of the British Museum, having been donated in the 1940s. Together these paintings can be seen and studied alongside the British Museum's extensive South Asia collections, allowing for further understanding of the full scope of the Pahari painting tradition.