NEW YORK, NY.- Sotheby's unveils nearly 1,000 items on offer in Mario Buatta: Prince of Interiors, an auction dedicated to the personal collection of interior designer legend Mario Buatta.
Most influenced by the understated elegance of Colefax & Fowler and the doyenne of exuberant American décor, Sister Parish, Mario Buatta reinvented the English Country House style stateside for clients such as Henry Ford II, Barbara Walters, Malcolm Forbes, Mariah Carey, Patricia Altschul and for Blair House, the President's guest quarters. The collection features works emerging from Buatta's Upper East Side apartment in New York City and the William Mason House, an historic gothic-style home in Thompson, Connecticut, as well as many pieces that have long been admired in showhouse rooms and shelter magazines over the years.

Sotheby's auction will be held on 23 & 24 January, during one of the busiest weeks in the New York market calendar – alongside both The Winter Show and Sotheby's Americana Week sales series. The sale will be preceded by a public exhibition in Sotheby's York Avenue galleries beginning 16 January, designed by Rush Jenkins of WRJ Interior Design.
Dennis Harrington, Head of Sotheby's English & European Furniture Department in New York, said: "In addition to being one of America's best loved interior designers, Mario Buatta was a passionate lifelong collector of antique furniture, ceramics and decorative objects. He famously remarked, 'If you don't know about the eighteenth and nineteenth centuries, you can't decorate for the twenty-first.' Antiques were an integral part of his aesthetic, and he never chose anything for a client that he wouldn't have wanted to live with himself. This sale aptly demonstrates his philosophy that antiques are timeless and essential to every interior, and it represents an unmissable opportunity to acquire a piece of his legacy. With estimates from $500 to $50,000 and the majority of lots sold without reserve, there is something here for everyone."

Emily Eerdmans, design expert and co-author of Mario Buatta: Fifty Years of American Interior Decoration, commented: "Captured in this auction is what Mario Buatta called the scrapbook of his life. Here are pieces that traveled with him from as early as his first apartment in the early 1960s, such as his beloved 'Floral Bouquet' living room curtains, whose length he continued to augment as he moved, to objects that belonged to his design idols and inspirations Nancy Lancaster and Mrs. Henry 'Sister' Parish II. He spent over fifty years creating this collection which, until now, has been hidden away and never fully comprehended in its impressive scale and quality."

Auction highlights
"My apartment today is full of things I've collected over the years. Everything here tells a story. Some of it is good, some of it is chipped and broken, but it's a collection. It's what John Fowler called 'pleasing decay', which many don't understand today…it means that something looks well-worn and l lived with, like an old pair of shoes that you love or an old jacket that gets better with age, it has character." – Mario Buatta
Furniture
In keeping with the classic English Country House idiom, which reflects a multitude of styles, periods and countries accumulated by families over many years both in England and from travels abroad, Mario Buatta's furniture collection is predominantly English, from the Georgian and Regency periods, mixed with a smaller group of French and Italian rococo and neoclassical works, as well as a unique assemblage of Gothic Revival furniture and objects.

Important offerings include: an early 18th century George I Gilt-Gesso Side Table from the collection of former Vogue editor Louise Melhado (Lot 170); a George III Giltwood and Gilt Carton Pierre Overmantel Mirror (Lot 693); two pairs of George III Open Armchairs from Gordon Castle, Scotland (Lots 908-909); a George III White-Painted Fireplace surround and architectural elements from a Palm Room (Lot 897); and an unusually large Regency Convex Mirror (Lot 703). Notable Continental works are highlighted by a pair of Louis XV Painted Fauteuils upholstered in Colefax & Fowler Jubilee Chintz (Lot 534), and a pair of Venetian Polychrome Blackamoors (Lot 528).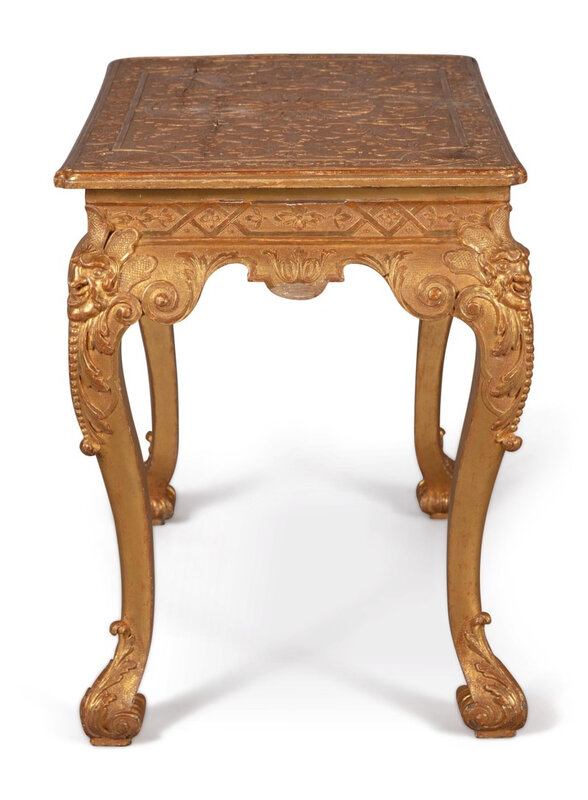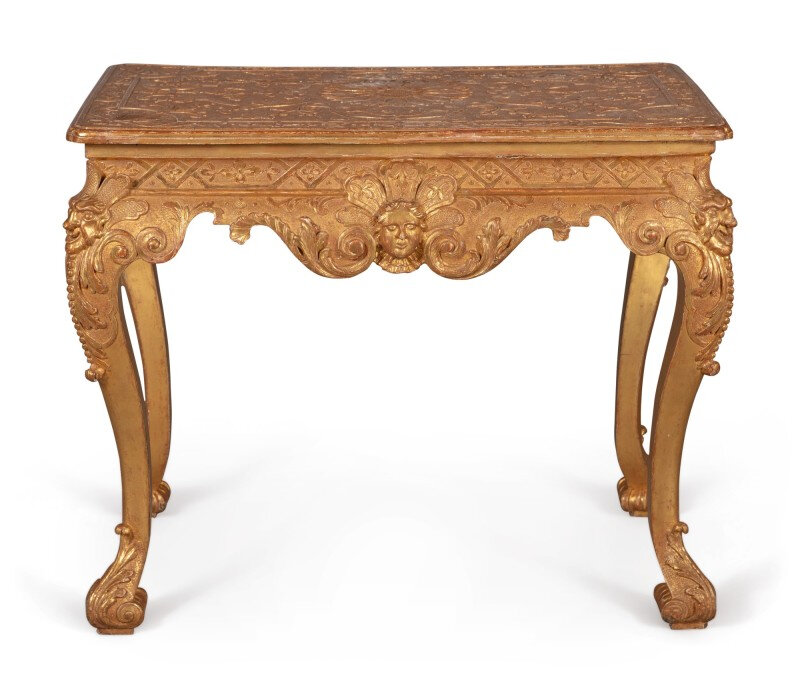 Lot 170. A George I Gilt-Gesso Side Table, circa 1720,from the collection of former Vogue editor Louise Melhado ; height 29 in.; width 36 in.; depth 23 in. , 73.7 cm; 91.4 cm; 58.4 cm. Estimate: 8,000 - 12,000 USD. Courtesy Sotheby's.
Provenance: The Collection of Louise Melhado
Sotheby's New York, 13 December 1986, lot 256.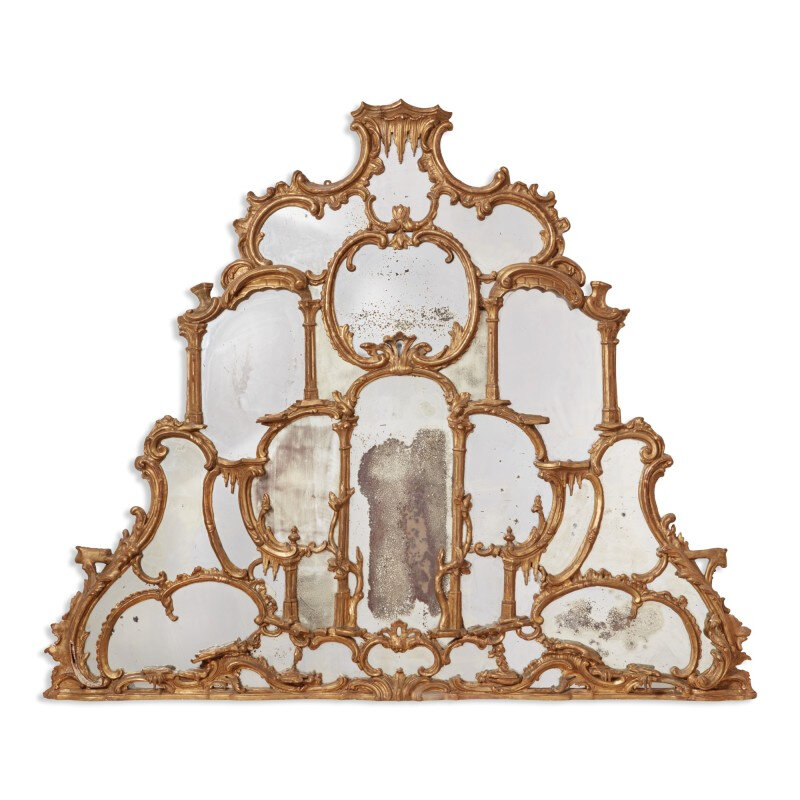 Lot 693. A large George III Giltwood and Gilt Carton Pierre Overmantel Mirror; height 62 in.; width 72 in.; depth 2 ½ in. Estimate: 8,000 - 12,000 USD. Courtesy Sotheby's.
Provenance: Sotheby's New York, 1 February 1992, lot 285.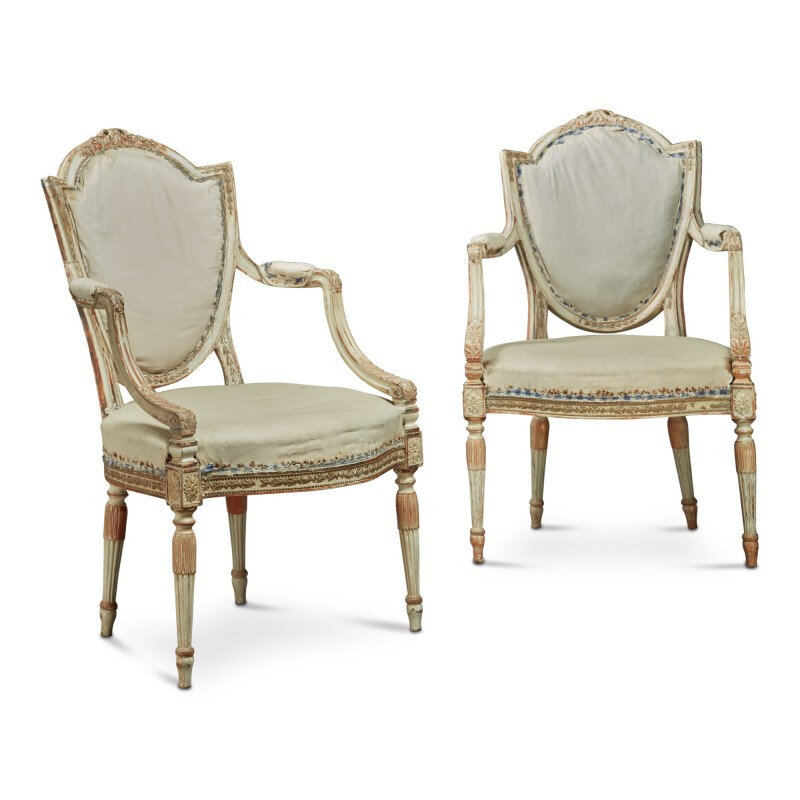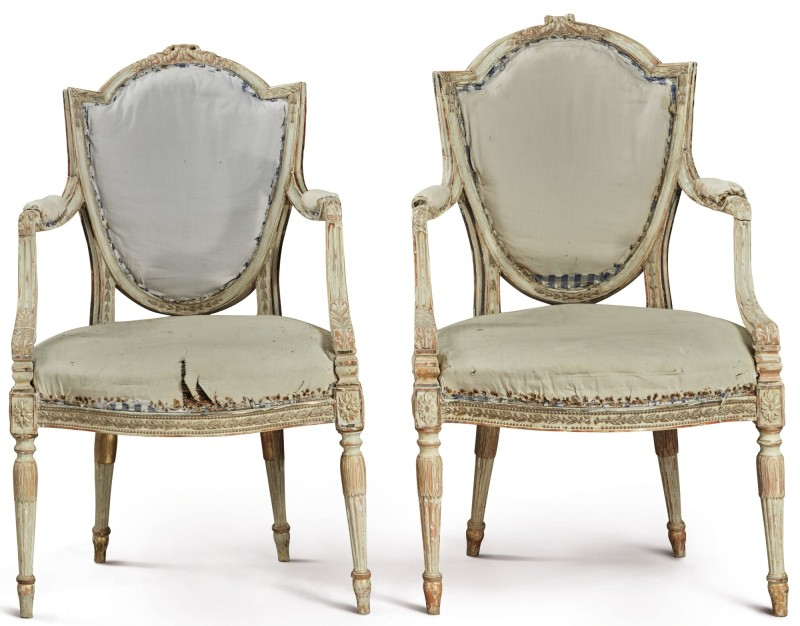 Lot 908. A pair of George III Polychrome and Parcel-gilt Armchairs, circa 1775, from Gordon Castle, Scotland; height 39 in., 99.1 cm. Estimate: 5,000 - 8,000 USD. Courtesy Sotheby's.
Provenance: Gordon Castle, West Lothian Scotland, sold at auction 29 August-1 September 1938, lot 1005
Sotheby's New York, 19 April 2001, lots 532 & 533.
Note: Gordon Castle was the primary seat of the Dukes of Gordon, until the line became extinct upon the death of the 5th Duke in 1836. The design of these chairs is extremely similar to a drawing for a 'cabriole armchair' supplied by Gillows to Robert Peel in 1786 (Susan Stuart, Gillows of Lancaster and London, Woodbridge 2008, p.181 pl.146).
Lot 909. A pair of George III Polychrome and Parcel-gilt Armchairs, circa 1775, from Gordon Castle, Scotland, en suite with the previous lot ; height 39 in., 99.1 cm. Estimate: 5,000 - 8,000 USD. Courtesy Sotheby's.
Lot 897. A George III carved and white painted fireplace surround and overmantel with two matching architectural wall elements in the form of palm fronds, third quarter 18th century; (fireplace surround) height 4 ft. 7 ½ in.; width 6 ft. 2 ½ in., 141 cm; 190 cm. Estimate: 15,000 - 25,000 USD. Courtesy Sotheby's.
Provenance: Sotheby's London, 30 June 2004, lot 96.
Note: This extremely rare surviving ensemble presumably formed part of a 'Palm Room', with the taller wall appliques probably flanking doorways or sculptural niches and the room's furniture likely designed en suite with similar carving.
The concept of using palm fronds as exotic architectural elements in an interior date back to the 17th century, seen in a 1665 drawing by John Webb for the proposed decoration of Charles II's bedchamber at Greenwich Palace, never realized (RIBA, ill. in A. Keay, The Magnificent Monarch. Charles II and the Ceremonies of Power, London 2008, p.99 fig.16), but it was not until the mid-18th century that such schemes actually came to fruition, most famously at Spencer House London, designed initially by the Palladian architect John Vardy (1718-1765) for John, 1st Earl Spencer (1734-1785) in 1756. The Palm Room was the architectural climax of the ground floor with parcel gilt palm columns extending their fronds into the spandrels of the room's dividing archway and cupola. The design was inspired by Webb's drawing, which at the time was thought to be by the hand of Inigo Jones and therefore acceptable to the Palladian credo, signifying the symbiosis between classical architecture and nature. Vardy is also believed to have designed the room's celebrated suite of seat furniture, executed by John Gordon, comprising armchairs, sofas, stools and benches with legs and rails carved with palm reliefs.
Palm decoration would continue to appear in interiors throughout the neoclassical period and were used by Robert Adam on several projects in the 1760s, such as the tea house at Moor Park in the 1760s (ill. C. Hussey, English Country Houses - Early Georgian, p.44, fig.38) and more spectacularly in the State Bedchamber at Kedleston Hall, with the giltwood four poster bed and associated pier glasses terminating in richly carved palm leaves.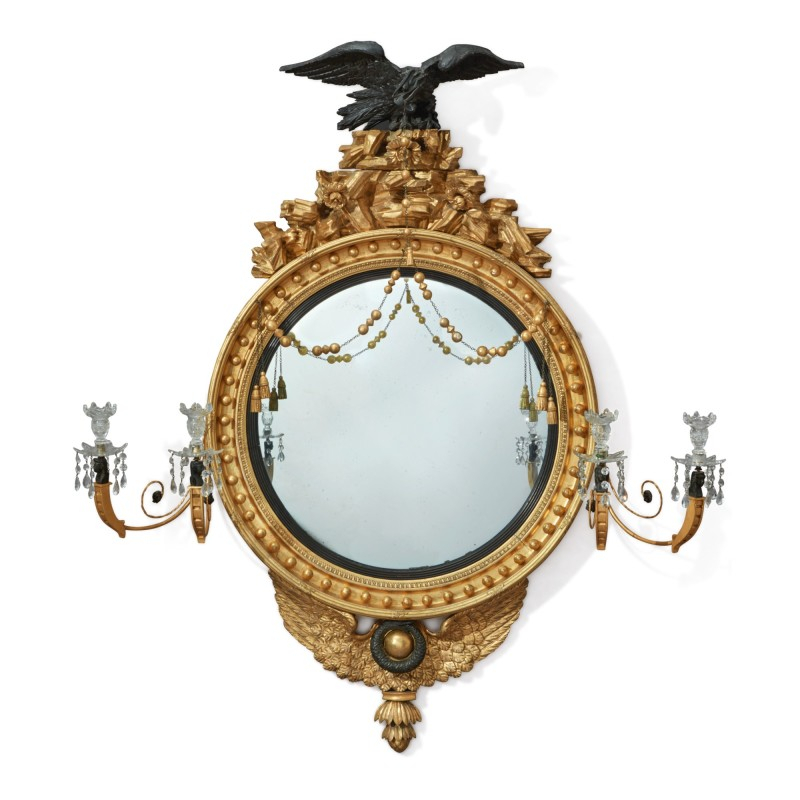 Lot 703. A Regency giltwood and ebonised convex girandole mirror with a pair of two-light candle arms, early 19th century; height 60 ½ in.; width 54 in.; depth 14 in. 153.7 cm; 137.2 cm; 35.6 cm. Estimate: 8,000 - 12,000 USD. Courtesy Sotheby's.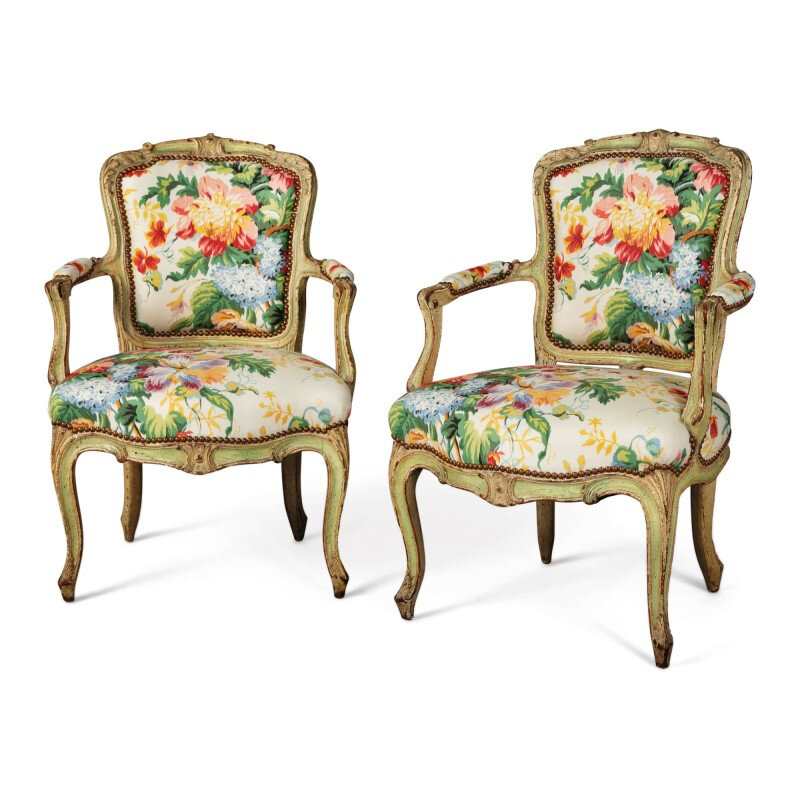 Lot 534. A pair of Louis XV Green and Ivory Painted Fauteuils en Cabriolet, mid 18th century. Covered in Colefax & Fowler Jubilee fabric, brought out in 1983 to celebrate Colefax & Fowler's first fifty years; height 35 in.; width 24 in.; depth 26 in., 88.9 cm; 61 cm; 66 cm. Estimate: 5,000 - 8,000 USD. Courtesy Sotheby's.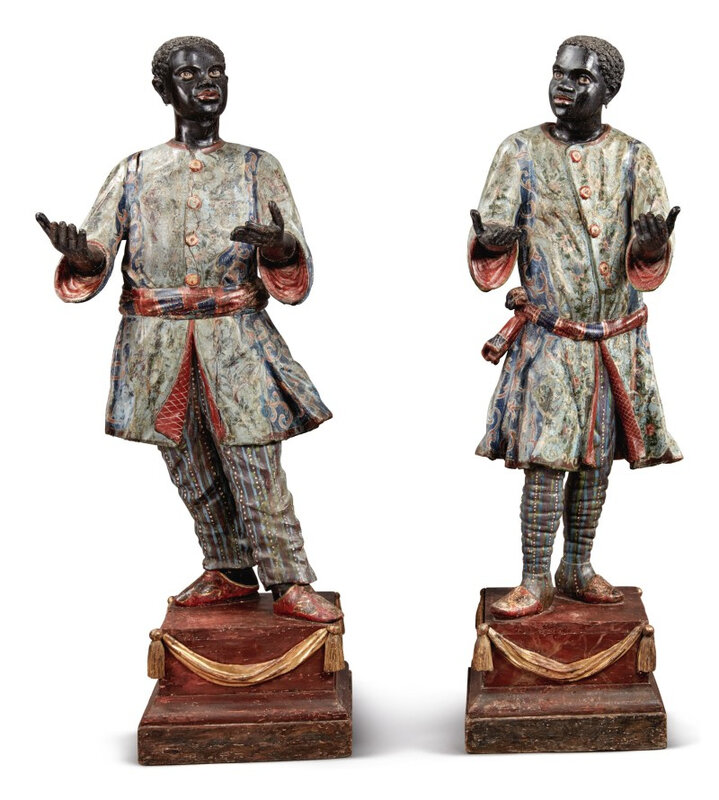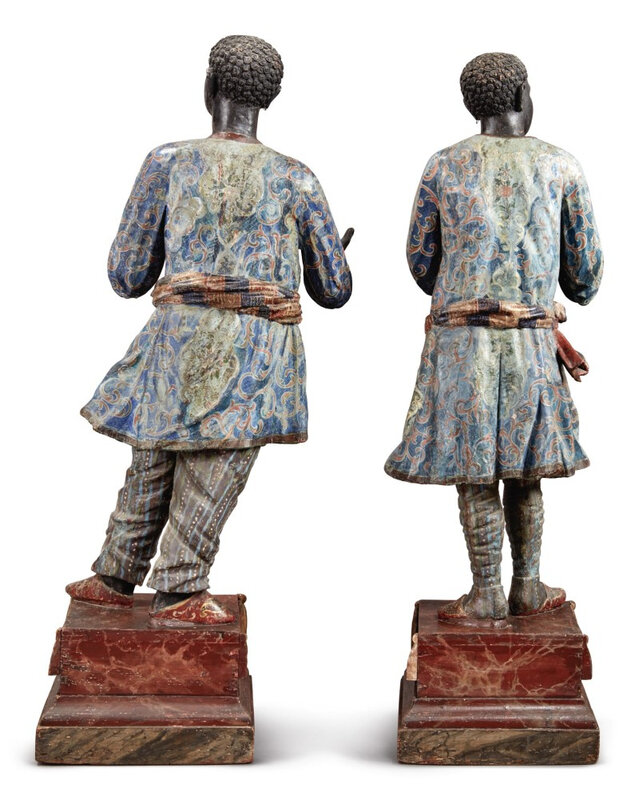 Lot 528. A pair of Venetian Roccoco Carved Polychome Blackamoors Figures 18th-19th century; on drapery-swagged plinths, formerly holding trays, height 63 in.; width 23 in.; depth 19 in.,160 cm; 58.4 cm; 48.3 cm. Estimate: 6,000 - 8,000 USD. Courtesy Sotheby's.
Provenance: The Estate of Michael Taylor, Butterfield & Butterfield San Francisco, 7-9 April 1987, lot 173.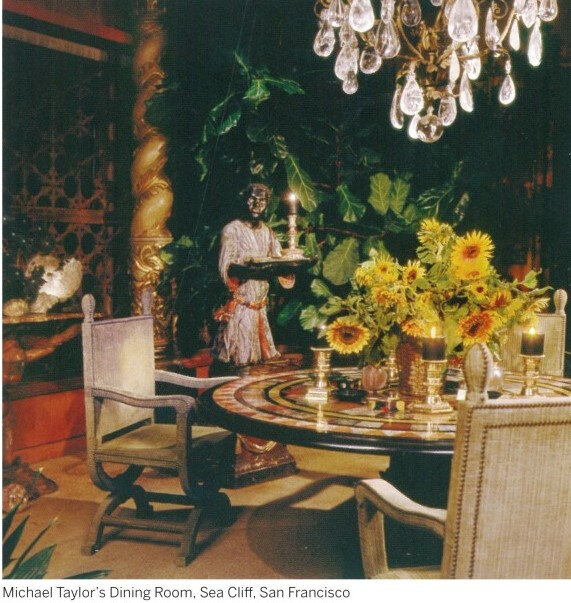 Unsurprisingly for those familiar with his exuberantly colorful interiors, Mario Buatta had a horror vacui love of furniture and objects with rich surface decoration, and his collection is unprecedented for its quantity and quality of lacquered works, both Chinese Export and English japanned, as well as Regency penwork, decalcomania objects, and both Chinese and European works in the Brighton Pavilion taste. Highlights include a George II Red-Japanned Bureau Cabinet that traveled with Mario through several of his apartments and used to display his favorite group of porcelain tulip cups (Lot 119), and an important Chinese Export Black and Gold Lacquer Bureau Cabinet, one of the finest of its kind to appear on the market in decades (Lot 555).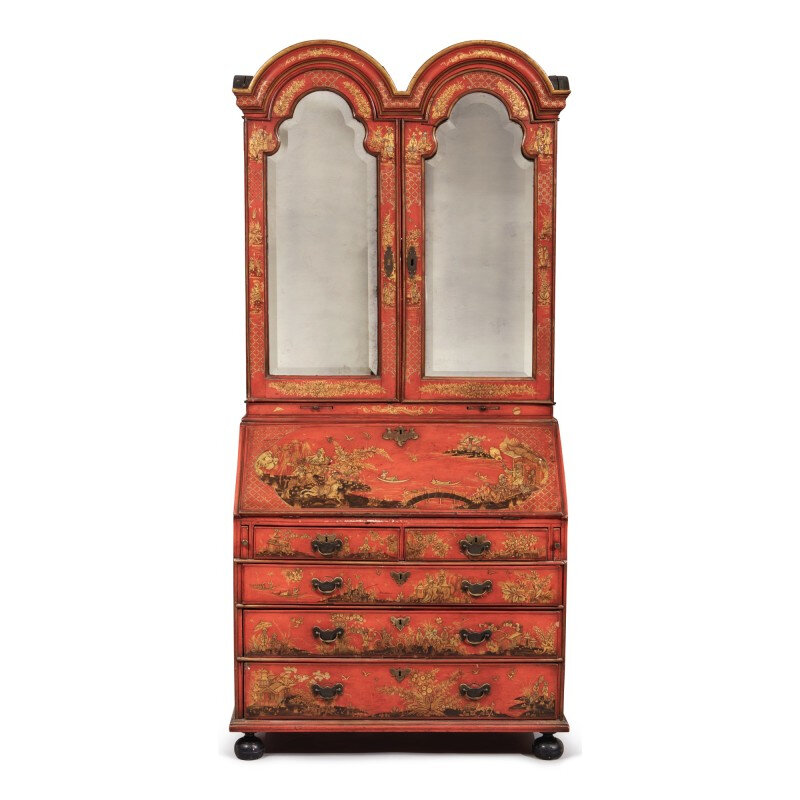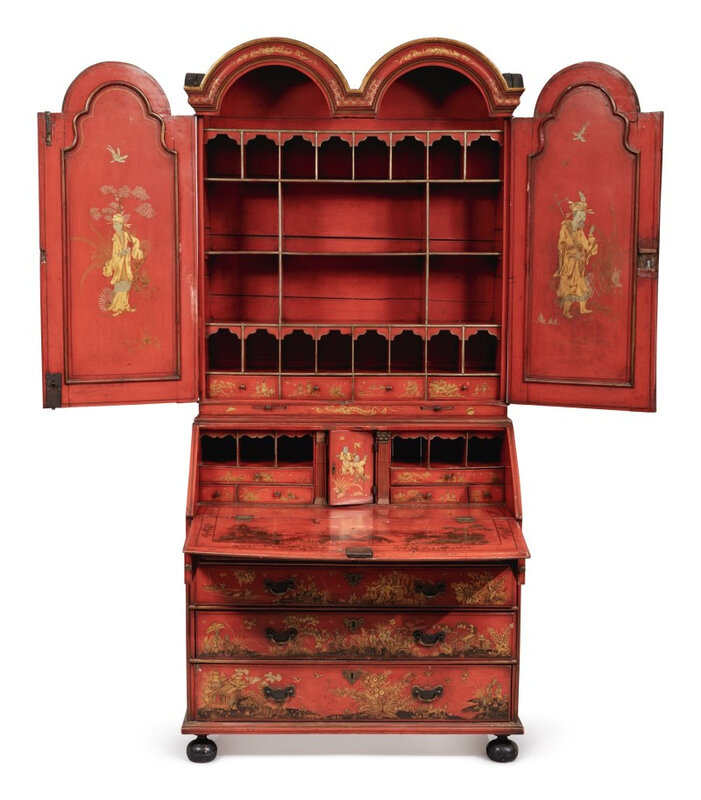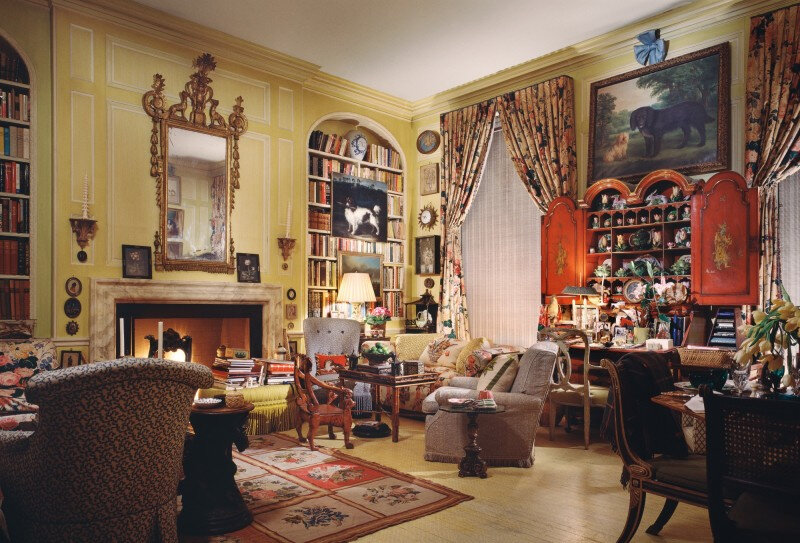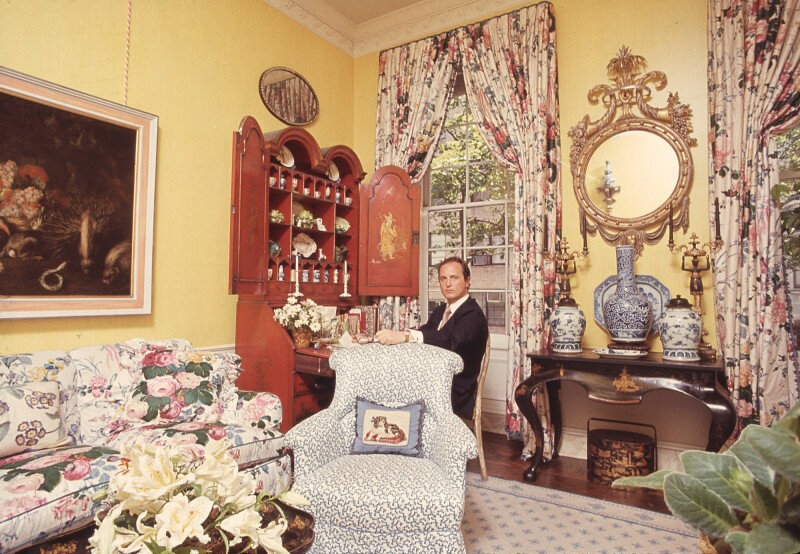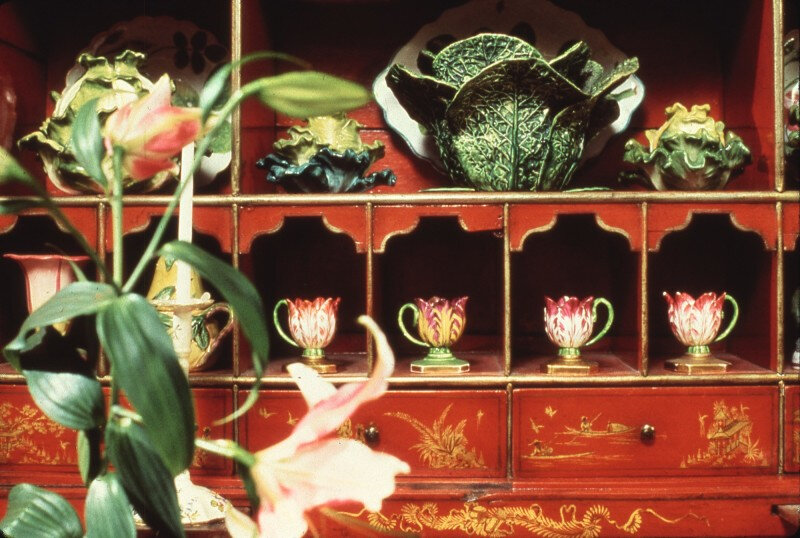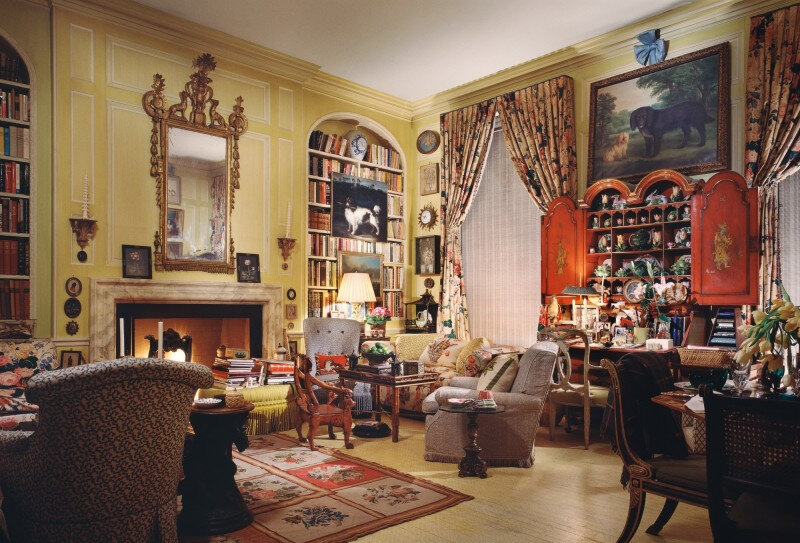 Lot 119. A George III red japanned bureau cabinet, second quarter 18th century; upper section possibly associated, redecorated, height 88 ½ in.; width 41 ¾ in.; depth 21 ¾ in., 224.8 cm; 106 cm; 55.3 cm. Estimate: 10,000 - 15,000 USD. Courtesy Sotheby's.
Note: Mario Buatta acquired this bureau cabinet in England in the 1970s, and it remained with him in all his apartments as a focal point in the living room. The classic English japanned bureau cabinet fulfils the dual purpose of both providing both a strong vertical anchor point of rich colour and exuberant surface decoration in a room as well as serving as a functional storage piece and display vehicle for multifarious objects including antique porcelain and small boxes - things all beloved to the designer and integral elements of his decorating philosophy. Virtually every one of Buatta's major projects has included a lacquer bureau cabinet in the main drawing room.
It is likely that the designer was inspired in his love of bureau cabinets by his early mentor, Rose Cumming. The larger-than-life decorator Cumming (1887-1968) was born on a sheep farm in Australia and immigrated to New York in 1917 with her sister, the silent film star Dorothy Cumming. Her decorating office in a converted automobile showroom on Park Avenue doubled as a fabric and antique shop and specialized in flamboyant chintz patterns, chinoiserie, and Venetian, Austrian and South German baroque and rococo furniture, at a time when most New Yorkers favoured conservative English Georgian taste or at most the more conventional French Louis XV and XVI. When he was a student, Buatta worked for Rose Cumming on Saturdays, along with Tom Britt and John Robert Moore II, and at the end of the day she would always prepare them dinner. Her own townhouse was decorated with Chinese wallpaper on a silver ground, something Buatta would recreate in the painted walls of his entrance hall. Her taste had more than a whiff of Hollywood glamour and appealed to film stars - her clients included Mary Pickford, Norma Shearer and Marlene Dietrich.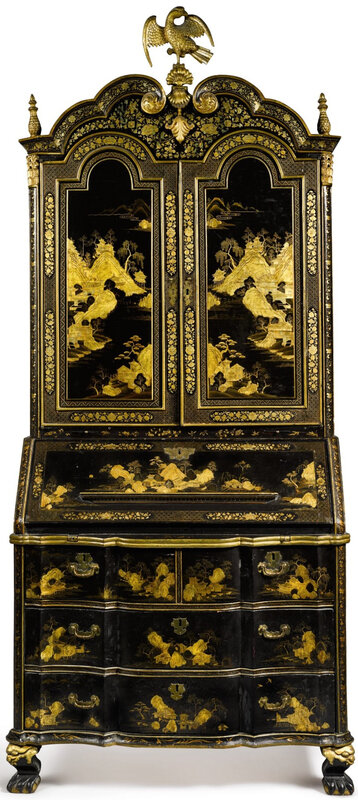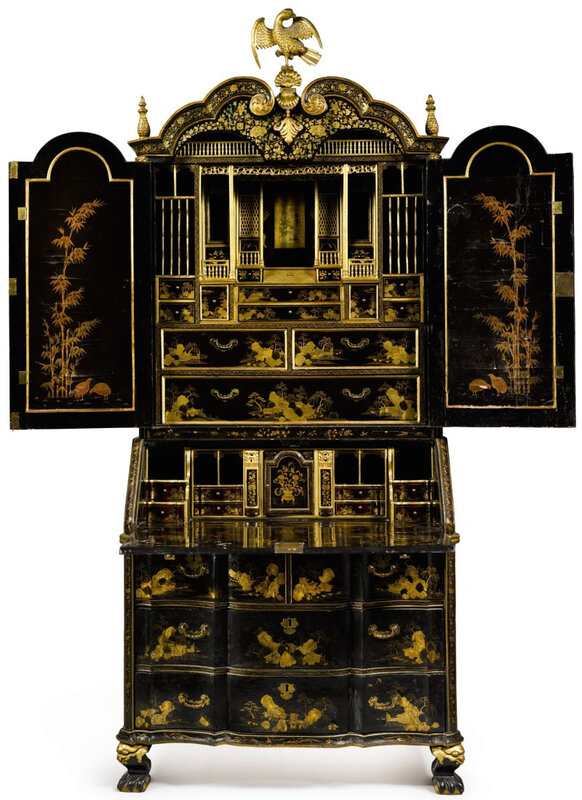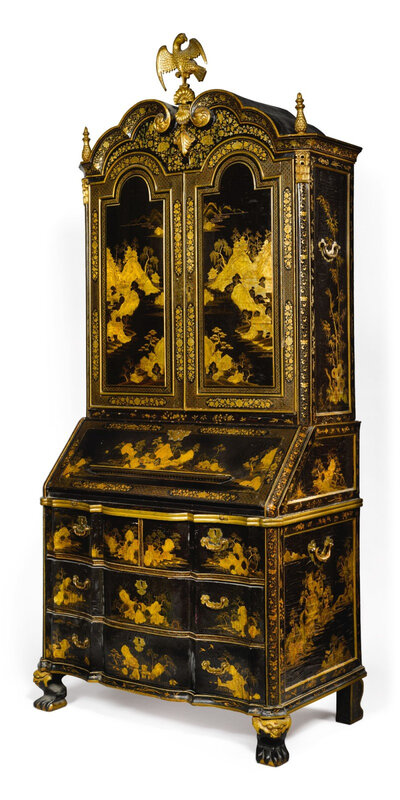 Lot 555. A Chinese export black and gold lacquer bureau cabinet, circa 1730; feet and bookrest possibly later,height 8 ft. 3 in.; width 41 in.; depth 25 in.,251.5 cm; 104.1 cm; 63.5 cm. Estimate: 50,000 - 80,000 USD. Courtesy Sotheby's.
Provenance: Sotheby's New York, 29 October 1983, lot 86.
Note: The Buatta export bureau cabinet forms part of a small group of similar works produced in Canton in the 1730s. An extremely closely related example is in the Victoria & Albert Museum (W.28-1935; ill. in A. Jackson and A. Jaffer, eds., Encounters, The Meeting of Asia and Europe 1500-1800, exhibition catalogue, V & A London 2004, p.242 fig.18.8). This has an identical central eagle and shell finial and serpentine outline on the lower section and a nearly identical internal arrangement of drawers and pigeonholes above. Both cabinets represent an early example of Chinese cabinetmakers producing furniture directly based on Western designs. It has not been firmly established to what extent local workshops relied on copying actual prototypes shipped to Asia as opposed to using drawings, engraved pattern books or three-dimensional models, but all three would have been available through the East India trading companies. The use of gold decoration on a black ground is not inherently Chinese and was an attempt to emulate Japanese lacquer, which was universally regarded as superior to Chinese work in the 17th and 18th centuries but not as readily available and more expensive due to the Japanese Emperor's restrictions on foreign trade. The architectural character of the internal upper section also evokes Japanese Buddhist shrine cabinets.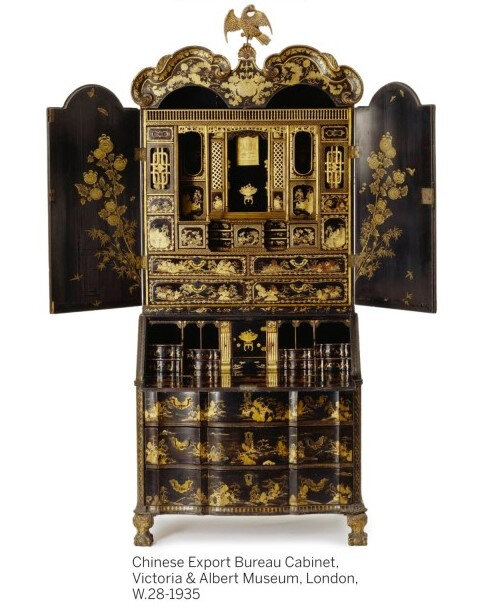 The earliest securely documented Chinese export furniture appears to be a group imported to Denmark in 1735, 1737 and 1738 by Captain Guillaume de Brouwer of the vessel Sleswig, specifically commissioned by the Danish East India Company for sale to King Christian IV. The order included a writing table, lacquered side chairs, and a pair of lacquer Schrif Contors (writing cabinets), which are now in Fredensborg Castle (see T. Clemmensen, 'Some Furniture Made in China in the English Style, Exported from Canton to Denmark, 1735, 1737 and 1738,' Furniture History XXI,1985, p.174-180). The pair is also similar to the offered lot, based on the classic model of the English bureau cabinet that became popular on the Continent, particularly in Germany, Scandinavia and Northern Italy. Interestingly however, their lower sections do not have a serpentine façade and are slightly bombé in outline, a form less common in England and more typical of German and Danish versions of the bureau cabinet, which demonstrates the Canton cabinetmakers closely followed their Western clients' instructions and could adapt to subtle national variations in European furniture design.
Further comparable examples include a bureau cabinet sold Sotheby's New York, 26 October 2012, lot 241, this previously sold Christie's New York, Le Goût Steinitz, 19 October 2007, lot 30; another from the Thyssen-Bornemisza collection sold Christies's London, 14 December 2000, lot 340; and one almost identical to the Steinitz cabinet formerly with Mallett, London, illustrated L. Synge, Mallett Millennium (London 1999), p.133.
In addition, Mario Buatta was celebrated for his bedrooms, and the sale will feature his own Four-Poster Canopy Brown and Gold Lacquer Bed reputedly from Brighton Pavilion (Lot 636) that appears in a celebrated Drawing of Mario Buatta by the artist Konstantin Kakanias, commissioned by the New York Times (Lot 969). Among the penwork items, arguably the largest group of its kind ever to appear at auction, are a rare signed and dated collector's Cabinet on Stand (Lot 304) and Gueridon with chequerboard top (Lot 719).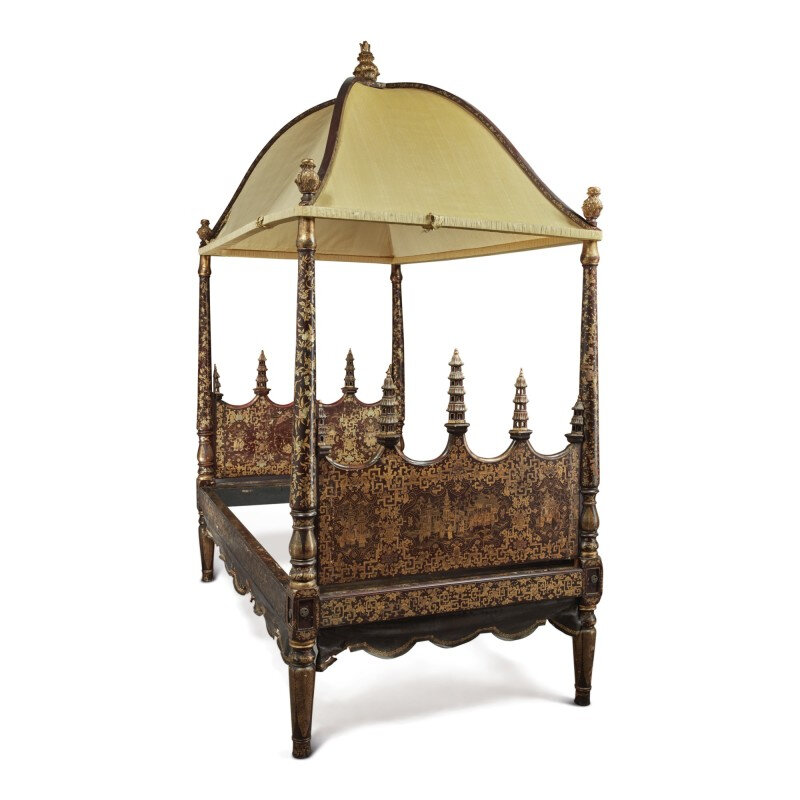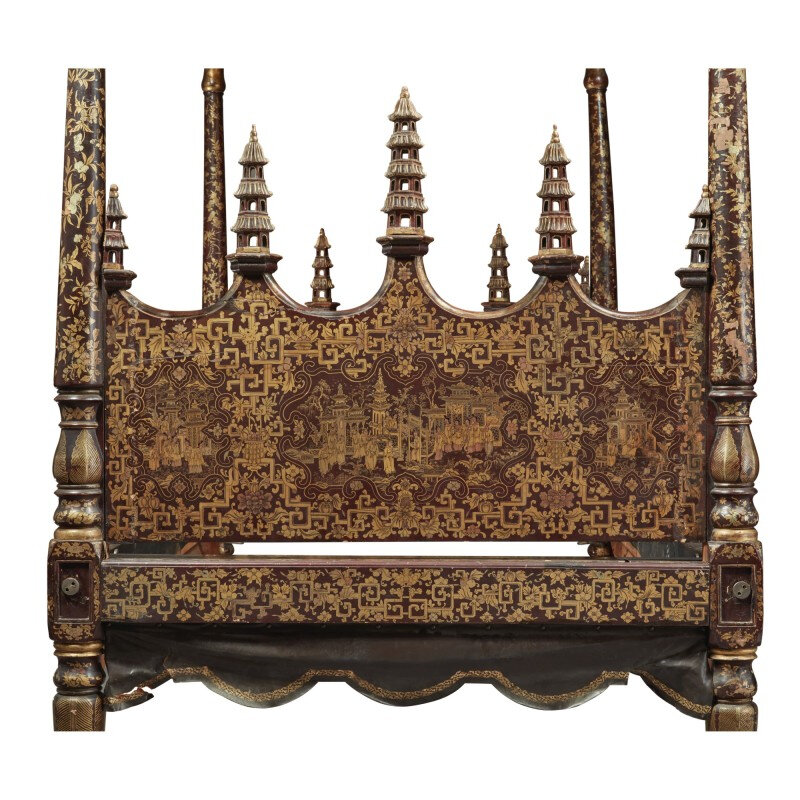 Lot 636. A Brown and Gold Lacquer Four-Poster Canopy Bed, 19th century, reputedly from Brighton Pavilion; height 10 ft. 3 in.; width 54 ¼ in., 312.4 cm; 137.8 cm. Estimate: 8,000 - 12,000 USD. Courtesy Sotheby's.
decorated with Chinese scenes and floral sprays, the domed canopy with giltwood finials; the head- and footboards with carved pagoda finials, one lacking.
Provenance: By repute, Brighton Pavilion
The Collection of Walter P. Chrysler Jr., Sotheby Parke Bernet, Inc. New York, 6-7 May 1960, lot 382
Supplied to Gregory Smith by McMillen Inc., New York, 17 May 1961.
Literature: E. Brown, Sixty Years of Interior Design, The World of McMillen (New York 1982), ill. p.133 and 138.
Note:Mario Buatta was famous for his luxuriously appointed bedrooms, always anchored by a four-poster canopied bed, which was as much a reflection of his own taste as that of his clients: 'I have been sleeping on a canopy bed since my third apartment, which was on 62nd street. You feel like you're in your little world. Those Hollywood beds that are king sized are hideous. It's a whole sea of mattress.' Unsurprisingly, he chose to acquire what was arguably New York's most illustrious canopy bed in the 1970s, one that appealed to his strong love for richly abundant and multicoloured surface decoration.
The offered lot was formerly in the celebrated Walter P. Chrysler Jr. collection, where it was acquired by Nathalie Davenport of the venerable decorating firm McMillen for their client Gregory Smith's Octagon Bedroom in his apartment in the Pulitzer Mansion on E.73rd Street. The juxtaposition of the exotic, scintillating lacquer surface with more sober Neoclassical mahogany case furniture and a medieval wooden sculpture of the Madonna and Child was striking, and remains to this day one of the most iconic New York interiors of the second half of the 20th century.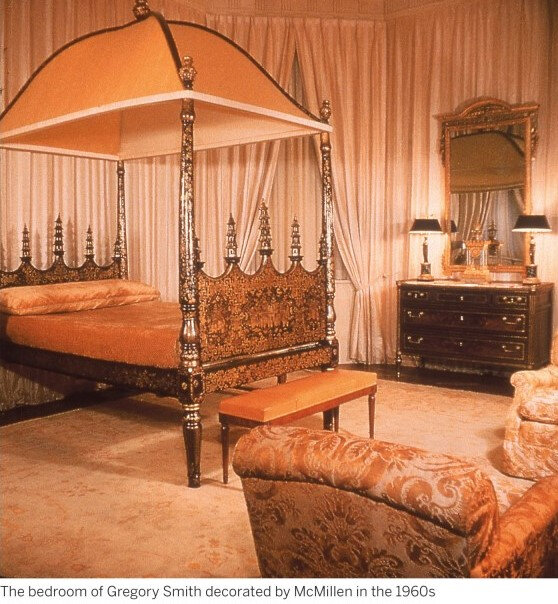 Like many pieces of lacquer furniture, the bed has long been reputed to emanate from Brighton Pavilion, George IV's seaside retreat that started life as a late neoclassical villa but was transformed by John Nash into a coruscating oriental palace after 1815. Although the interiors were famously decorated by the Crace firm with a riotous abundance of Chinese and Chinese-inspired furniture and objects, George IV's bedroom itself was far more sedate, with a carved mahogany bedstead supplied by the designer Robert Jones and visible in Nash's watercolour views of the Palace rooms in the 1820s. No comparable bed to the offered lot is recorded in the comprehensive 1828 inventory preserved in the Royal Collection. George's successor William IV and Queen Adelaide continued to use the palace during their brief reign of 1830-37, though no documentation or visual record of their bedroom interiors has come to light. The same is true for Queen Victoria, who visited when still an unmarried queen in 1837 and 1838, and again in 1842, 1843 and 1845, after her marriage to Prince Albert of Saxe-Coburg and Gotha in 1840. With regards to these visits a housekeeper's ledger intriguingly mentions 'one of their late Majesties' black and gold bedsteads' was altered for Queen Victoria's use, though no further details of this piece have emerged.
Queen Victoria sold the Pavilion to the town of Brighton in 1850, finding the palace too small and ill-suited for her growing family,and judging the increasing flow of visitors to Brighton too intrusive on her privacy. Prior to the sale the Pavilion's entire contents were stripped and sent to London, where many items were re-used at Buckingham Palace, though some furniture and fixtures have since returned. In the absence of archival evidence or inventory marks on the Buatta bed, it seems unlikely it was ever in the Royal Pavilion collection. However, even if the bed may never have been slept in by the Prince Regent or Prince Albert, it seems fitting that it was used by a different kind of Prince in the late 20th century. The bed became indelibly associated with Mario Buatta's persona, so much so that the New York Times commissioned the then-New York based Greek artist Konstantin Kakanias to produce a drawing of Buatta working in his bed for publication in their Style magazine (see final lot in the sale)
Lot 969. A watercolour drawing of Mario Buatta in bed, by Konstantin Kakanias for The New York Times, circa 1988. Signed to Mario k lower right, in a giltwood frame, 20 in. by 26 in., 50.8 cm by 66 cm. Estimate: 2,000 - 3,000 USD. Courtesy Sotheby's.
By the late 1980s Mario Buatta had become a household name. In addition to his client portfolio and chairing the Winter Antiques Show, he had licensed his name to a variety of products including telephones, fragrances, fabrics and a line of furniture. The New York Times decided to commission a drawing of him for their Style Magazine and sent the Greek-born artist Konstantin Kakanias to sketch him at home. As one of Buatta's trademarks had always been his bedrooms, and Mario himself never tired of professing his love of canopy beds, nothing made more sense than to depict Mario having breakfast in bed, especially as his bed had reputedly been made for Prince Albert at the Brighton Pavilion, so it was eminently suitable for a 20th century Prince in New York.
Kakanias recalls how much he enjoyed the assignment, as well as how much he loved the apartment - "Messy and super entertaining but elegant and so so fun. Not dry fake modernism of our days - or pretend wannabe of the late 80s. Just exuberant, and full of life, like Mario himself...he made me feel immediately at home and his kindness I will never forget."
The collection also pays homage to design legends who had a major influence on Buatta's style, among them Sister Parish, John Fowler and Nancy Lancaster. Examples include an unusual pair of Italian Chinoiserie Tole Peinte Vases on Stands from Sister Parish's apartment (Lot 350) and works from every one of Nancy Lancaster's celebrated English interiors, such as a Regency X-Frame Stool from the Ditchley Park bedroom used by Winston Churchill during the war (Lot 496), and a pair of Venetian Etched Glass Mirrors from Lancaster's iconic 'Butter Yellow' room in London (Lot 497).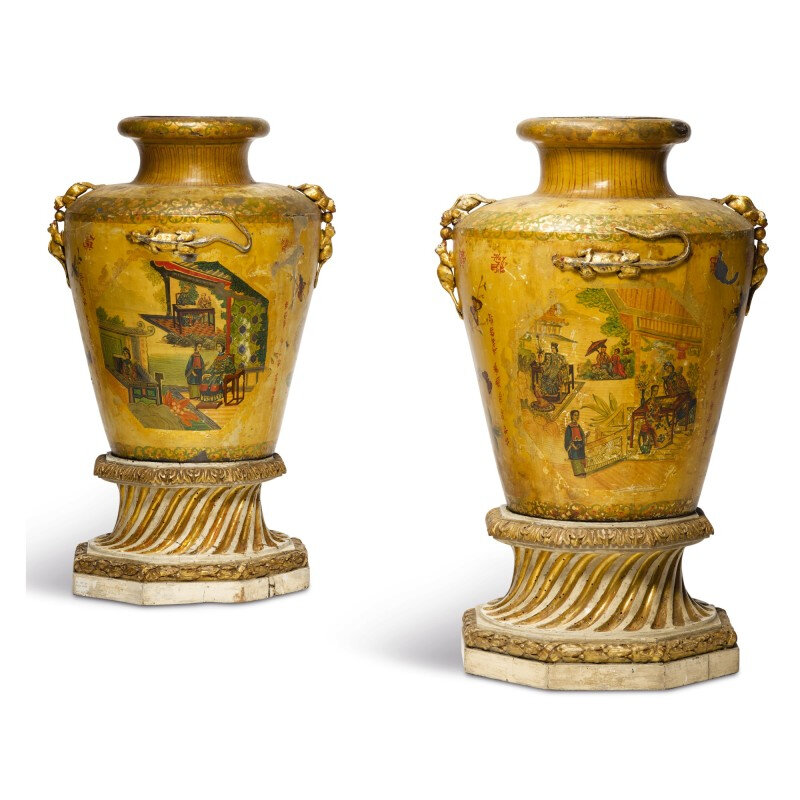 Lot 350. An unusual pair ofyellow-ground, gilt and polychrome Chinoiserie Tole Peinte Vases on Stands, probably Northern Italian, 19th century, from Sister Parish's apartment; height 26 ½ in., 67.3 cm. Estimate: 8,000 - 12,000 USD. Courtesy Sotheby's
with associated neoclassical style parcel gilt and white-painted wooden bases.
Provenance: The Collection of the Late Sister Parish, Sotheby's New York, 29 September 1995, lot 115
Christie's New York, 21 October 2004, Lot 1138.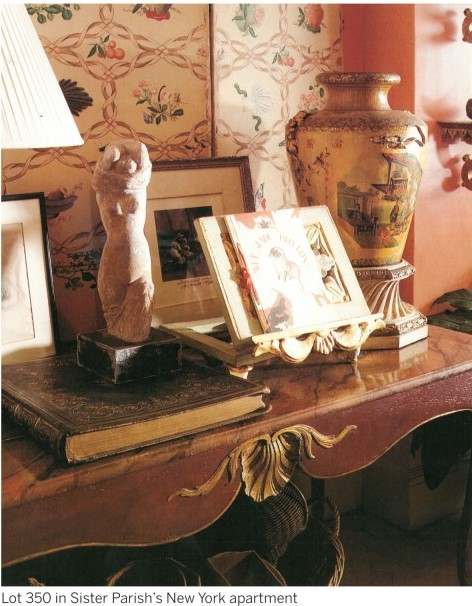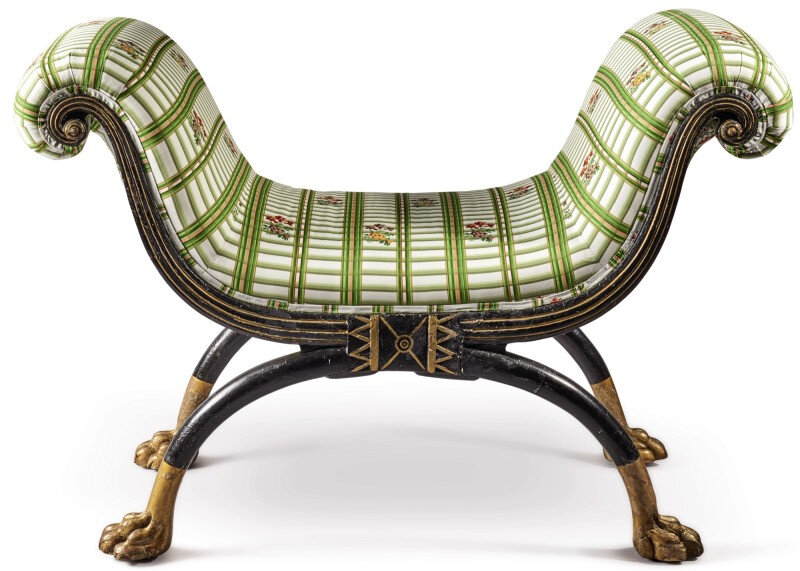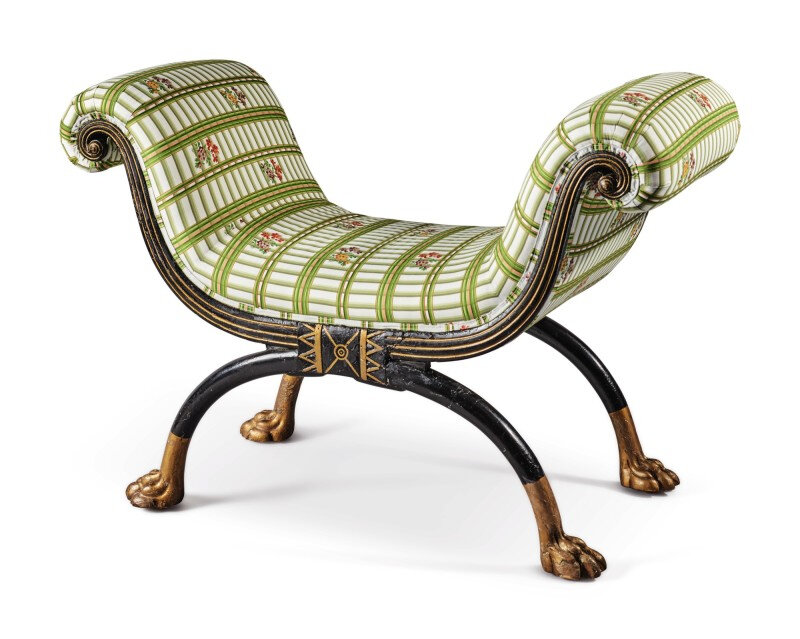 Lot 496. A Regency ebonized and parcel-gilt x-frame stool from the Ditchley Park bedroom used by Winston Churchill during the war; height 24 ½ in.; width 38 ½ in.; depth 16 ½ in., 62.2 cm; 97.8 cm; 41.9 cm. Estimate: 5,000 - 8,000 USD. Courtesy Sotheby's
covered in Brunschwig & Fils Bagatelle fabric.
Provenance: The Collection of Ronald Tree and Nancy Lancaster, Ditchley Park, Oxfordshire
The Estate of Marietta Peabody and Ronald Tree, Ditchley Park House, Sotheby Parke Bernet, New York, 8-9 October 1976, lot 330.
Note: The silhouette of this stool, of ancient Roman curule form, is very similar to that of an X-frame stool published by George Smith in A Collection of Designs for Household Furniture and Interior Decoration (1808), plate 53. A related model was designed by the antiquarian collector and tastemaker Thomas Hope for his house in Duchess Street and published in plate 12 no.4 of his Household Furniture and Interior Decoration (1807).
In 1933 Ronald Tree was elected Member of Parliament for Harborough, and the same year he and Nancy Lancaster bought Ditchley Park near Charlbury, Oxfordshire. Like Kelmarsh, Ditchley was designed by James Gibbs in 1722, for the Earl of Lichfield, but it was larger and more grand, with an impressive series of state rooms on the ground floor, including a central hall with painted ceilings designed by Henry Flitcroft. The house was acquired partially furnished, but the Trees vigorously embarked on a refurbishment campaign, intermittently with the help of Sibyl Colefax and Stéphane Boudin of the Maison Jansen, incorporating Nancy's own designs and furniture purchases. The redecoration was complete in 1937, and to celebrate their new house and the Coronation of George VI, the Trees held a ball in June, described by Vogue as 'the best party anybody has seen for many years'. The interiors were universally admired, with James Lee-Milne writing 'Ditchley inside is perfection. Nothing jars. Nothing is too sumptuous or too new.' The Duchess of Devonshire was particularly fond of the modern bathrooms, describing them as 'little works of art...with shelves of Chelsea china, cauliflowers, cabbages, tulips and rabbits of exquisite quality'.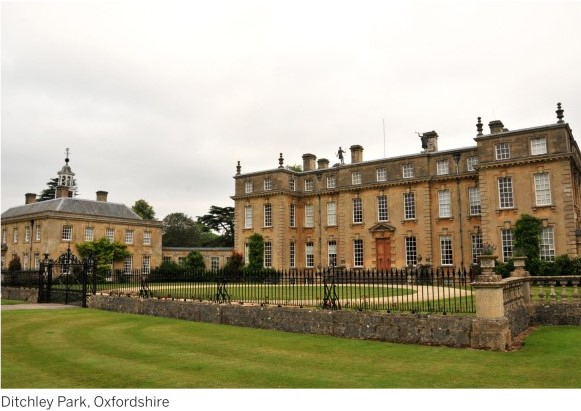 The offered lot stood in the Yellow Bedroom, where it was recorded in a watercolour by Alexandre Serebriakoff executed after the Trees had divorced. As the principal guest bedroom it was famously used by Sir Winston Churchill, who was a frequent visitor to Ditchley during the war years as the house was deemed a safer location than the Prime Minister's official country retreat at Chequers in Buckinghamshire. Between 1940 and 1942 Churchill spent twelve weekends at the house.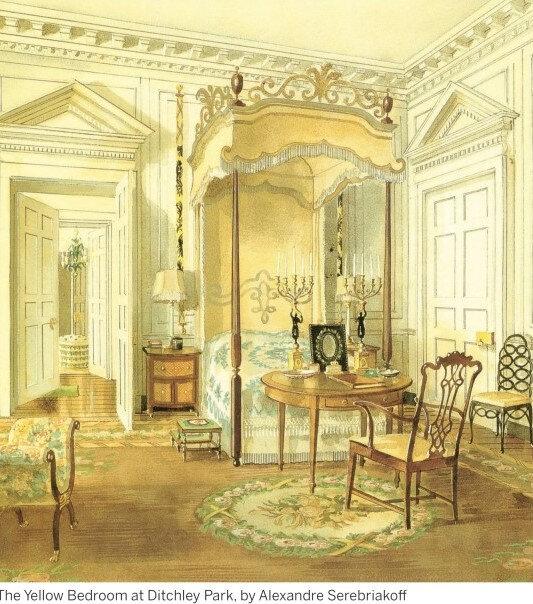 Lot 497. A pair of Venetian Moulded and Etched Glass Mirrors late 19th-20th century, from Nancy Lancaster's iconic 'Butter Yellow' room in London; height 40 in.; width 32 ¼ in.; depth 1 ¾ in., 101.6 cm; 81.9 cm; 4.4 cm. Estimate: 8,000 - 12,000 USD. Courtesy Sotheby's.
Provenance: Nancy Lancaster, The Yellow Room, 22 Avery Row, London.
Literature: J.Cornforth, The Inspiration of the Past (London 1985), ill. plate XVI
M. Wood, Nancy Lancaster. English Country House Style (London 2005), ill. p.120.
Note: The 1950s were a difficult time financially for Colefax & Fowler, so in an effort to economise Nancy Lancaster gave up her Mayfair flat in Charles Street in 1957 and moved into part of the firm's premises in Brook Street, a group of rooms at 22 Avery Row that had formerly been stables, and included a large upper floor room that had been the architect Sir Jeffrey Wyattville's studio in the early 19th century. The space was 46 feet long by 16 feet wide, with an elegant barrel vaulted ceiling, but was not intrinsically light, so Nancy made the bold decision to paint the walls a rich egg-yolk yellow that Fowler then had covered with several layers of rich glazes, creating a glossy finish that has proved impossible to replicate. It became known as the Butter Yellow room, or colloquially 'buttah yellah' in Lancaster's Virginia drawl, and instantly created a sensation. Nancy called it her 'bedsit' or 'maisonette flat', but as the Duchess of Westminster observed, 'to call where Mrs Nancy Lancaster lives in London a "flat" is like calling the Queen Mary a boat'.
The room was eclectically furnished with items from Lancaster's previous residences and included French and Italian armchairs, a pair of neoclassical Russian girandoles, a pair of full-length portraits of Elizabethan sisters from Ditchley, a Boulle bureau Mazarin, modern upholstered sofas and armchairs, a yellow Savonnerie carpet and two Venetian chandeliers copied after a pair from Charles de Bestegui's palazzo. The offered mirrors, their form inspired by English George III models, were originally a set of four and formed a perfect two-dimensional complement to the pair of chandeliers. They were hung flanking the doors either side of the room above tall narrow white and parcel-gilt bookcases that had created by dividing up a large breakfront acquired at the Ashburnham sale, with a pair of large red stoneware vases on one side and a pair of white and gold Chinese vases on the other. The result perfectly encapsulated Lancaster's famous dictum that 'a gentle mixture of furniture expresses life and continuity but it must be a judicious mixture that flows and mixes well. It is a bit like mixing a salad (I am better at rooms than salads.)'
The Yellow Room would be regarded as one of the finest interiors of postwar London and served as a living showroom for Colefax & Fowler; it also sealed Nancy Lancaster's reputation as one of the 20th century's most important designers. As John Cornforth observed, Lancaster was the last representative of the 'Henry James' tradition in England of a deep appreciation of the romantic quality of old architecture and objects, 'but with a completely un-Jamesian lightness and sparkle'
Ceramics
Mario Buatta's taste in ceramics was every bit as eclectic as his taste in furniture. A significant part of his ceramic collection is formed of wares imitating naturalistic forms. Highlights include a vegetable garden in ceramic, featuring melons (Lots 179-182), peaches (Lot 165), asparagus (Lots 183-187), grapes, and a large array of cabbages and cauliflowers, by factories such as Chelsea, Longton Hall and Worcester, as well as European factories. Buatta was famed for his love of tulips and the sale features a large group of porcelain in the form of tulips, including a rare pair of Frankenthal Tulip-Form Stands once in the collection of Doris Duke (Lot 147). The sale features 24 dinner and dessert services from his collection spanning the factories of England ranging in date from the turn of the 19th century to the mid-20th century: an Assembled Creamware Botanical Service, circa 1800 (lot 734); a Wedgwood 'Wreathed Shell' Dessert Service, circa 1820 and 1864-82 (lot 493); and a modern Dodie Thayer Lettuce Ware Service (lot 202).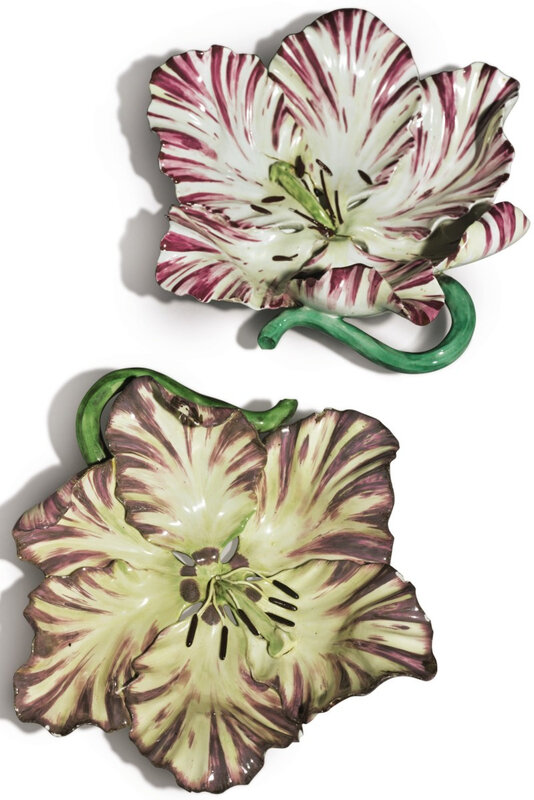 Lot 147. A rare pair of Frankenthal Tulip-Form Pierced Dishes, circa 1770, once in the collection of Doris Duke; width 7 ⅜ in. 18.5 cm. Estimate: 3,000 - 5,000 USD. Courtesy Sotheby's.
naturalistically modeled and painted with yellow and purple striped petals, with a curling stem forming the handle, crowned CT marks over letter B in underglaze-blue, incised I or H 2 to one, L Z to the other.
Provenance: The Estate of Mrs. Edward F. Hutton, Parke Bernet Galleries New York, 7-10 June 1972, lot 179
The Doris Duke Collection, sold to benefit The Doris Duke Charitable Foundation, Christie's New York, 3-5 June 2004, lot 644.
lot 734. An Extensive Assembled English Creamware Botanical Part-Dessert Service, circa 1800. Estimate: 20,000 - 30,000 USD. Courtesy Sotheby's
painted with flower specimens, with double brown line-edged rims, comprising a large rectangular platter, an oval footed comport, two oval sauce tureens and covers on fixed stands, eight plates, four soup plates, three shell-shaped dishes, four leaf-shaped dishes, five oval shaped dishes, fourteen kidney-shaped supper dishes, seven square-shaped dishes in two sizes, three small lozenge-shaped dishes, two small oval-shaped stands, three small various oval stands, sixty-three dessert plates, four small side plates in two sizes, together with a pearlware square-shaped dish and two small oval-shaped stands, the latter two stands with impressed letter S, all pieces with specimen script marks in enamel. 129 pieces.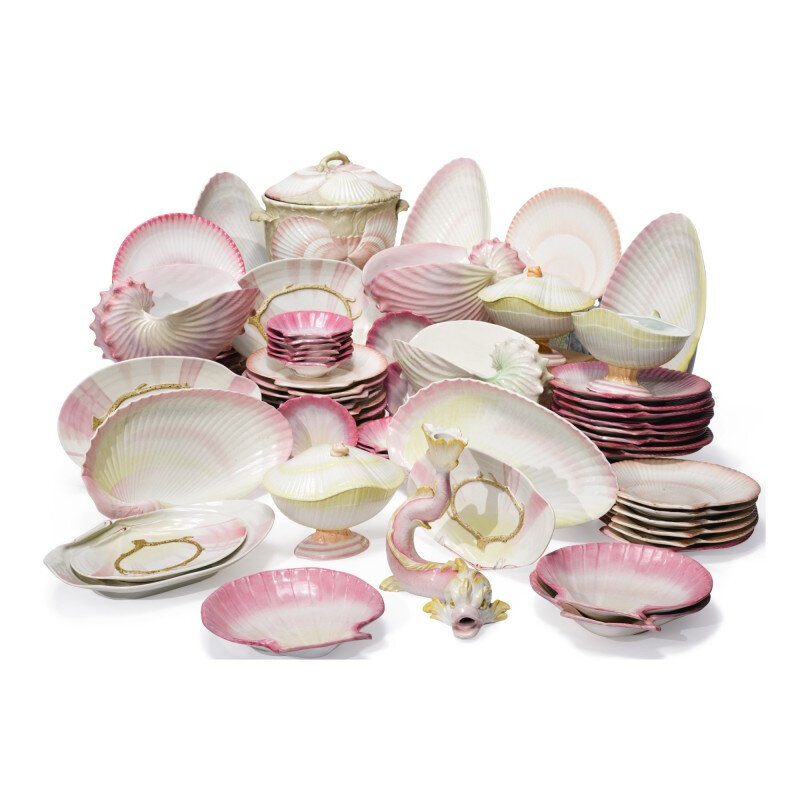 lot 493. An Extensive Assembled Wedgwood 'Wreathed Shell' Part-Dessert Service, circa 1820 and 1864-82. Estimate: 10,000 - 15,000 USD. Courtesy Sotheby's
naturalistically modeled, painted in tones of pink and pale yellow, comprising:
three Argonauta Argo comports and two Tellina Radiata stands,
a scallop-shell oval tureen and cover, three Anornia cream-bowls and covers with Serpula finials
and three Tellina Radiata stands, five Pholas Eustatius dishes,
a Tellina Radiata dish, forty-three Pecten Japonicum plates, three Pecten maxmium shallow serving dishes, twelve Pecten shell sweetmeat dishes,
and a dolphin form candlestick, impressed uppercase WEDGWOOD marks, some pieces with
three letter date codes, various letters, various numerals including 7035 and 01565 in iron-red or yellow enamel. 80 pieces.
Provenance: The Estate of the late Edith Kane Baker, New York, Sotheby Parke Bernet, Inc. New York, 28 October 1977, lot 176 (tureen and cover)
Sotheby Parke Bernet, Inc. New York, 24 April 1982, lot 162-164 (a comport and stand and fifteen plates)
Sotheby's New York, 9 April 1999, lot 270 (two Pholas Eustatius dishes and the Tellina Radiata dish)
Earle Vandekar of Knightsbridge, New York, bearing label (the candlestick).
Note: An engraved illustration of 'Wreathed shell' dessert pieces, that could decorated in colored washes or could be 'richly gilt', from the Shape Drawing Book (1802 watermark) is reproduced in Robin Reilly, Wedgwood, vol. II, p. 25, pl. 14, where the author also illustrates a selection of wares of this form in the white, pl. 13. The forms remained popular through the 19th century and appear in plate 15 of the 1878 illustrated catalogue of ornamental shapes, see Reilly, op. cit., p. 431, pl. 675.
A large service of this type decorated in a similar coloring was in the Garbisch Collection sold at Sotheby Parke Bernet, Inc. New York, 22 May 1980, lot 121.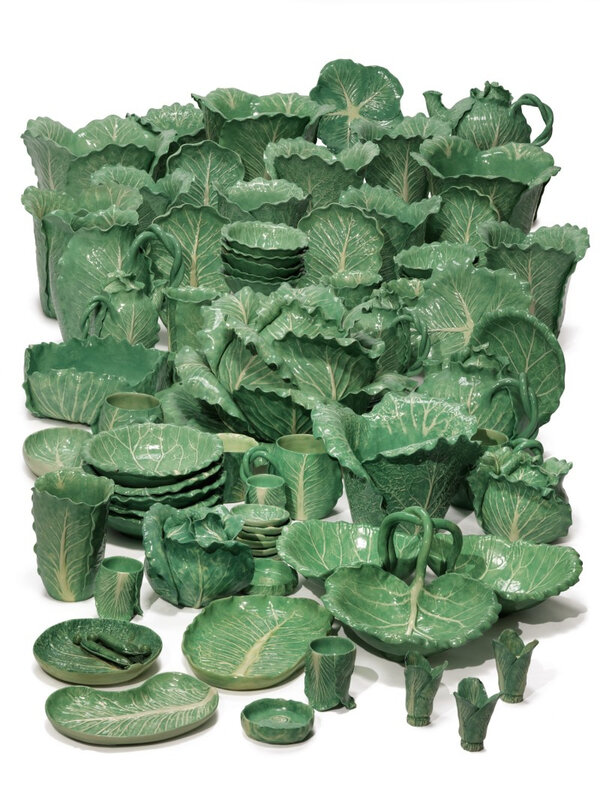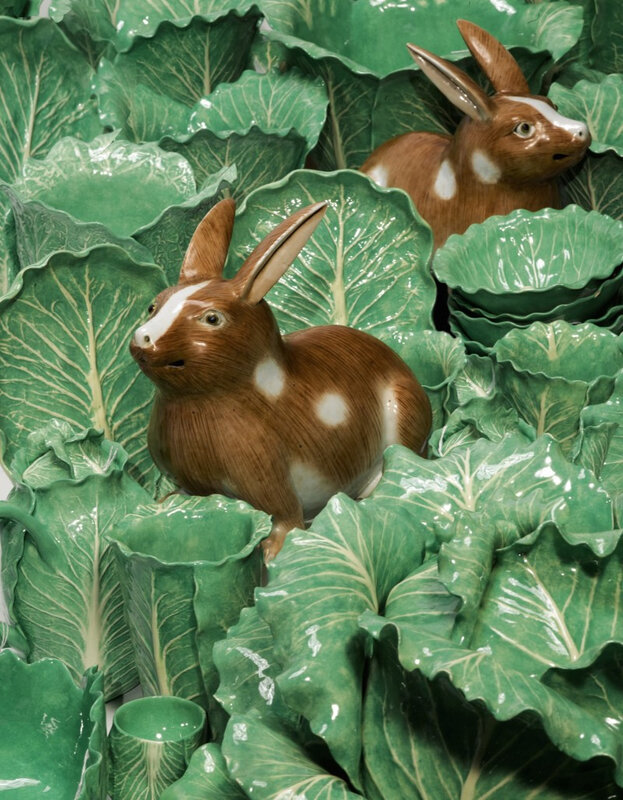 Lot 202. An Extensive Dodie Thayer Pottery Lettuce Ware Part-Service, Modern. Estimate: 10,000 - 15,000 USD. Courtesy Sotheby's
comprising a large tureen, cover and stand, a large triple hors d'oeuvres bowl, six shallow bowls, eighteen smaller bowls, eight leaf-shaped serving dishes, two kidney-shaped dishes in two sizes, a square-shaped bowl, two leaf-shaped stands, four small circular dishes applied with models of peas, ten circular pickle dishes, six butter pads, six egg-cups, four candle-holders, a larger pitcher, seven tall beakers, two teapots and covers, two coffee pots and covers, two sugar bowls and covers, three mugs, a small beaker, three bottle-coolers, and nine various vases. 107 pieces; (tureen stand) diameter 17 in., 43.2 cm.
Provenance: The Estate of Richard V. Hare, Sotheby's New York, 3 October 2003, lot 15 (28 pieces).
Fine Art
Mario Buatta's diverse collection is further distinguished by a group of paintings and decorative prints and watercolors, most famously an ensemble of over fifty dog paintings, illustrating the designer's love for what he called his canine 'ancestors'. One of these by the Victorian female artist Frances Fairman celebrates the treaty between England and France ending the Boxer Rebellion in China, and features a boxer with Buatta's favorite breed: the Cavalier King Charles spaniel (Lot 69). Buatta also acquired a small ensemble of floral still lifes, including an important picture by Dutch painter Jan van Os (1744-1808) (Lot 256) and a 20th century Paris scene by the Russian émigré artist Yury Annenkov (Lot 950).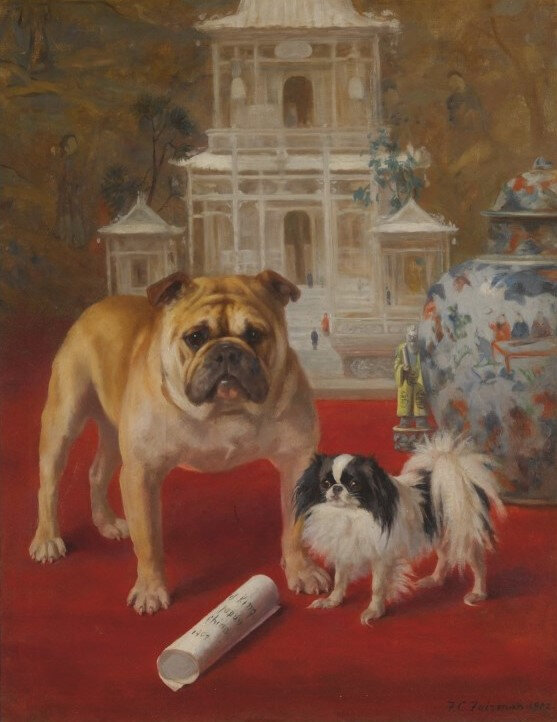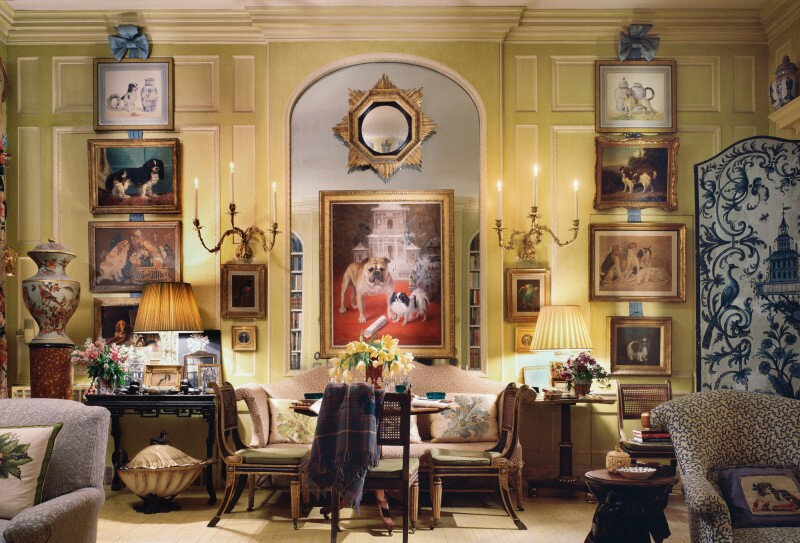 Lot 69. Frances C. Fairman (British, 1836 - 1923), The Boxer Rebellion, signed F.C. Fairman.1902. (lower right), inscribed [..]d Kingdom Japan China 1901 (on a scroll at lower center), oil on canvas, 44 ¼ by 34 in.; 112.4 by 86.4 cm. Estimate: 10,000 - 15,000 USD. Courtesy Sotheby's
Provenance: Mrs. Hugh Andrews, Toddington Manor, Gloucestershire (according to a label on the reverse)
Literature: W. Secord, Dog Painting, 1840-1940: A Social History of the Dog in Art (Suffolk, England, 1992) p. 99, illustrated.
Note: The dogs represent Great Britain and France signing the peace treaty, the Boxer Protocol, that ended the Boxer Rebellion, an anti-imperialist uprising in China that took place between 1899 and 1901 at the end of the Qing dynasty. Great Britain and France were part of an Eight-Nation Alliance, which also included the United States, Russia, Japan, Germany, Italy and Austria-Hungary. China and the Eight-Nation Alliance signed the Boxer Protocol on September 7, 1901.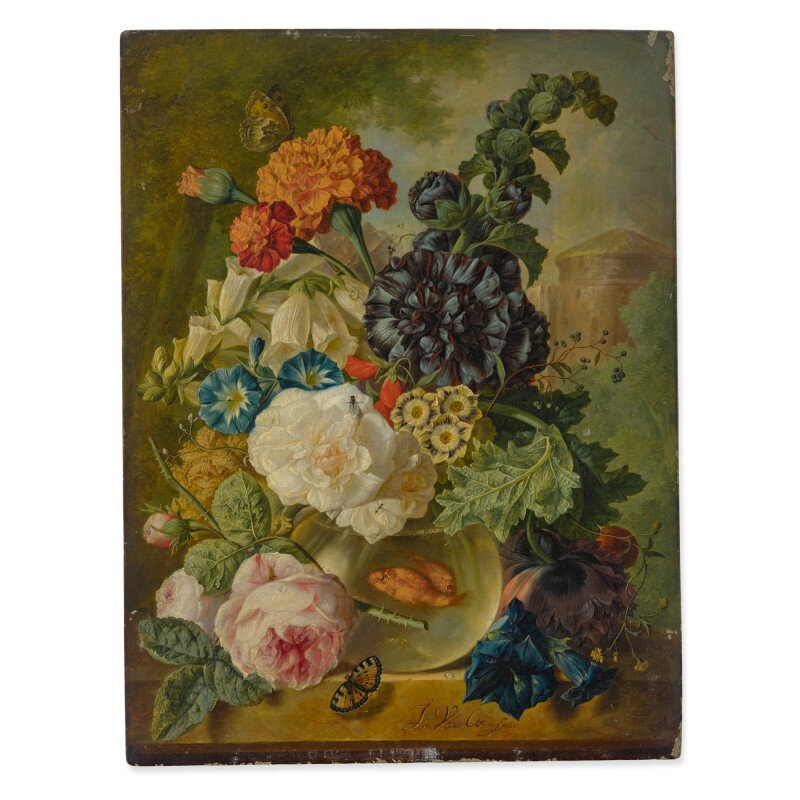 Lot 256. Jan van Os (1744-1808), Still life of various flowers arranged in a glass vase with goldfish, two butterflies, and other insects all on a stone ledge, signed J. Van Os fecit. (lower center), oil on panel, 14⅞ by 11¼ in.; 37.8 by 28.5 cm. Estimate: 60,000 - 80,000 USD. Courtesy Sotheby's
Provenance: Christie's New York, 18 January 1984, lot 1.
Acquired at the above sale.
Jan van Os was the leading Dutch still life painter in the second half of the eighteenth century. He studied with Aert Schouman in The Hague and was an independent master there by 1773. Though he also painted landscapes and seascapes, Van Os was famed for his opulent and minutely observed fruit and flower still lifes in the tradition of his countryman Jan van Huysum (1682–1749).
In the present example, van Os has characteristically set his still life on a stone ledge, beyond which can be seen as an architectural structure in a landscape. He has interestingly arranged a variety of flowers in a glass goldfish bowl, against which reflects the colors of the surrounding foliage. This goldfish bowl appears in other examples by the artist, including a still life in an English private collection1 and another still life recently sold at Sotheby's London.2
We are grateful to Dr. Fred G. Meijer for endorsing the attribution to Jan van Os after first-hand inspection.
1. See P. Mitchell, Jan van Os, 1744–1808, Leigh-on-Sea 1968, p. 21, cat. no. 20, reproduced pl. 20.
2. Anonymous sale ('Property from a European Private Collection'), London, Sotheby's, 5 July 2017, lot 58 (sold for £100,000). Oil on oak panel, 38 by 31 cm, signed lower left.
Chintz
No celebration of Buatta's life would be complete without examples of the designer's trademark floral print fabric. The sale features two groups of Buatta chintz teddy bears (Lots 933 and 934), the designer's own chintz fabric cape (Lot 932), and the set of Brunschwig & Fils Verrières pattern curtains from Buatta's 1984 Kips Bay Showhouse Room (Lot 930), which first earned him the title of 'The Prince of Chintz'.