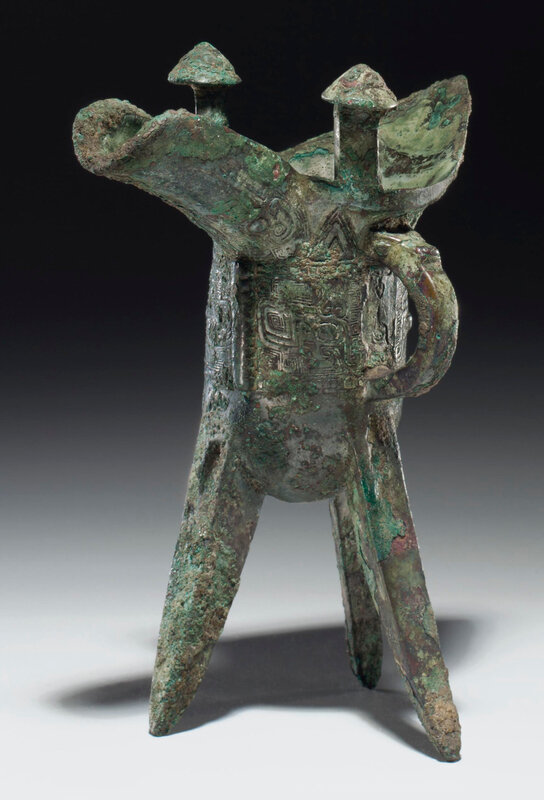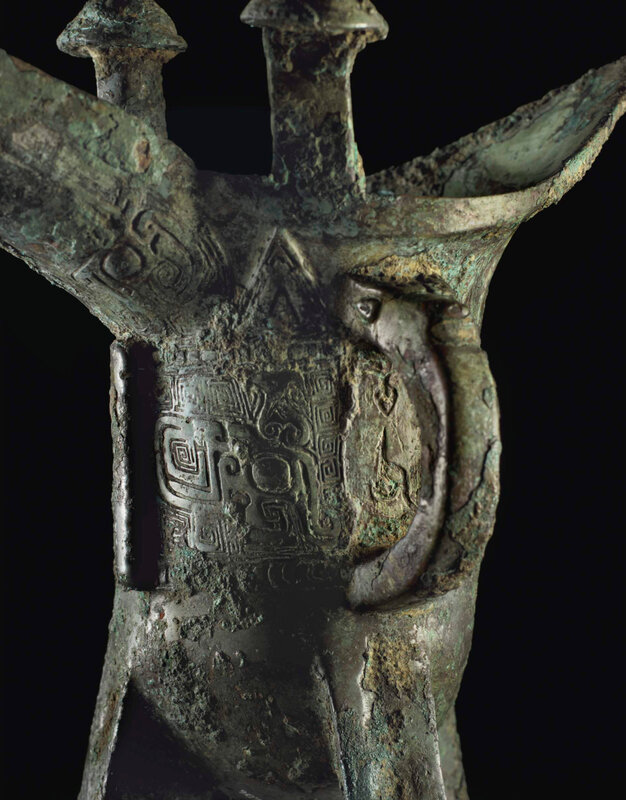 Lot 1121. A bronze ritual tripod wine vessel, jue, late Shang dynasty, 12th-11th century BC; 8 5/8 in. (22 cm.) high. Estimate USD 20,000 - USD 30,000. Price realised USD 43,750. © Christie's Images Ltd 2013
The deep body is raised on three slightly curved blade-form supports, and is cast with a taotie mask band formed by two pairs of bottle-horn dragons separated by flanges. One pair is divided by another flange and the other pair by a two-character inscription cast beneath the handle which issues from a bovine mask. All is within narrow dot borders below triangular blades and a pair of dragons beneath the spout. The bronze has a mottled grey and milky green patina and areas of heavy encrustation.
Provenance: Raymond A. Bidwell (1876-1954) Collection.
The Springfield Museums, Springfield, Massachusetts, accessioned in 1962.
The Springfield Museums, located in the heart of the downtown, is the largest cultural attraction in western Massachusetts. The four museums -- the Springfield Science Museum, the Lyman and Merrie Wood Museum of Springfield History, the George Walter Vincent Smith Art Museum and the Michele and Donald D'Amour Museum of Fine Arts offer visitors a wide variety of exhibitions and programs in art, history and science throughout the year.
The two art museums were both founded by local private citizens - the George Walter Vincent Smith Art Museum in 1896, and the Museum of Fine Arts in 1934. The George Walter Vincent Smith Art Museum represents one of the oldest and best examples of collecting in America during the Gilded Age. It was celebrated at the time by museum experts and philanthropists such as Andrew Carnegie, who called it "the finest single collection" he had ever seen. This Museum houses a strong Asian Art collection, which includes Chinese, Japanese, and Islamic decorative arts, and arms and armor from the Middle East and Japan. Particularly noteworthy is the outstanding collection of Chinese ceramics and jade, including a cloisonné collection that is one of the largest in the world outside of China. At the Museum of Fine Arts, visitors can enjoy an overview of American and European Art. This Museum's holdings include significant 19th and 20th century American paintings as well as Old Master works, with a particular emphasis on French and Italian canvases.
The Raymond A. Bidwell Collection
A large selection of works offered in this sale is from a bequest of Asian art left by Raymond A. Bidwell to the Museum of Fine Arts. Mr. Bidwell practiced law in Springfield and served as a city prosecutor from 1910 to 1911 and as an assistant city solicitor from 1914 to 1918. He also was a Trustee of the Springfield Library and Museums Association from 1943 until his death in 1954.
As an undergraduate at Harvard College (1895-1899), Mr. Bidwell purchased his first Japanese print and piece of Chinese pottery. These early acquisitions sparked a life-long interest in collecting. Mr. Bidwell selectively purchased a few objects each year toward the goal of forming a collection that traced the historical development of Chinese bronzes, pottery and porcelain. The high quality of his taste is clearly demonstrated by the superb selection of pieces.
Christie's is honored to present works from the Raymond A. Bidwell collection along with a selection of other Chinese objects chosen for deaccession by the Springfield Museums, the result of a lengthy process of the evaluation of the permanent collection. All funds realized through the sale of these objects will be used to build the acquisitions fund to add new works of art to the D'Amour Museum of Fine Arts' collection.
Literature: The Raymond A. Bidwell Collection of Chinese Bronzes and Ceramics, Museum of Fine Arts, Springfield, Massachusetts, 1965, pp. 22-3.
Note: The inscription cast beneath the handle consists of a graph depicting a horned animal head followed by the character Fu (Father).

A Shang jue of similar proportions, size and decoration is illustrated by J. Rawson, The Bella and P.P. Chiu Collection of Ancient Chinese Bronzes, Hong Kong, 1988, p. 53, no. 12.
Christie's. Fine Chinese Ceramics and Works of Art, New York, 21 - 22 March 2013