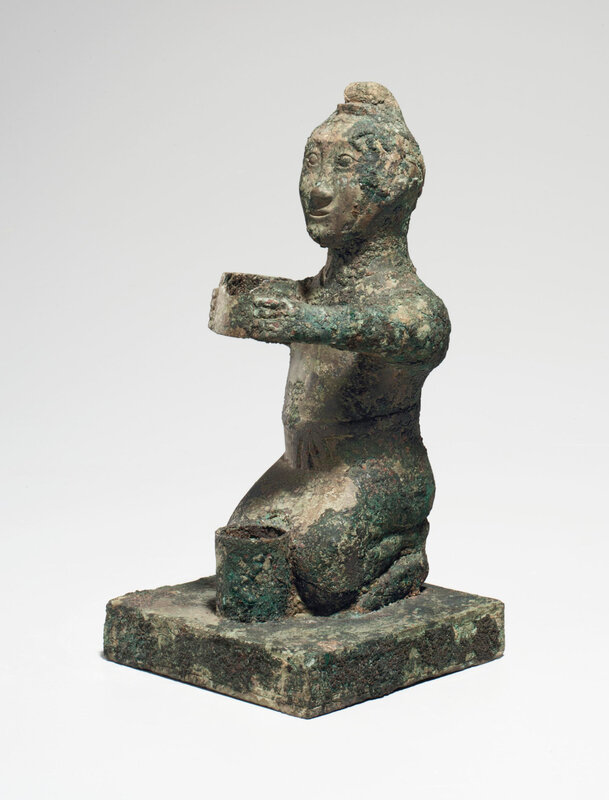 Lot 1137. A very rare bronze figural support, Warring States period, 5th-3rd century BC; 10 in. (25.5 cm.) high. Estimate USD 60,000 - USD 80,000. Price realised USD 663,750. © Christie's Images Ltd 2013
The support is cast as a kneeling servant holding a cylindrical tube above a corresponding socket that rises from the square base, which is cast around the sides with a pattern of interlaced dragons. He is wearing a close-fitting robe secured by a belt into which is tucked a sheathed knife in back, and his hair is pulled up under a small cap tied around the head and under the chin with straps. His broad face tapers towards the chin and is detailed with a broad nose, rounded cheekbones and well-defined eyes. The bronze has a grey-green patina and extensive encrustation.
Provenance: Raymond A. Bidwell (1876-1954) Collection.
The Springfield Museums, Springfield, Massachusetts, accessioned in 1962.
Literature: Catalogue of the International Exhibition of Chinese Art, Royal Academy of Arts, London, 1935-36, no. 126.
L. Bachhofer, "Bronze Figures of the Late Chou Period", The Art Bulletin, Vol. 23, No. 4 (December 1941), pp. 317-31, figs. 4-6.
The Raymond A. Bidwell Collection of Chinese Bronzes and Ceramics, Museum of Fine Arts, Springfield, Massachusetts, 1965, pp. 38-9.
R. Spelman, The Arts of China, C.W. Post Center, Long Island University, Greenvale, New York, 1977, p. 36, no. 39.
Exhibited: London, Royal Academy of Arts, International Exhibition of Chinese Art, 1935-36, no. 126.
C.W. Post Center, Long Island University, Greenvale, New York, Arts of China, 4 February - 27 March 1977, no. 39.
Note: This rare figural support is similar to others of Warring States period date, which depict a male servant in a similar kneeling position with a tube held in the outstretched hands. Based on bronze lamp stands such as the example from Shangcunling, Sanmenxia, Henan province, dated middle or late Warring States period (475-221 BC), illustrated in Zhongguo Qingtongqi Quanji - 7 - Dong Zhou (1), Beijing, 1998, p. 62, no. 59, which is composed of a similar kneeling figure holding two tubes in his outstretched hands, into which fits the split base of an oil lamp, these figures are now believed to be the bases of oil lamps. Another example from The Sze Yuan Tang Collection, where the lamp is still extant, was sold at Christie's New York, 16 September 2010, lot 897. The figures in both of these lamps are more detailed and have somewhat different facial features, as well as different caps, than the present figure, and others like it.
Figures more similar to the present figure include a group illustrated by W.C. White in Tombs of Old Lo-Yang, Shanghai, 1934, pls. LXXIX-LXXXII; and one in the Royal Ontario Museum, illustrated in the exhibition catalogue, The Art of Eastern Chou, 772-221 B.C., Chinese Art Society of America, New York, 1962, p. 25, no. 65, where it is dated early fifth century BC. The entry mentions other similar figures, including one inlaid with red and white pigments covering the back of the robe below the waist. Another similar figure, with somewhat more defined facial features, in the Minneapolis Institute of Arts, is illustrated in the exhibition catalogue, Arts of the Chou Dynasty, Stanford University Museum, 1958, no. 67. On this example there is no socket rising from the base, which is smaller than the bases of the other supports. Another bronze figural support, dated fifth century BC, in the Nelson-Atkins Museum, also illustrated in The Art of Eastern Zhou, 772-221 B.C., ibid., p. 19, no. 33, shows a servant wearing a short, decorated robe, in a more animated kneeling position, with both arms bent forward and upward at shoulder height and holding a tube in the right hand above a corresponding socket cast at the front edge of the base. The entry mentions that, like the present figure, a dagger is tucked in the belt in back. See, also, a related bronze figural support cast as a standing servant with similar features, and similarly attired, holding a tube in his hands, dated late Warring States, in the Cultural Relics Institute, Hebei province, illustrated in Zhongguo Qingtongqi Quanji - 9 - Eastern Zhou (3), Beijing, 1997, p. 142, no. 140.
Christie's. Fine Chinese Ceramics and Works of Art, New York, 21 - 22 March 2013