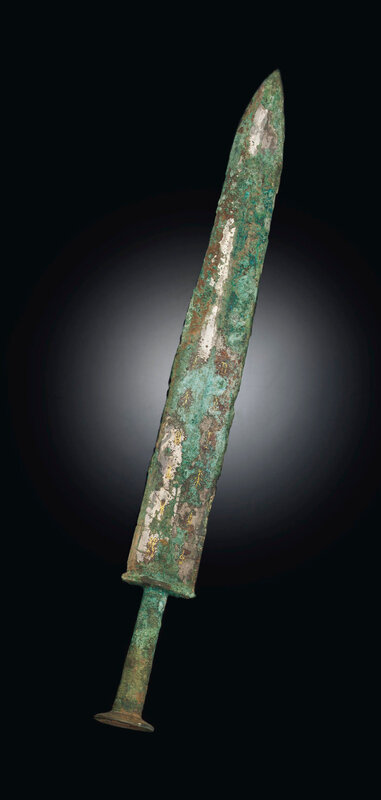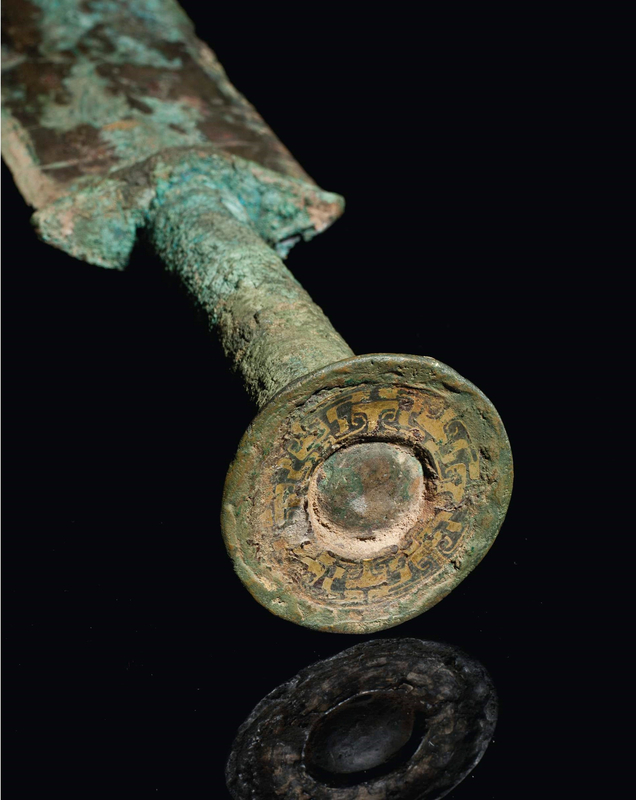 Lot 1234. A very rare and important gold-inlaid bronze sword, Eastern Zhou dynasty, late 6th-early 5th century BC; 19 3/8 in. (49.3 cm.) long. Estimate 150,000 - USD 250,000. Price realised USD 183,750. © Christie's Images Ltd 2013
The long tapering blade has a median ridge on both sides and is inlaid on one side in gold with a twelve-character inscription arranged in two lines, all below a diamond-shaped guard and a slightly tapering hilt leading to the disc-shaped pommel which is decorated on the top in gold sheet with a band of 'T' scroll and on the underside with a different scroll band. The bronze has a silver-grey patina and extensive malachite green encrustation, box.
Provenance: J.T. Tai & Co. Inc., New York, 25 January 1966.
Arthur M. Sackler Collections, New York.
Literature: J. Fontein and Tung Wu, Unearthing China's Past, Museum of Fine Arts, Boston, 1973, pp. 92-3, no. 38.
Exhibited: Unearthing China's Past, Museum of Fine Arts, Boston, 1973, no. 38.
According to the catalogue entry for the exhibition, Unearthing China's Past, Museum of Fine Arts, Boston, 1973, pp. 92-3, no. 38, the inscription on this sword may be read, Gongwu wang Guang [?] yi ji jin zi zuo yong jian ('King Guang of the State of Gongwu forged this sword with auspicous metal for his usage'). The authors, Jan Fontein and Tung Wu, state that the character Guang is the personal name of King Helu (r. 514-496 BC) of the Wu Kingdom (or Gongwu, as the kingdom was known by its inhabitants), and appears on most of the bronze objects he commissioned. A bronze sword bearing the name Guang, similarly written to that on the Sackler sword, was unearthed in 1964 in Yuanbing, Shanxi province. See Wenwu, 1972:4, pls. 1 and 2. A similarly written Guang character also appears on an excavated bronze basin belonging to King Helu. See Guo Moruo, "The dating of a royal tomb of the Ts'ai State recently excavated at Shou-hsien, Anhui", Kaogu Xuebao, 1956:1, pp. 3-4, pl. 8. Also cited by Fontein and Tung Wu are six bronze swords, including some excavated examples, belonging to royal family members of the Gongwu State. Dating from 560 to 473 BC, they chronologically represent three generations of royal swords, and provide a valuable insight into the development of different sword types.
Other bronze swords bearing inscriptions inlaid in gold include the example dated to the 5th century BC in the Freer Gallery of Art, illustrated by T. Lawton, Chinese Art of the Warring States Period, Change and Continuity, 480-222 B.C., Washington, D.C., 1982, pp. 70-71, no. 28, and one in the Musée Guimet dated 5th-4th century BC, illustrated by C. Delacour, De bronze, d'or et d'argent, Arts somptuaires de la Chine, Paris, 2001, p. 131. Both the Freer sword and the Guimet sword bear the same twenty-character inscription, arranged in ten characters to each side, which Thomas Lawton translates as, "On the auspicious day jen-wu, [this sword was] made for righteous use. Pure gold covers the spine. I myself have named it, calling it 'little....'."
A Technical Examination Report of the present sword states that the corrosion on the hilt shows two distinctly different textile structures. While the textile is no longer present, the copper corrosion has retained the structure of the textile fibers. Near the pommel is a 1 cm. section of what appears to be a single strand wound around the round hilt. The rest of the hilt shows a woven structure in a herringbone pattern, and the shapes of the individual fibers are consistent with those of silk. A copy of this Technical Examination Report is available upon request.
Christie's. Fine Chinese Furniture, Archaic Bronzes and Works of Art, New York, 21 - 22 March 2013