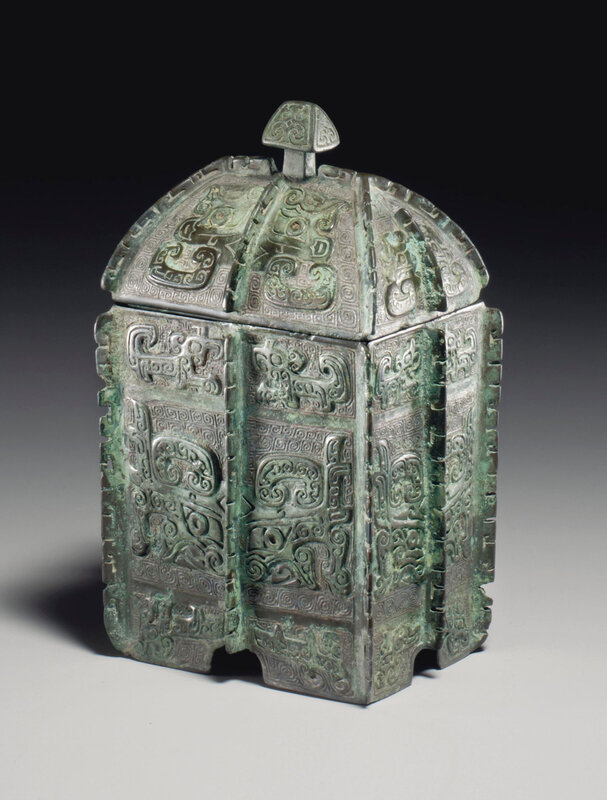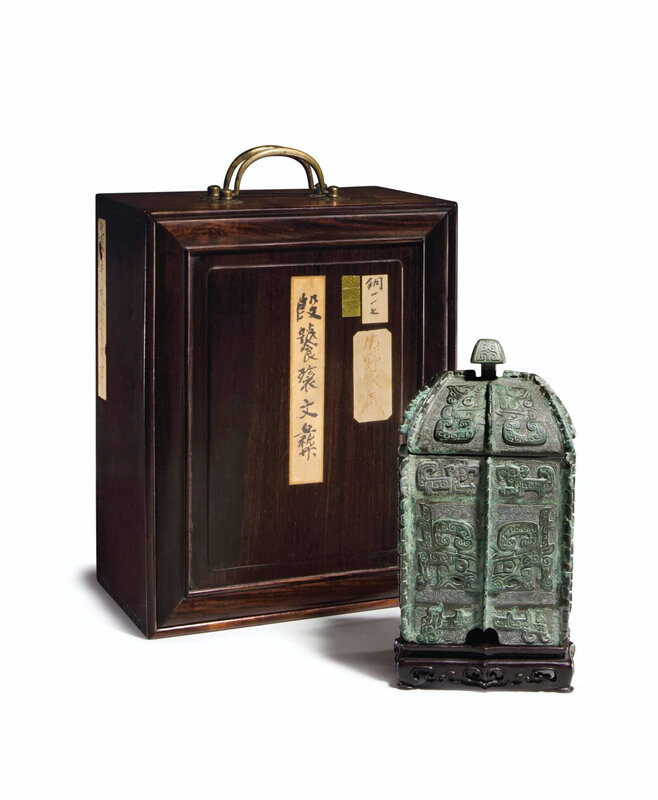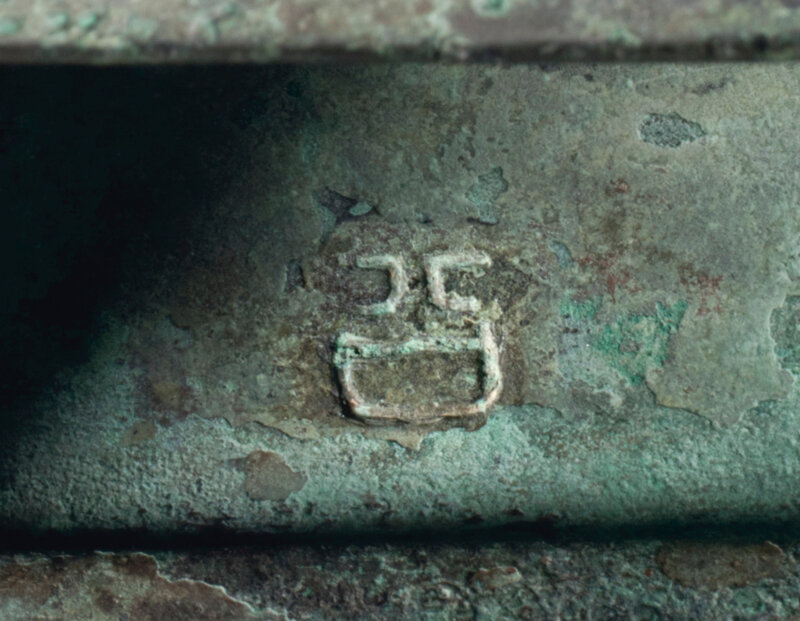 Lot 1244. A rare bronze ritual wine vessel and cover, fangyi, Late Western-Early Eastern Zhou dynasty, 8th-6th century BC; 7¾ in. (19.7 cm.) high. Estimate 300,000 - USD 500,000. Price realised USD 363,750. © Christie's Images Ltd 2013
Of rectangular section, the vessel is cast in low relief on each side with a taotie mask set between a pair of confronted birds above and a pair of addorsed dragons below. All of the decoration is reserved on a leiwen ground and centered on notched flanges, which are repeated at the corners as well as on the domed faceted cover where four taotie masks are shown inverted below the faceted knob cast in intaglio with inverted taotie masks. A single graph is cast on the interior of the cover. The dark grey patina has milky green mottling and some areas of blue-green encrustation, two Japanese wood boxes.
Provenance: Kinpei Takeuchi (1873-1960).
Ryuichi Sano (1889-1977), acquired in Tokyo, 1950s.
Sano Art Museum, Mishima, Japan.
Literature: Sano Bijutsukan zohinsho, Sano Art Museum, 1986, p. 72, no. 92.
Selected Works from the Collection of the Sano Museum of Art, Sano Art Museum, 1991, p. 38, no. 56.
Exhibited: On loan: Tokyo National Museum, 21 November 1984-21 October 2008.
Note: While the fangyi vessel shape flourished during the Shang dynasty, from the early to late Anyang period, the unusual small size and casting style of the present fangyi may suggest a slightly later dating from the later Western/early Eastern Zhou period when bronze vessel shapes and designs from earlier periods were reproduced by the Zhou nobility in an effort to legitimize their rule following the steady decline of the power of the Zhou court after the collapse of the Zhou's western capital in 771 BC, and subsequent relocation east in Luoyang. This archaistic trend is discussed at length in a paper by Jenny F. So entitled "Antiques in Antiquitiy: Early Chinese Looks at the Past," which was delivered at a seminar at Brown University in March 2008. The author notes, p. 12, "The interest in re-producing antiquated bronze vessels as symbols of power and pedigree began to emerge about this time, especially among the ambitious 'protectors' of the Zhou court. Their appearance at this juncture suggests perhaps a revival of ancient rites of rituals, in which only certain archaic vessel types were deemed appropriate. They may also reflect concerted attempts by the princely 'protectors' to set themselves apart as members of the 'old' élite with ancient lineage ties from the 'new' élite that emerged through merit." The author further notes, pp. 13-14, that research by Jessica Rawson on 8th century BC bronzes from the Jin capital at Qucun revealed the production of "outdated" vessel shapes, including jue, you, zhi, zun, as well as fangyi, that had not been made for a century. So cites, p. 14, that such vessels would have "served as visual reminders of the Jin's political pedigree," and represent "attempts to report the clan's current achievements to their ancestors, using older visual and ritual language, i.e. the vessel shapes and their attendant rituals that the ancestors would have understood."
Other fangyi similar to the present vessel in their unusual small size have been published. One (18.4 cm.) with similar decoration is illustrated by W. Perceval Yetts, The Cull Chinese Bronzes, London, 1939, no. 10. The Cull fangyi, however, features an unusual depiction of confronted tigers in the upper register, rather than the more usual confronted dragons or birds, such as those seen on the present vessel. Another comparable fangyi (19 cm.) in the Avery Brundage Collection is illustrated by d'Argencé, Ancient Chinese Bronzes, San Francisco, 1966, pl. XII (A). See, also, the small (18.5 cm.) fangyi illustrated in Shang Ritual Bronzes in the National Palace Museum Collection, National Palace Museum, Taipei, 1998, no. 70, which is unusually cast with narrow bands of circles framing the larger, undecorated central panels on each side.
Christie's. Fine Chinese Furniture, Archaic Bronzes and Works of Art, New York, 21 - 22 March 2013