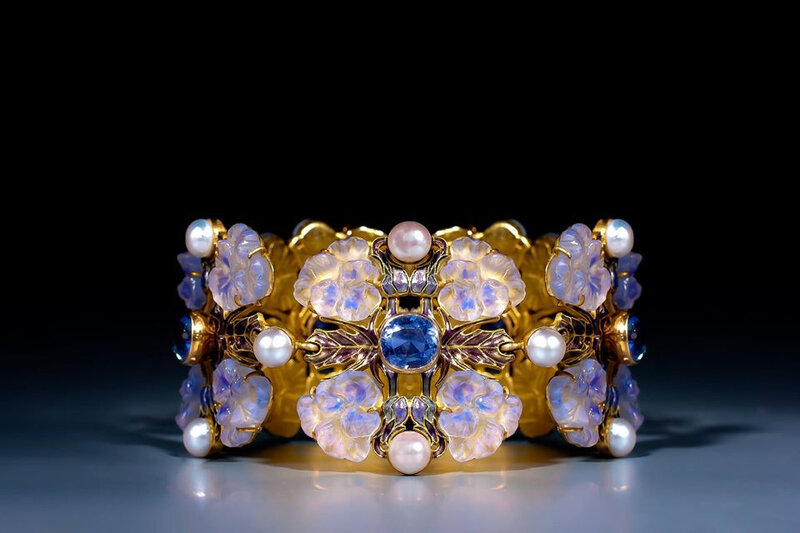 René Lalique (Ay 1860-1945 Paris), Art Nouveau pansy bracelet. Floral clusters, each composed of four pansies in carved frosted glass, purple enamel and pearls, cushion and oval-shaped sapphires, mounted in 18 karat gold, Paris, circa 1901-1902. Signed: LALIQUE. © EPOQUE FINE JEWELS
In a brown leather Lalique case marked: R. LALIQUE, 40, Cours-La-Reine, Paris.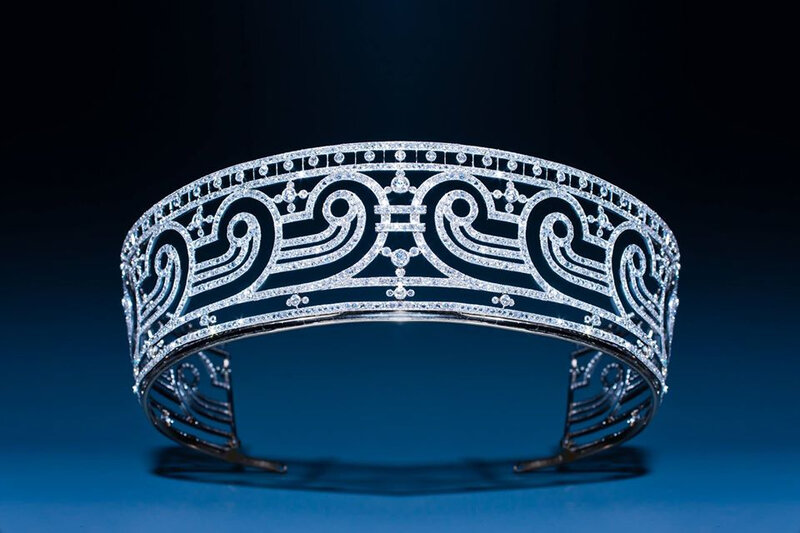 Chaumet. Art Deco diamond tiara. Old mine cut, rose cut and single cut diamonds, mounted in platinum and gold. Millegrain setting, Paris, 1909. © EPOQUE FINE JEWELS
Exhibition: 'Chaumet en Majesté. Joyaux de souverains depuis 1780', Grimaldi Forum, Monaco, 12 July-28 August 2019.

Since its foundation in 1780, Chaumet has created over 3500 unique tiaras. This tiara was made in 1909 as a wedding tiara for the daughter of Count and Countess de Heeren. Although most tiaras from that period were still made in the Garland style or the traditional 19th century style with floral and scroll motifs, this particular piece announces the more geometrical style of the Art Deco period which reached its peak in the 1920s.
David Webb. Twin giraffe bracelet. Black and white enamel giraffe heads, each accented with cabochon ruby eyes, circular-cut diamonds and a fluted gold mane, mounted in 18k gold and platinum, New York, second half 20th century. Signed and numbered. In a brown leather David Webb case. © EPOQUE FINE JEWELS