The Kunstkammer as a work of art. © Porfirius Kunstkammer
The four domains of the Renaissance Kunstkammer-Preciosia, Naturalia, Scientifica and Exotica-merge in this eclectic artwork to create an image of the known world. The focus is on rare and surprising objects that each tells us a story.
Attributed to the Schloss Rosenborg Court Turner, Turned beaker with hundred beakers inside, Copenhagen, prior to 1673. Limewood. H 29 cm. © Porfirius Kunstkammer.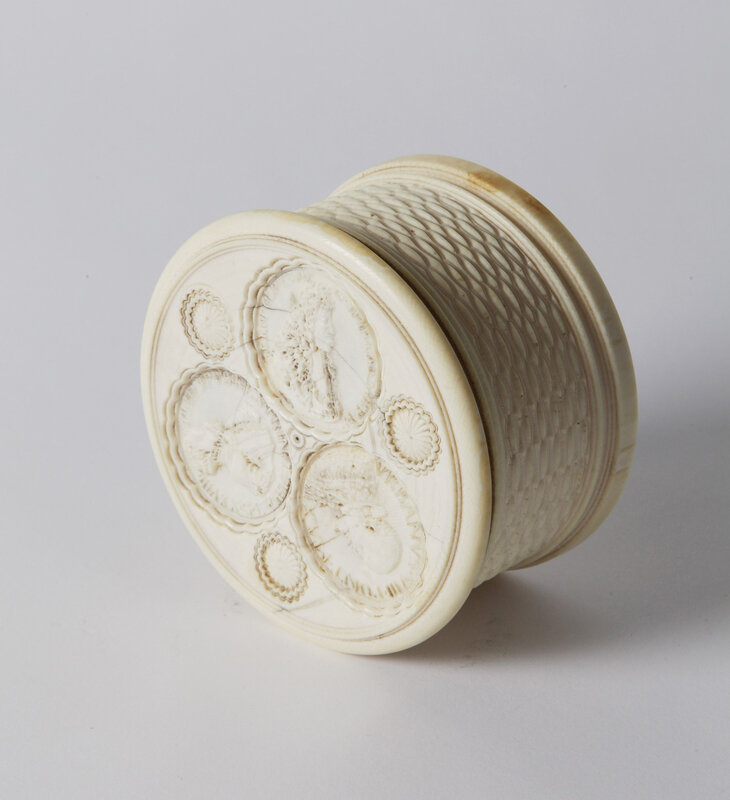 Baroque rose engine-turned box, Germany, late 17th century. Ivory, Ø 10 cm. © Porfirius Kunstkammer.
Provenance: Royal House of Hannover.
This fine and rare Rose Engine-Turned Ivory box bears, inside the lid, the heraldic device of Theodore, Count Palatine of Sulzbach (1659-1733) who married Mary Eleanor of Hessen-Rheinfels in 1692. All portraits are copy-turned from medallions on a turning lathe.
The portraits represent King Philip of Spain, Emperor Leopold and Pope Urban VIII and, on the underside, Francois I, Atilla and Julius Caesar.