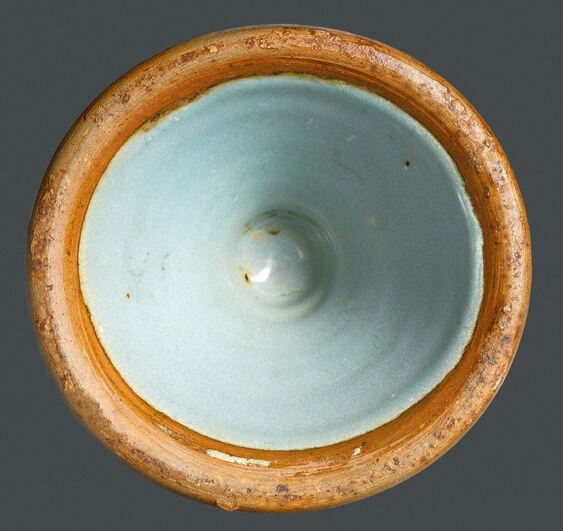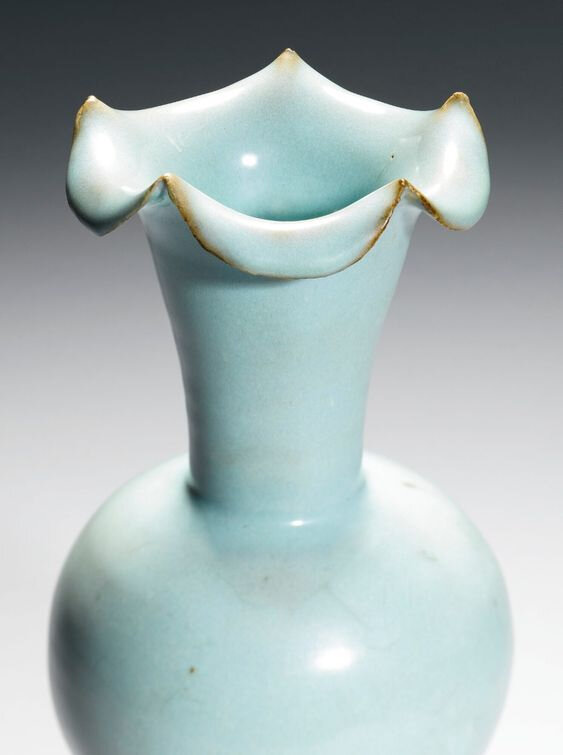 Lot 131. An extremely rare 'Jun' foliate-mouth vase (zun) Northern Song Dynasty (960-1126). Height 11 7/8 in., 30.2 cm. Estimate 500,000 — 700,000 USD. Lot sold 602,500 USD. Photo Sotheby's
of archaic zun-form, the central globular bulb with a narrow ridge supported on a tall splayed foot, the elegant neck sweeping up the everted rim, the mouth festooned with five lobed, radiating petals, evenly covered overall in a lustrous lavender-blue glaze mottled with lilac and milk-white highlights, thinning to a mushroom color at the rim of the mouth, the glaze stopping short of the footring, revealing the ware burnt orange-brown in the firing.
Provenance: Sotheby's New York, 4th June 1986, lot 45.
Hirano Kotoken Co., Tokyo, Japan.
T.T. Tsui Collection (ref. SJ1).
Note: The clear sky-blue-glazed wares from Yuzhou, Henan province, an area formerly known as Junzhou, are renowned for their rich thick glaze and often intense coloration. In addition to the exquisite azure blue color of the present example, the elegant baluster form with foliate rim is very rare. Given the technical difficulties in creating the glaze, the majority of 'Jun' forms tend to be smaller utilitarian pieces. Only two other vases of this form, size and dating to the Northern Song appear to have been published; one in Selected Treasures of Chinese Art, Min Chiu Society Thirtieth Anniversary Exhibition, Hong Kong Museum of Art, Hong Kong, 1990-1991, cat. no. 101; and again in Song Ceramics from the Kwan Collection, Hong Kong Museum of Art, 1994, cat. no. 39.and then sold in our London rooms 12th November, 2003, lot 50. The other is an unsuccessfully fired example from the George Eumoforpulos collection illustrated in R. L. Hobson, Catalogue of the Chinese, Corean and Persian Pottery and Porcelain, vol. 3, London, 1926, pl. X, no. C33. A similar vase but much taller and dated to the Jin dynasty was sold in these rooms 21st September 2006, lot 104.
Vases of similar forms made during the Northern Song and Jin dynasties were also produced at other kilns. A qingbai vase of ovoid form with a foliate rim mouth, dated to the Northern Song, is illustrated in Song Ceramics, The Tobu Museum of Art, Tokyo, 1999, cat. nol. 98. Another qingbai example is illustrated in John Ayers, The Baur Collection, vol. 1, Geneva, 1968, pl. A123. A yaozhou ware example excavated at the kiln site is illustrated in Shaanxi Tongchuan Yaozhou Kiln Porcelain, Shaanxi, 1992.
Sotheby's. Fine Chinese Ceramics & Works of Art, New York, 11 september 2012