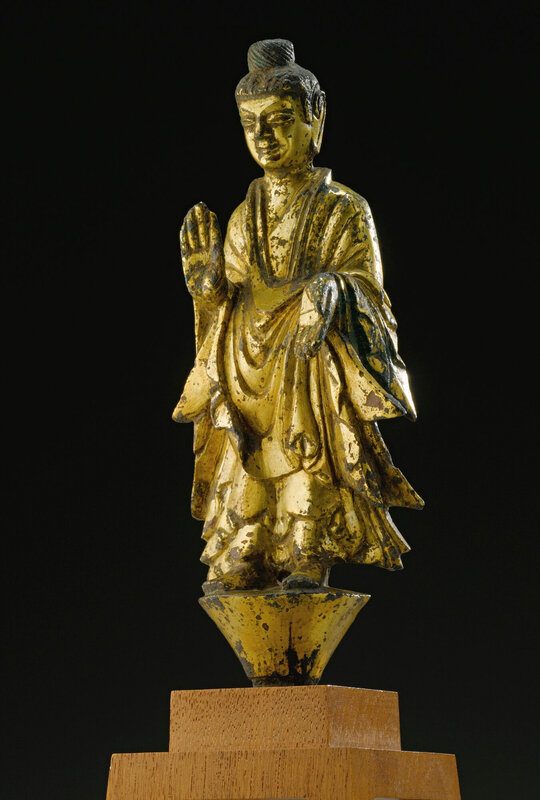 Lot 178. An important gilt-bronze figure of Buddha, Northern Wei Dynasty (386-534). Height 7 3/4 in., 19.7 cm. Estimate 500,000 — 800,000 USD. Lot sold 1,172,500 USD. Photo Sotheby's
portrayed standing barefoot on a circular tapering base, both hands held in abhayamudra, clad in loose robes falling in crisply cast folds that flare outwards, his sharp features framed by long ears and wavy hair that covers his ushnisha, the back with rectangular cavity and two pierced tabs, wood stand and box (3).
Provenance: Yamanaka Co. Ltd. Osaka.
Acquired from the above during the Taisho Period (1912-1926) and thence by descent.
Exhibited: Chugoku kodai choukoku ten, Takashima Department Store, Nihonbashi, Tokyo, 1959, cat. no. F.
Kondoubutsu, Tokyo National Museum, Tokyo, 1987, cat. no. 18.
Literature: Matsubara Saburo, Chūgoku bukkyō chōkoku shiron, vol. 1, Tokyo, 1995, p. 172, pls. a-c.
Nihonbashi Takashimaya, Chugoku Kodai Choukoku Ten (Exhibition of Chinese Ancient Sculpture), Tokyo, 1959, fig. F, p. 19.
Matsubara Saburo, Chugoku Bukkyo chokoku shi kenkyu (Chinese Buddhist Sculpture. A Study on Bronze and Stone Statues other than Works from Cave Temples), Tokyo, 1966, figs. a, b, p. 77.
Chosen Nihon (Special Exhibition of Gilt-Bronze Statues: China, Korea, Japan), Tokyo National Museum, Tokyo, 1987, cat. no. 18.
Seiko Murata, Shokondoubutsu no Miryoku Chugoku Chosenhantou Nihon (The Attraction of Small Gilt Bronze Buddhist Statues, China, North and South Korea, Japan) Tokyo, 2004, p. 49, fig. 53.
Note: The present Buddha is among the finest early gilt-bronze examples known from a period in China's history when Buddhism was established as the official religion in the northern half of the country and Buddhist statuary became a permanent feature in people's lives. It belongs to a group of exceptionally cast figures that were generally framed by a large flame-shaped mandorla, often fashioned in a complex manner, and served as the central piece on an elaborate votive pantheon or shrine. Largely commissioned by the wealthy upper class, gilt-bronze statues and shrines of this period display a degree of extravagance and wealth associated with those who believed in the Buddhist tenet of earning merit through the creation of religious icons. They were made for specific households or for use during traveling, hence their compact size.
The benign facial expression seen on this Buddha displays compassion and gentleness while the treatment of the flowing robe that splays towards the bottom in a serrated fashion with the undergarment tied below the chest is typical of its time. A well-known comparable example is the gilt-bronze altarpiece dated to 524, in the Metropolitan Museum of Art, New York, illustrated in Alan Priest, Chinese Sculpture in the Metropolitan Museum of Art, New York, 1944, pl. XXIX. Another related standing Buddha that bears a long inscription with a date corresponding to 520, in the Avery Brundage collection, is published in Chinese, Korean and Japanese Sculpture in the Avery Brundage Collection, San Francisco, 1974, p. 82, pl. 29, where, a bronze sculpture dated to 518 in the Museé Guimet, Paris, and another dated to 536 in the Pennsylvania University Museum, Philadelphia, are mentioned.
See a further example of a standing Buddha, also in the Metropolitan Museum of Art, published ibid., pl. XXXXIII; one of similar size to the present example, from the Shanghai Museum, included in the exhibition Estátuas Budistas Milenárias da China, Galeria de Exposições Temporárias do Leal Senado, Macau, 1995, cat. no. 6; and a third, in the National Palace Museum, Taipei, illustrated in the museum's special exhibition The Crucible of Compassion and Wisdom, National Palace Museum, Taipei, 1987, p. 160. Compare also a bronze Buddha of slightly larger dimensions, attributed to the 6th century, from the collection of Stephen Junkunc III, sold at Christie's New York, 24th March 2004, lot 72; and a smaller example offered at Christie's London, 16th June 1986, lot 25.
Sotheby's. Fine Chinese Ceramics & Works of Art, New York, 11 september 2012