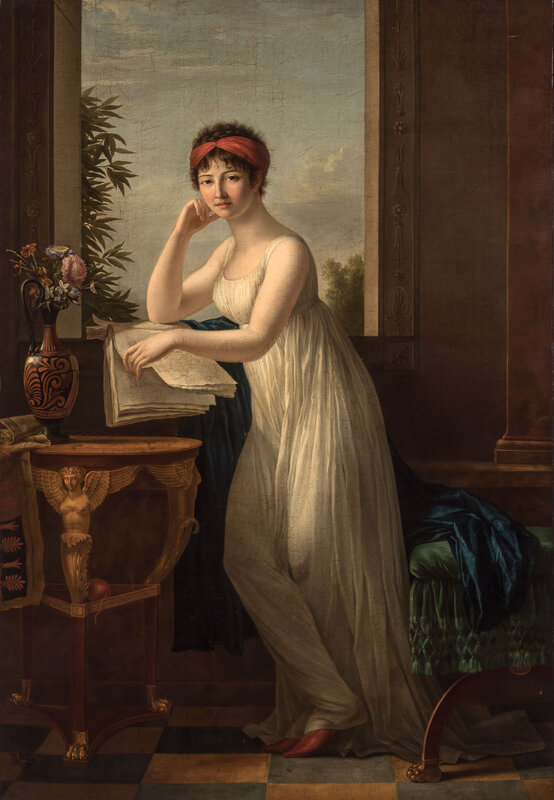 Marie-Victoire Lemoine (French, 1754-1820), Madame Leclerc, née Pauline Bonaparte, circa 1798-99, Signed, Oil on canvas, 77 x 54 1/8 inches. Est. $40,000-70,000. © Doyle

NEW YORK, NY --Doyle's auction on Wednesday, February 5, 2020 at 10am will present Old Master Paintings & Drawings and English & Continental Furniture, Silver and Decorative Arts. The auction showcases a wide range of landscapes, still lifes, portraits and religious subjects by European artists from the Renaissance to the 19th century.

Highlighting the sale is a circa 1798-99 portrait of Madame Leclerc, née Pauline Bonaparte, by Marie-Victoire Lemoine (1754-1820) (est. $40,000-070,000). Lemoine, one of a family of artists, lived her professional life at the center of the French art world, specializing in portraits and genre subjects. This lovely portrait by her of Pauline Bonaparte, younger sister of Napoleon I, was submitted anonymously to the Paris Salon of 1799 (Revolutionary year VII), where it was described as "Une jeune femme appuyee sur le bord d 'une croisee." (A Young Woman Leaning on the Edge of a Window).

Pauline Bonaparte (1780-1825) was married at 17 to the French general Charles Leclerc in 1797. This likeness of her was probably painted the following year, not long after the birth of her son. In 1801 Pauline accompanied her husband on a military expedition to Haiti, where he died of yellow fever a year later. In 1803 Pauline married the Roman Prince Camillo Borghese, and thereafter lived as an Italian noblewoman. Notorious for her dissolute life, in later years she lived apart from Prince Borghese in the Villa Paolina in Rome.

The impressive, large-scale portrait was formerly in the collection of Pauline's older brother, Joseph Bonaparte (1768-1844), the one-time King of Spain, who died in exile in New Jersey.
English furniture in the sale features an elegant George III mahogany secretaire-cabinet on stand attributed to Thomas Chippendale. It exhibits characteristics found in Thomas Chippendale's designs in The Gentleman and Cabinet-Maker's Director, 1762, for A China Case, A Lady's Writing Table & Bookcase and A Library Bookcase (est. $40,000-60,000). Also noteworthy are a pair of George III satinwood, tulipwood and marquetry semi-elliptical pier tables in the manner of Thomas Chippendale, circa 1775. The use of marquetry shares affinities with the work of Chippendale and his son, Thomas Chippendale Junior (est. $20,000-30,000).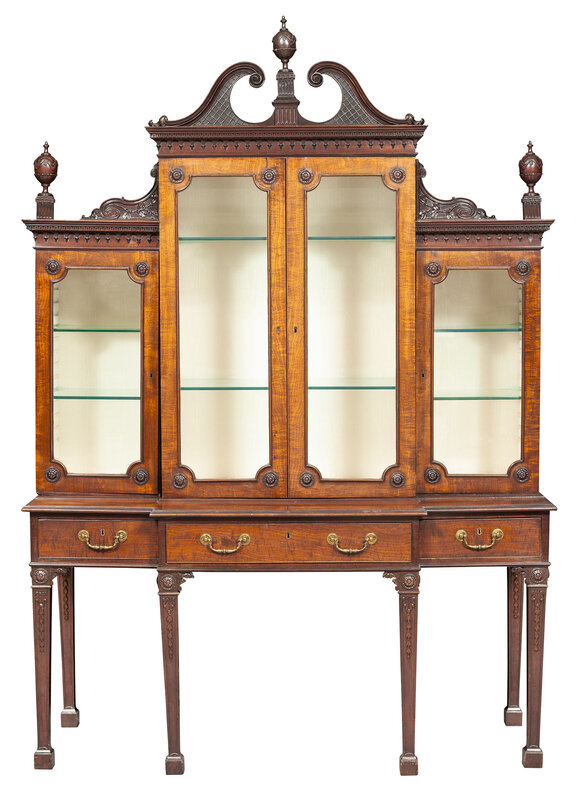 George III Mahogany Secretaire-Cabinet on Stand attributed to Thomas Chippendale, Circa 1770. Est. $40,000-60,000. © Doyle
Silver offerings feature a rare Elizabeth I sterling silver gilt mounted salt-glazed Rhenish Tigerware jug, London, 1570 (est. $8,000-12,000). Beer was the preferred beverage in 16th century England for all classes, who chose handsome imported German Tigerware vessels for everyday use. Wealthy drinkers could have their pieces mounted with expensive sterling silver decorated in the latest style.
Elizabeth I Sterling Silver Gilt Mounted Salt-Glazed Rhenish Tigerware Jug, London, 1570. Est. $8,000-12,000. © Doyle