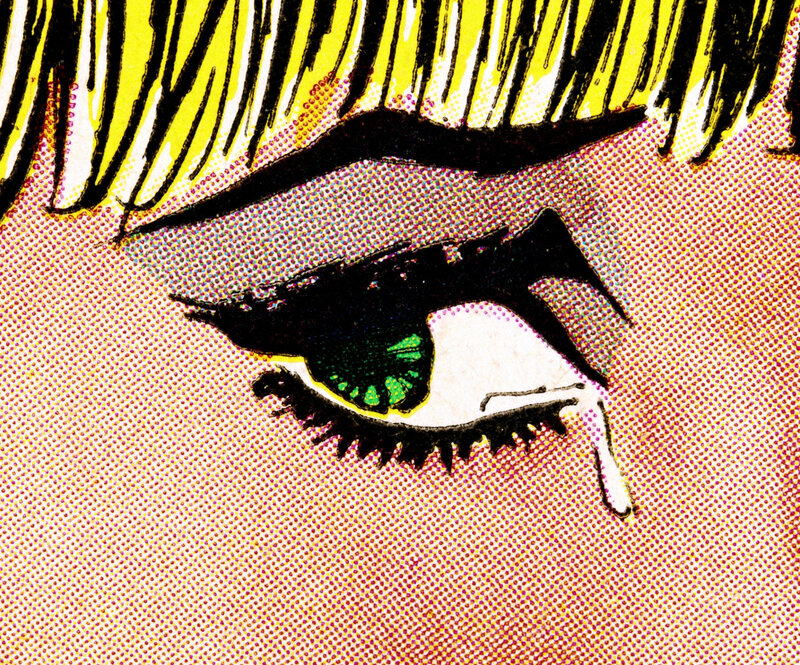 Anne Collier (*1970), Woman Crying (Comic) #8, 2019. C-Print, 126 x 150 cm. Courtesy of the artist; Anton Kern Gallery, New York; Galerie Neu, Berlin; Gladstone Gallery, Brussels; and The Modern Institute / Toby Webster Ltd., Glasgow © Anne Collier.
HAMBURG.- The large-scale exhibition Mourning at the Hamburger Kunsthalle presents works by some 30 contemporary artists from around the world dealing with the theme of loss. Experiences of loss, grief and change harbour a disruptive potential that is difficult to put into words or capture visually. The varied artworks on view illustrate the kinds of images artists are finding today to convey this phenomenon, revealing the significance that is still attached to traditional pathos formulas and showing that how we mourn can tell us a great deal about our present day. Some of the works were created especially for the exhibition while others are on loan from artists' studios or international museums and private collections. Extending across two floors of the Gallery of Contemporary Art, the exhibition features paintings, sculptures, photographs, videos, and slide and sound installations.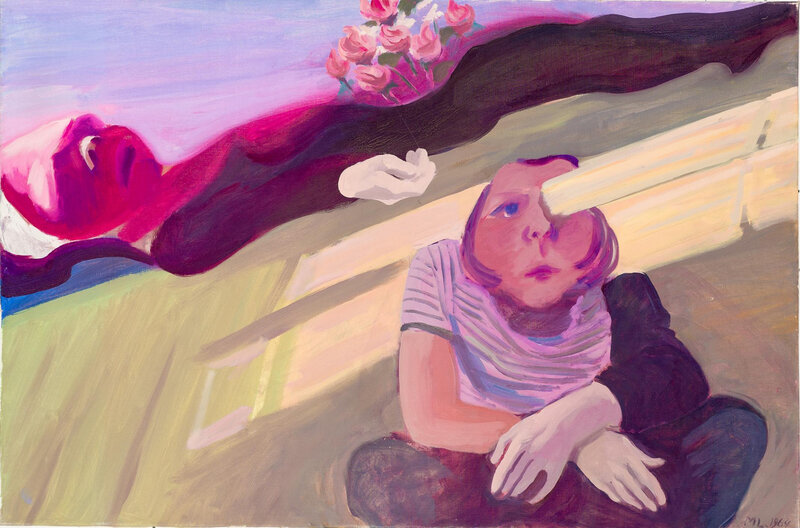 Maria Lassnig (1919-2014), Beam in the Eye / Mourning Hands, 1964, Oil on canvas, 77 x 115 cm © Maria Lassnig Foundation / VG Bild-Kunst, Bonn 2019
A broad arc is traced here from the miniature coffins crafted by Ghanaian artist Kudjoe Affutu (b. 1985) to Andy Warhol's (1928–1987) iconic 1964 portrait of Jackie. The rigorous yet lyrical typographic works of British artist Helen Cammock (b. 1970), a 2019 Turner Prize winner, make their German debut in the show. A series of reworked photographs of scenes from the Syrian War by Khaled Barakeh (b. 1976) takes up the centuries-old motif of the Pietà (Italian for pity, compassion, sympathy) in a manner that is chillingly topical. Turner Prize winner Susan Philipsz (b. 1965) has created a new sound piece for the show that revives the old mourning tradition of keening in the atrium of the Gallery of Contemporary Art. The Japanese artist Seiichi Furuya (b. 1950) interweaves his personal experience of bereavement upon his wife's suicide with the swan song of a political regime (GDR). In haunting paintings, the internationally acclaimed artist Maria Lassnig (1919–2014) evokes her sorrow at her mother's death, summoning a profound atmosphere of uncertainty as she wonders whether she can go on as an artist. The film I'm too sad to tell you (1970/71) by Bas Jan Ader (1942–1975) explores questions of private versus public, convention versus embarrassment, and about the limits of language and representation. US artist Anne Collier's (b. 1970) arresting large-format photographs based on comics from the 1950s and 60s expose media images of beautiful young women crying as a cool-eyed convention and gender stereotype.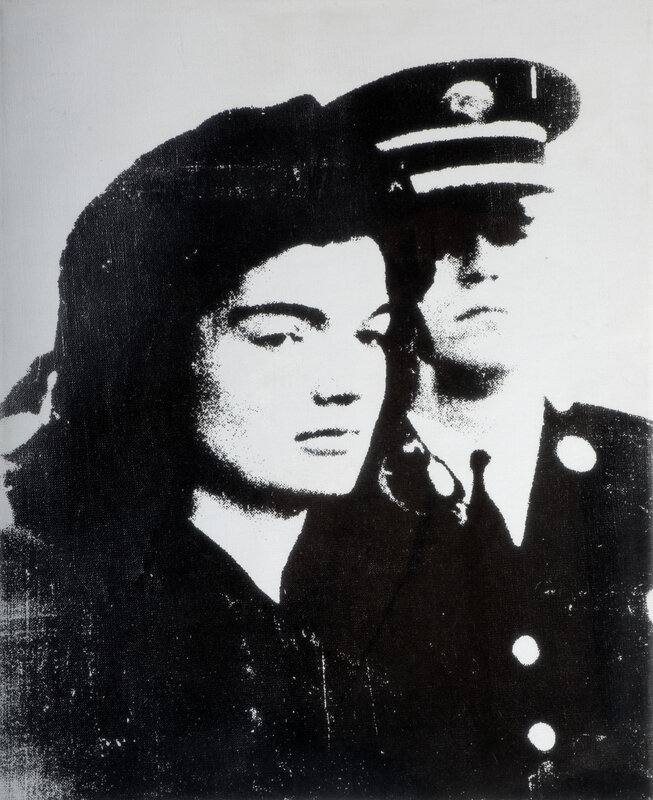 Andy Warhol (1928–1987), Jackie, 1964. Siebdrucktinte auf Leinen, 51 x 41 cm. Wolverhampton Art Gallery © 2019 The Andy Warhol Foundation for the Visual Arts, Inc. / Licensed by Artists Rights Society (ARS), New York.
With their multiple voices, the works assembled in the show give an idea of what diverse forms mourning can take. Whether the loss of a loved one through separation or death, departing from cherished ideals and visions, or being deprived of one's homeland and familiar surroundings – we all have to grapple with anguishing experiences of disappointment, failure and irreversible change. The exhibition shows how the way we deal with, describe and assess our mourning and grief depends in part on our cultural, social and political environment, while also allowing inferences to be drawn about conditions and inadequacies in society. The enormous complexity of the theme is brought home to visitors based on chapters such as »Melancholy and Mourning«, »Grief and Gender«, »Collective Mourning«, »Mourning and Protest«, »Forms of Leave-taking«, and »The Inability to Mourn«.
Featuring works by Bas Jan Ader, Kudjoe Affutu, Khaled Barakeh, Christian Boltanski, Helen Cammock, Anne Collier, Johannes Esper, Sibylle Fendt, Seiichi Furuya, Paul Fusco, Felix Gonzalez-Torres, Aslan Gaisumov, Ragnar Kjartansson, Maria Lassnig, Jennifer Loeber, Ataa Oko, Adrian Paci, Philippe Parreno, Susan Phlipsz, Greta Rauer, Willem de Rooij, Michael Sailstorfer, Thomas Schütte, Dread Scott, Rein Jelle Terpstra, Rosemarie Trockel, Tilman Walther and Andy Warhol.
Bas Jan Ader (* 1942-1975), I'm too sad to tell you, 1970-71 (film still), 16 mm, 3:37 minutes © The Estate of Bas Jan Ader / Mary Sue Ader Andersen, 2019 / The Artist Rights Society (ARS), New York / VG Bild-Kunst, Bonn 2019. Courtesy of Meliksetian | Briggs, Los Angeles.
Ragnar Kjartansson (* 1976), God, 2007, Single-channel video with sound, pink curtains, 30:00 minutes. Courtesy of the artist, Luhring Augustine, New York and i8 Gallery, Reykjavik; Commissioned by Thyssen-Bornemisza Art Contemporary, Wien / Vienna and / and The Living Art Museum, Reykjavík. Photo: Rafael Pinhoary, Wien / Vienna and / and The Living Art Museum, Reykjavik.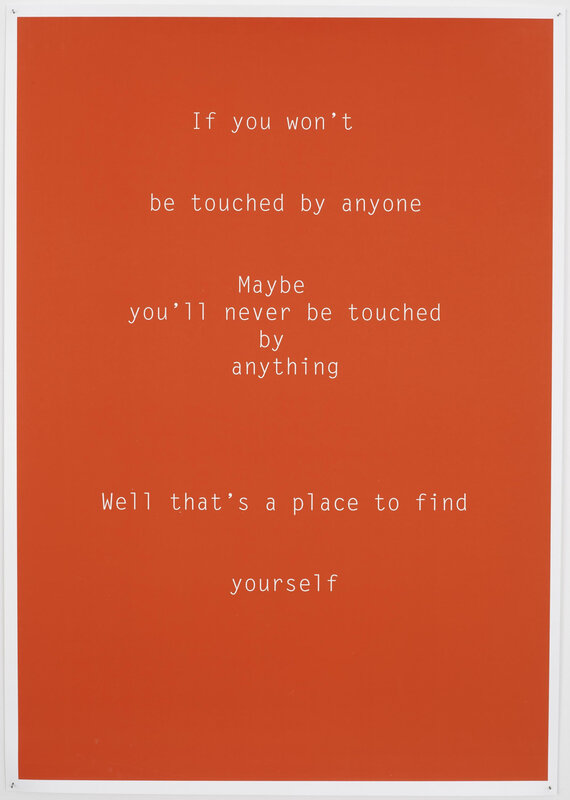 Helen Cammock (* 1970), Untitled, (If You Won't Be Touched) Shouting in Whispers, 2017, Screen print on paper, 102 x 72 cm © Helen Cammock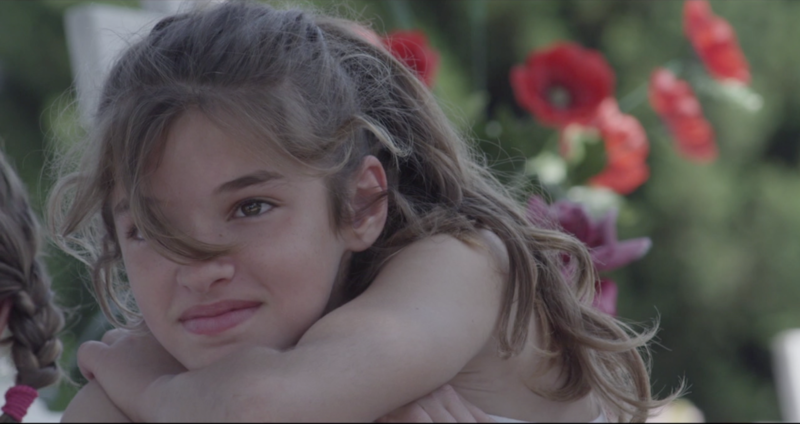 Adrian Paci (* 1969), The Guardians, 2015, One-channel video, color, sound, 6:22 min. Courtesy the artist, Kaufmann repetto, Milano, New York, Galerie Peter Kilchmann, Zurich.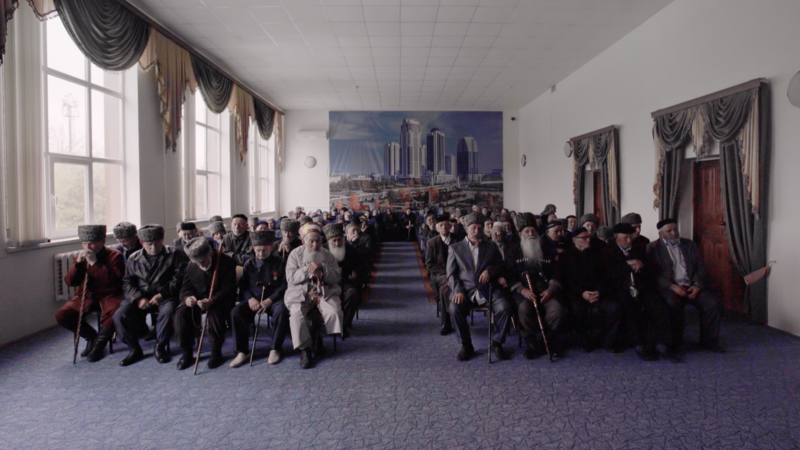 Aslan Gaisumov (* 1991), People of No Consequence, 2016, (film still), Single-channel HD video, color, without sound, 8:34 minutes. Courtesy of the artist and Hamburger Kunsthalle.
Seiichi Furuya (* 1950), Memoires, 2012, Slide installation, 4 projections with 80 individual images each © Seiichi Furuya, Courtesy Galerie Thomas Fischer.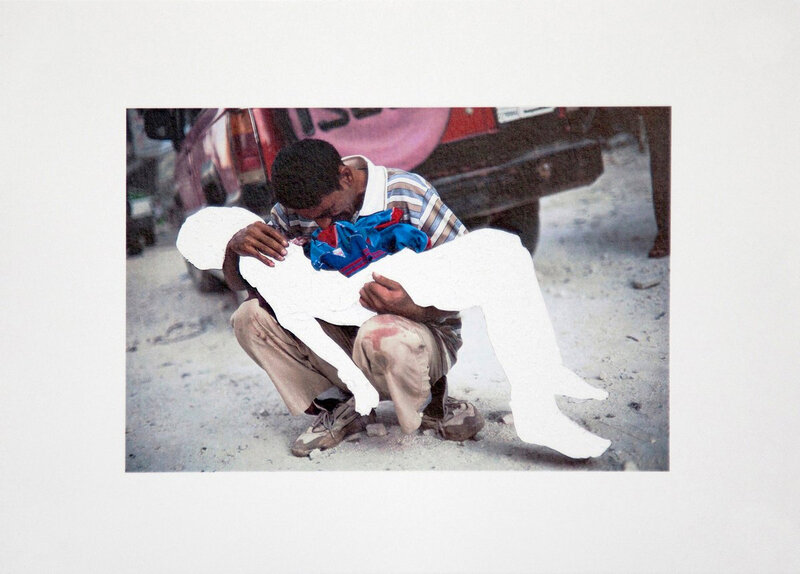 Khaled Barakeh (*1976), The Untitled Images, 2014, 5-part series, digital print on paper, each 21 x 30 cm, artwork courtesy of the artist. Original photo by Manu Brabo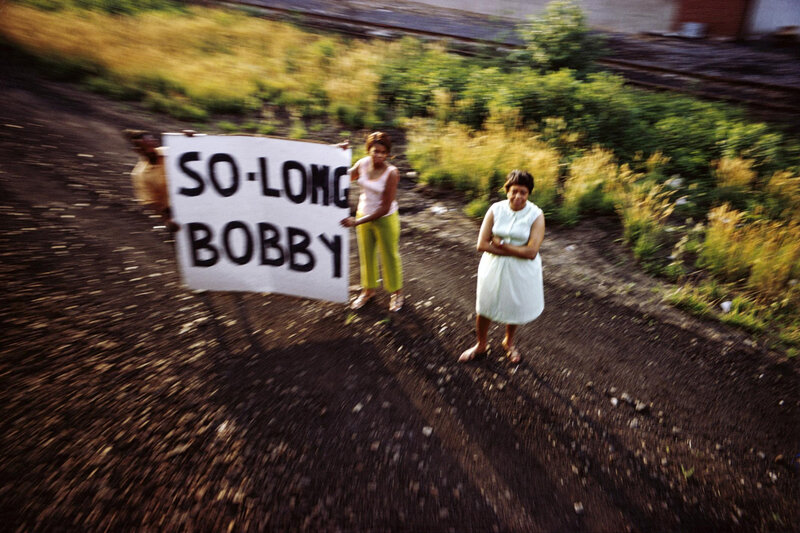 Paul Fusco (* 1930), RFK Funeral Train, 1968/2019, C-print, 41 x 61 cm © Magnum Photos. Courtesy Danziger Gallery New York
The exhibition is accompanied by an extensive programme of events including lectures, readings, talks and guided tours. In addition, a 40-page booklet (German / English) accompanying the exhibition is available to take away free of charge. It contains short texts and illustrations for all works, a list of works, floor plans and can be downloaded free of charge from www.hamburger-kunsthalle.de.