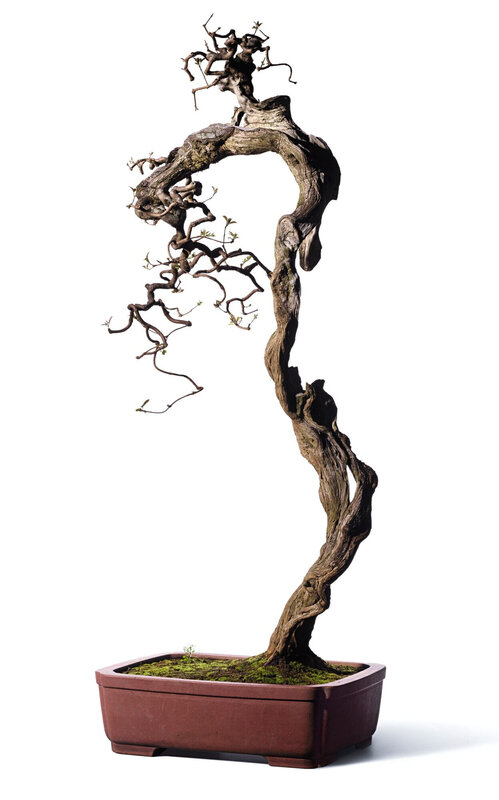 Lot 3692. A Hibiscus tiliaceus Bonsai, circa 19th century; 130 by 55 cm., 51 1/8 by 21 2/3 in. Estimate 250,000 — 300,000 HKD. Lot sold 437,500 HKD . Photo: Sotheby's.
Note: The art of penjing refers to the re-creation, or rather creation, of a miniature landscape ('jing') in a tray ('pen'). The appreciation of scholar's rocks has been revived in the modern art world – what is worth stressing is that the practice of penjing is the precursor to the acquisition of scholar's rocks as objects of philosophical contemplation. Far from adhering to a strict criterion as to what is aesthetically pleasing, the desirability of a penjing rests through the most, not in an upright and structured orientation, but in its proximity to organicity. This is not to say that the manipulation of plants and rocks is entirely arbitrary so long as it exudes 'freedom', the tenets of Taoism in Song dynasty China highly stressed the notion of contrast.
The current lot is a Hibiscus of approximately 150 years old. The half-withered trunk spirals upwards, only to allow the main branch to take a dramatic turn downwards, extending its sensuous form at opposite directions. Despite the human intervention, the half-open trunk and the complex texture hence exposed exemplify the notion of verisimilitude of nature and organicity that was held in high regard in the Song dynasty.